Sports Betting Futures: Hot Streaks Heat Up NFL MVP Race
by Ricky Dimon - 11/7/2014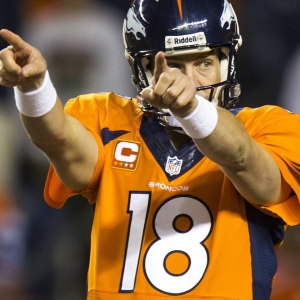 Peyton Manning cooled off last week in another loss to Tom Brady, while other quarterbacks continued to post incredible numbers. The result is an intriguing NFL MVP race that is becoming more and more competitive by the week. Running back DeMarco Murray is certainly in the mix, but Brady and fellow signal-callers Andrew Luck and Aaron Rodgers are putting the most serious heat on Manning.

Odds provided by Sportsbook.ag unless otherwise indicated .

NFL MVP

Peyton Manning (+250) - Despite last week's 43-21 setback at New England, Manning still has a solid chance to end up as the best player on the best team at the end of the regular season. Only Arizona has fewer losses than the 6-2 Broncos. If Denver returns to its winning ways and Manning maintains this pace (24 TDs, five INTs), a sixth career MVP award is likely.

Tom Brady (+400) - Brady has 22 touchdowns compared to just three interceptions this season. Those are the exact same numbers as Ben Roethlisberger (+800), who has thrown six TD passes in consecutive games. Brady's TD-to-INT ratio is 18-to-1 in his last five games, all wins for the Patriots after they started the season 2-2.

Andrew Luck (+500) - Manning, Brady, Roethlisberger, and Rodgers are all still on top of their games, but it's not all about the veterans. Although Luck was solid in his first two NFL seasons, the third year appears to be the charm. He threw four touchdowns in Monday's rout of the Giants, pushing his total to 26 through nine games while improving Indianapolis to 6-3.

Aaron Rodgers (+500) - While Manning, Brady, and Luck are in great shape to win their respective divisions, Rodgers and the Packers seem to have a battle on their hands with Detroit in the NFC North. They have lost to their three toughest opponents this season (DET, SEA, and NO), so improvement needs to happen now. Rodgers has 19 touchdowns and only three picks.

SEC Championship

Alabama (+200) - The SEC West race (which for all intents and purposes in the SEC Championship race, as well) is equally if not more interesting than battles for College Football Playoff berths. Alabama trails Mississippi State by one game in the standings, but the Crimson Tide have home-field advantage for their showdown on Nov. 15.

Mississippi State (+275) - Dak Prescott (+350 to win the Heisman Trophy) has the Bulldogs at 8-0 and ranked No. 1 in the nation. He has 26 total touchdowns (16 passing, 10 rushing), but the team has not been as entirely dominant as Prescott. Whereas Alabama is beating teams like Texas A&M 59-0, MSU has struggled just a bit with Kentucky and Arkansas.

Auburn (+400) - One of the few all-important SEC West showdowns that has already been played saw the Tigers go down 38-23 at Mississippi State on Oct. 11. They still have to visit both Georgia and arch-rival Alabama. Nonetheless, Auburn has to feeling good after keeping itself alive with a dramatic 35-31 victory at Ole Miss last Saturday night.

Georgia (+400) - There's nothing like playing in the SEC East, is there? Any SEC West team that got blown out by Florida would be written off completely from the conference title race and from every other possible accomplishment. Georgia, though, is still in the mix. It will have to beat Auburn at home and hope Missouri, which it hammered 34-0, loses one more game.

Sprint Cup

Jeff Gordon (+350) - Gordon was spun out by Brad Keselowski last week in Texas and sputtered to a 29th-place finish. As everyone knows by now, fisticuffs ensued. The Rainbow Warrior can only control his own destiny in terms of staying in the Chase for the finale at Homestead by winning in Phoenix, but he is in decent shape at fourth in the standings.

Joey Logano (+400) - Four drivers will still be alive in the title chase after this weekend's proceedings at Phoenix International Raceway. Logano currently tops the standings and can secure a spot in the final round by finishing 11th or better in Phoenix.

Denny Hamlin (+450) - Hamlin is tied with Logano for first place, so his scenarios to guarantee remaining in contention at Homestead are the same: 11th or better at Phoenix or 12th with at least one lap led or 13th with the most laps led. Neither Hamlin nor Logano has ever won a Sprint Cup championship.

Ryan Newman (+450) - Newman is the only driver other than Logano and Hamlin who can control his destiny without a win in Phoenix. The No. 31 car does not have a single victory this season, but it has 15 top-10 performances. A 16th would almost certainly send Newman to Homestead as one of the final four.

ATP World Tour Finals (odds provided by Bovada Sportsbook)

Novak Djokovic (-110) - The year-end championship in men's tennis begins on Sunday in London. Djokovic, the No. 1 player in the world, is the two-time defending champion of the prestigious eight-man event, and he is on course to win it again. The Serb is 13-1 since the U.S. Open and is 27-0 in his last 27 matches indoors dating back to 2012.

Roger Federer (+300) - Federer, however, cannot be discounted. The second-ranked Swiss still has a mathematical chance to finish the season at No. 1. Recent results include titles in Shanghai and Basel (the latter indoors). Federer is an amazing 44-11 lifetime at this tournament with six titles (two in London).

Andy Murray (+600) - Murray will (sort of) be playing at home in Great Britain, although that may not be a good thing given his tweet earlier this fall in support of Scottish independence. Whatever the case, the world No. 6 has been on fire since the U.S. Open with titles in Shenzhen, Vienna, and Valencia. Murray has never reached the London title match.

Kei Nishikori (+1400) - Nishikori may not be as big of a name-at least not outside Japan-as the three aforementioned stars, but he has been huge in 2014. The U.S. Open runner-up boasts an incredible season record of 52-12. Making his first year-end championship appearance, Nishikori has won 18 of his last 21 matches with titles in Kuala Lumpur and Tokyo.
Read more articles by Ricky Dimon