Sports Betting Insights: NBA Road Warriors
by Dave Schwab - 2/12/2014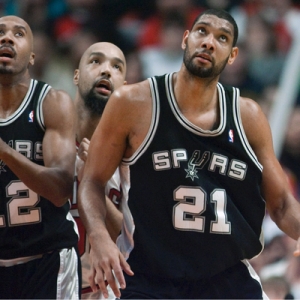 The NBA takes a break from the regular season this weekend for its annual All-Star Game. With all 30 teams having at least 50 games in the books heading into the break, we now have a solid grasp on some overall betting trends for the league. The one thing that really jumps off the page when you go through the numbers is the success of road teams this season.
The road team has won 43 percent of the time straight up, and this number jumps to 53.3 percent against the spread. If you break things down further, you find that road underdogs have won 31.9 percent of their games SU and 52.8 percent ATS. The shining stars of the group are the road favorites. They have won 65.8 percent of the time SU, and when you factor in the spread, they have paid off in 54.2 percent of their games.
A couple of individual teams that have been driving these numbers have been Oklahoma City and San Antonio. They have a combined SU record of 38-16 on the road, with each team posting 19 wins. The Thunder are 32-22 ATS this season with a 17-11 ATS record on the road. The Spurs have been less impressive ATS with an overall record of 24-28, but they are still above .500 ATS on the road at 14-12.
Oklahoma City heads into Thursday night's road game against the Lakers with a 7-2 mark ATS in their last nine road games, and it has covered in five of its last six contests as a road favorite. This would make them a solid play against Los Angeles in my book regardless of how many points it has to give (they are laying 11 on early odds from BetOnline). After the break, the Thunder will be home for their next six games before heading back on the road against Phoenix on March 6, so you would have to gauge their overall form before you continue to ride them on the road.
Phoenix has the best overall record ATS in the NBA at 33-17-1, and it has been a money machine on the road by covering in 18 of 25 games. The Suns got hammered on the road by Houston 122-108 as 7.5-point underdogs on Feb. 5 after covering in their previous five road games. Going back a bit further, they have gone 7-5 ATS in their last 12 road games, which makes them a much less attractive play then earlier in the season.
Indiana has the best SU record in the Eastern Conference at 40-11 heading into Wednesday night's home game against Dallas. It also has posted the second-best record in the league ATS at 32-19. The Pacers are 14-10 ATS on the road, but they have failed to cover in four of their last six road games.
Both Phoenix and Indiana further prove that overall records ATS may paint one picture, while recent results paint another. The bottom line is that when it comes to betting on season trends they should always be tempered with current form.
Olympic Hockey Gold
The 2014 Winter Olympics in Sochi are underway, and the race for the Gold Medal in men's hockey kicks off this Wednesday with the start of the preliminary round. Heading into the tournament, Bovada has listed Canada as a 19/10 favorite to win it all followed by Russia at 12/5. Sweden has been listed as a 9/2 third-favorite, and the United States is fourth on the list at 6/1.
Bovada has also listed odds for the top goal scorer in the Olympics, and it is no big surprise that seven of the top eight players are from either Canada or Russia. The Washington Capitals' Alex Ovechkin, who plays for Russia, is at the top of the list at 5/1 followed closely by Pittsburgh's Sidney Crosby (13/2), who is expected to be the shining star for Team Canada. The lone player in the top eight that is not from one of these teams is Chicago's Patrick Kane, who plays for Team USA. His odds to be the top goal scorer are 11/1.
If you plan on wagering on Canada or Russia in their opening games this Thursday, you may want to think twice no matter how dominant these teams may be. Looking at Bovada's current moneyline for these games, you would have to risk $5,000 to win $100 on Canada over Norway. Russia's opener is against Slovenia, and the moneyline for that game has the Russians listed as -10000 favorites and Slovenia listed as a +2000 underdog.
Read more articles by Dave Schwab