Sports Betting Insights: Star Power in the NBA
by Dave Schwab - 1/29/2014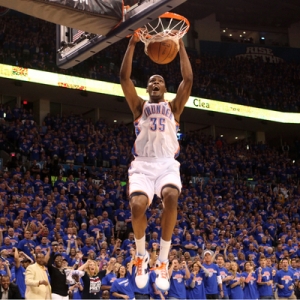 Before the NBA regular season started the Oklahoma City Thunder were favorites to win the Western Conference on many of the bigger sportsbooks' futures odds list. They began the season without Russell Westbrook due to injury, and they have been without their second-leading scorer since late December as he recovers from another knee surgery. This is where the star power of their leading scorer Kevin Durant has really begun to shine.
Heading into this Wednesday night's showdown against Miami as four-point underdogs on the road, the Thunder hold a 2.5-game lead over San Antonio in the conference with an overall straight up record of 36-10. Westbrook has missed 20 of those 45 games, which has opened the door for Durant to lead the NBA in scoring with an average of 31.3 points a game. During the team's current 9-1 SU run in its last 10 games, Durant has scored 30 or more points in every contest. His streak actually stands at 11 heading into the game against the Heat.
Durant has picked this team up and carried it on his shoulders during this run, which has been a financial boon to bettors who have climbed on for the ride. A $100 wager on Oklahoma City over the past 10 games would have provided a $580 return on investment behind an 8-2 record against the spread. Oklahoma City is 27-19 ATS overall with a 14-9 record ATS on the road.
The big question is how long to ride this money train? After the game against Miami, the Thunder remain on the road against Brooklyn this Friday night followed by trip to Washington on Saturday. They return home to play Memphis on Monday and Minnesota on Wednesday night. The Nets and the Grizzlies are each 8-2 SU in their last 10 games, so you may want to pick and choose your spots moving forward.
Super Bowl props add up to profit for the books.
Billions of dollars will be at stake this Sunday when the Denver Broncos and the Seattle Seahawks square off in Super Bowl XLVIII. While a good deal of that money will be wagered on the betting line, total line and moneyline, a huge chunk of cash will be wagered on the hundreds of prop bets that have been released for this game. As one Las Vegas insider told me, prop bets are the primary profit center for sportsbooks when it comes to making money on the Super Bowl.
You have to remember that there is only one game on this Sunday's schedule, so it is a win-or-lose proposition when it comes to a book's actual take. When it comes to prop bets, the books reel in bettor's money through a series of "yes/no" or "over/under" scenarios that all add up to extra dollars in their till. The key as a bettor is to not get too carried away wagering on props unless you can find true value in the numbers. A good rule to follow is to only bet on the props that mirror the action on the field as well as your overall vision for how you see this matchup playing out.
Kentucky Derby prep races
The Super Bowl is not the only game in the Big Apple this weekend, especially if you are a horse racing fan. This Saturday at Aqueduct Racetrack in Queens, New York, is the running of the Grade III Withers Stakes for three-year old thoroughbreds on the Kentucky Derby trail. This graded stakes race will be run on dirt over a distance a 1 1/16 mile with a total prize purse of $250,000.
Six Derby hopefuls are in the field, including Samraat, who is trained by Richard Violette Jr. and ridden by Jose Ortiz. He won the Damon Runyon Stakes at this track in mid-December as a two-year old by a whopping 16 ¼ lengths. Look for this colt to open as the favorite for this race on the morning line. Another horse to watch is Classic Giacnroll. Trained by Lisa Guerrero and ridden by Cornelio Velasquez, this colt took second in the $200,000 Grade II Jerome Stakes at Aqueduct on Jan. 4 and showed some good closing speed in pursuit of Noble Moon, who won by two lengths.
Read more articles by Dave Schwab