Thank God it's Friday: Duke and Coach K Down, but Not Out
by Ricky Dimon - 3/7/2014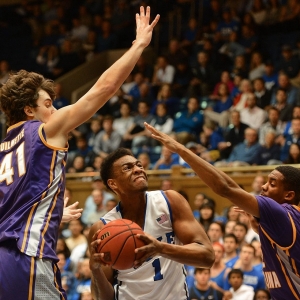 It's almost the weekend, which means the onset of new opportunities for all kinds of teams and players to bounce back from the doldrums of the week gone by. That includes Duke, which lost to Wake Forest on Wednesday. It also includes the Atlanta Hawks, who could barely win games in the entire month of February. There has been recent sadness for some, but a strong dose of March Madness is often an effective prescription.

Odds provided by Sportsbook.ag

Duke . Duke had lost only two of its previous 11 contests heading into Wednesday's road trip to Wake Forest. Now, however, it has dropped two of its last four. The Blue Devils, who suffered a late collapse in a Feb. 20 road loss to North Carolina, endured a similar fate in their most recent outing. They led Wake 66-59 with fewer than six minutes remaining only to see their opponent go on a 17-0 run en route to an 82-72 Demon Deacons' victory. Head coach Mike Krzyzewski also dealt with spells of dizziness during the game, but he was checked out at a hospital and should be good to go for Saturday's rematch against the Tar Heels. Duke is +1000 to win the National Championship; Carolina is +3000.

Atlanta Hawks . Atlanta surprised almost everyone by maintaining the third spot in the Eastern Conference for almost the entire first half of the season. Suddenly, however, the Hawks are in eighth place and clinging to the final playoff ticket. They have lost four in a row and 12 of their last 13 games. For those counting, that means they have won just a single game since Feb. 1. Head coach Mike Budenholzer's squad has allowed at least 100 points in its past nine setbacks. On the bright side for the Hawks, their three closest competitors are Detroit, Cleveland, and [insert laughter here] the New York Knicks. The Hawks are +9.5 underdogs at Golden State on Friday.

Martin St. Louis . He is not going to a team that is any worse, but being dealt from Tampa Bay to the New York Rangers still has to sting for St. Louis. The 38-year-old spent 13 seasons with the Lightning, and he was named the team's captain for this year. Still going strong at this point in his career, St. Louis is in the top 10 in the NHL in points. Interestingly, New York's captain-Ryan Callahan-was also involved in the deal, in which the Rangers sent two future draft picks to Tampa Bay. The Rangers are +1000 to win the Eastern Conference; the Lightning are +1200.
Jimmie Johnson . Jimmie Johnson has gone two full races without winning! Ah! Hell must be freezing over! The six-time champion finished fifth at the Daytona 500, won by Dale Earnhardt Jr., and came in sixth last week in Phoenix, where Kevin Harvick dominated the competition. So it has not been entirely bad for Johnson. Of course, in the new point structure the only real thing that matters is winning-meaning Johnson might as well be tied for last (or third, too) in the standings. JJ is a +500 favorite to win this weekend's Kobalt 400.

Champ Bailey . It could not have come as a major surprise, because Bailey had a $1 million roster bonus due on March 15, and the Broncos will save $10 million in cap space. Nonetheless, it had to hurt when the veteran cornerback was released by Denver earlier this week. Bailey, 36, spent 10 seasons in the Mile High City after being traded there by the Redskins back in 2004. The former University of Georgia star played in only five regular-season games last year due to a Lisfranc injury. Bailey should be able to land on his feet somewhere if he so desires, but it's clear that his days as a significant contributor are over. Denver is a +850 third choice to win next season's Super Bowl.

USMNT . It was just a friendly, but the United States' men's national team should not be going around losing to opponents like the Ukraine with only a few months to go until the World Cup. Team USA lost 2-0 on Wednesday in match that was moved from Ukraine to Cyprus due to well-documented unrest in the Ukraine. In fairness to the Americans, the Ukraine is the highest-ranked team that did not qualify for this summer's World Cup. The Ukrainians also needed this win a lot more than the team in red, white, and blue. The United States is +16000 to win the World Cup; host Brazil is a +300 favorite.


Anyone who had Clemson -4 . The Tigers were never a lock to cover the four points in what was a relatively competitive game from start to finish on Tuesday against Miami. Still, they appeared to have it in the bag when Damarcus Harrison drained two free throws to put Clemson ahead by six with three seconds remaining. Instead, the Hurricanes threw a long inbounds pass, and Rion Brown went in for a meaningless (at least in the overall game outcome) layup as time expired. As such, the 58-54 final resulted in a push rather than a Clemson cover. Among the opportunities on Friday is an Ohio Valley Tournament semifinal between Eastern Kentucky and Murray state. EKU is a -1 favorite.
Read more articles by Ricky Dimon