Thank God it's Friday: Heat Goes Out, 'Hawks Grounded
by Ricky Dimon - 6/6/2014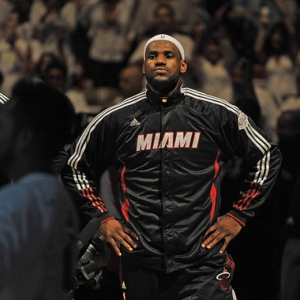 You could not have asked for a better NBA Finals matchup, which is a rematch of last year's seven-game classic between Miami and San Antonio. The Heat, though, could have asked for a better start. On the ice, meanwhile, the Stanley Cup Finals started without the 2013 champion. That's because Chicago lost a roller-coaster of a game and a roller-coaster of a series to Los Angeles.

All odds provided by Sportsbook.ag

LeBron James . First the air conditioning went out in the AT&T Center. Then so did LeBron James. Then the AC came back on and the Heat went out-in more ways than one. The end result was a 110-95 Game 1 NBA Finals victory on Thursday for host San Antonio, which outscored visiting Miami a whopping 31-9 over the last nine minutes and 22 seconds. Plagued by cramps, LeBron sat out a crucial three-minute stretch midway through the fourth quarter. LeBron was a +125 favorite to win MVP heading into the series, while the Spurs were -128 favorites to bag the title.

Chicago Blackhawks . There will be a new Stanley Cup Champion. Chicago, which won it all in 2013, lost Game 7 at home to Los Angeles on Sunday night in 5-4 overtime thriller. The Blackhawks had stormed back from a 3-1 deficit in the series and only built on their momentum by surging to a 2-0 lead in the decider. However, they could not seal the deal. The Kings never led during the game until scoring the game-winner in the extra 20 minutes. Even for the guys who have last year's cup to fall back on in, this one has to sting. L.A., which now leads the New York Rangers 1-0, is a -300 favorite to win the Stanley Cup. Drew Doughty and Anze Kopitar join New York's Henrik Lundqvist as +350 co-favorites to win the Conn Smythe Trophy.

Tampa Bay Rays . It does not get any streakier than at the bottom of the AL East standings. Heading into last weekend's series between Tampa Bay and Boston, the Rays had lost four in a row, won four in a row, and were swept in three games at Toronto. The Red Sox had dropped 10 straight then swept Atlanta in four consecutive contests. So you just knew it was going to be a sweep one way or the other…and it was. Tampa took three in a row in the 'L' column, getting pasted 7-1 and 4-0 after a competitive 3-2 10-inning loss on Friday. The Rays have since lost four straight to Miami, bringing their losing streak to 10. They are now five games away from digging out of the division cellar and they are 14 back of division-leading Toronto. Tampa Bay (Bedard) is a -145 home favorite over Seattle (Young) on Friday.

Kyle Busch . Busch was attempting to join, well, himself as men who have won all three NASCAR events in one weekend: the Truck Series, the Nationwide Series, and the Sprint Cup. He previously pulled off the triple at Bristol in 2010, becoming the first driver to do it. Busch snagged the first two legs on Friday and Saturday this past weekend in Dover and was in position to finish the job off in style on Sunday. The No. 18 car led the first 81 laps before eventually winner Jimmie Johnson passed it, and from there things went from bad to worse. Clint Bowyer eventually wrecked Busch on lap 24. Unfortunately for everyone, Busch did not talk to the media afterward. Johnson is a +500 favorite to win this weekend's Pocono 400 and he is a +250 favorite to win the Sprint Cup.

Phil Mickelson . Normally when one finishes a round on the PGA Tour, one heads to sign a scorecard as is perhaps greeted by wife and kids. That's not exactly what happened with Mickelson last Friday at the Memorial. Waiting on Lefty were FBI agents investigating alleged insider trading. Word on the street is that they are looking into trades involving Clorox made by Mickelson and Las Vegas gambler Billy Walters just as investor Carl Icahn was attempting to take over the company. When Icahn's intent to purchase became public knowledge, the stock price soared. A composed Mickelson declared, "I've done nothing wrong" during a Saturday press conference. A mediocre week saw him finish T-49 after four rounds between 70 and 73. Mickelson is +1600 to win the U.S. Open. Rory McIlroy is a +1000 favorite.

Roger Federer . For the first time since 2004, Federer is out of the French Open prior to the quarterfinals. The 17-time Grand Slam champion was not a massive favorite during fourth-round action on Sunday because he was dealt a tough draw against a red-hot Ernests Gulbis, who will be in the Top 10 of the ATP rankings on Monday and was coming off clay-court title one week earlier in Nice, France. Federer seemed to have control leading by a set and 5-3 in the second, but Gulbis stormed back and the veteran could not quite withstand the underdog's firepower. Gulbis eventually prevailed 6-7(5), 7-6(3), 6-2, 4-6, 6-3, ushering Federer to the sidelines to join previously-ousted big names such as Stan Wawrinka, Serena Williams, Li Na, and Agnieszka Radwanksa. Rafael Nadal was a -120 tournament favorite heading into the semifinals and he is -900 to beat Andy Murray on Friday. Maria Sharapova is a -175 favorite to beat Simona Halep for the women's title on Saturday.
Read more articles by Ricky Dimon