This Week in Sports Betting, A-Z
by Ricky Dimon - 4/15/2014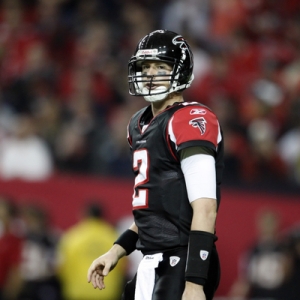 A. Atlanta . Atlanta sports franchises rarely win championships, but Falcons' owner Arthur Blank sure isn't giving up. Blank and Major League Soccer are expected to announce on Wednesday that Atlanta will be the home of the MLS' 22nd franchise. The team would begin play in 2017, when the Falcons' new $1.2 billion stadium opens. Bovada Sportsbook has L.A. and Kansas City as +600 co-favorites to win the 2014 MLS Cup.

B. Chris Brown . I don't think anyone has heard this much about the transportation of inmates since "Con-Air" or the bus scene in "The Fugitive." At long last, however, Brown's five-day trek across the United States has come to an end. The 24-year-old singer is now in the general population (no special treatment) at Northern Neck Regional Jail in Virginia as he awaits an April 17 trial in Washington, D.C. stemming from an assault charge.

C. Chris Johnson . Johnson was released by the Tennessee Titans last week. He should draw some interest-albeit marginal-from a few teams, but nothing has materialized yet. Running back years aren't calculated exactly like dog years, but 28 years old for a running back these days might as well be 40-something. The Titans are +3300 to win the AFC Championship, per Bovada Sportsbook.

D. Kevin Durant . Durant's streak of consecutive games with at least 25 points finally came to an end last Tuesday. Of course, it would have continued if he had played more than 31 minutes. Oklahoma City crushed Sacramento 107-92, and Durant (23 points) did not see the floor in the entire fourth quarter. His 41 in a row surpassed Michael Jordan and trails only Oscar Robertson (46) and Wilt Chamberlain (80).

E. Everton . Everton hosted Arsenal earlier this month and blanked the former No. 1 team in the Premier League 3-0. The Toffees also beat Sunderland 1-0 last Saturday. They are up to fourth on the EPL table with 66 points, ahead of Arsenal for a top-four finish and an automatic berth in next year's Champions League. SportsBettingOnline.ag has Everton as a -310 favorite to beat Crystal Palace on Wednesday.

F. Frantic finish . For the first time since 1992-93, an NHL team wrapped up its regular season with four games in five nights. The Columbus Blue Jackets did it from last Tuesday through last Saturday. They went 3-1 during the stretch and snagged the No. 7 seed in the Eastern Conference, which pits them against Pittsburgh in round one of the playoffs. The Jackets are +160 road underdogs in Game 1 against the Penguins on Wednesday, according to Sportsbook.ag.

G. Paulina Gretzky . The Great One's daughter and Dustin Johnson's significant other-very significant, to be sure-is on the current issue of Golf Magazine. LPGA players are complaining left and right and have turned it into a full-fledged controversy. Men are not complaining.

H. Roy Hibbert . The Pacers' slump reached a new low earlier in April when they trailed Atlanta by 32 points at halftime. A sulking Hibbert was benched for the entire second half of his team's 107-88 loss. Indiana has dropped eight of its last 12 games, but it managed to beat out struggling Miami for the top seed in the Eastern Conference. The Pacers are +240 at TopBet to reach the NBA Finals.
I. George Iloka . Iloka is a safety for the Cincinnati Bengals, but he is perhaps better known as the self-proclaimed "Ass Whisperer." According to himself, Iloka is the No. 1 expert on the female backside. He said last week that fitness model Caitlin Rice has overtaken Jen Selter as owner of the best booty in the business. Who's to disagree?

J. Matt Jones . Jones was a nobody two weeks ago. Well, he still kind of is. But he's a nobody who played the Masters last week. A Matt Kuchar collapse allowed the Aussie into a playoff at the Shell Houston Open and he stunned Kuchar on the first hole with a chip-in for birdie from 40 yards. The victory earned Jones a last-minute invite to Augusta National. Kuchar is +1500 to win the RBC Heritage, making him the second choice behind Jordan Spieth.

K. Kyrie Irving . In general it's good to be Kyrie Irving, but maybe not right now. The Cavaliers have been eliminated from the playoffs, and you have to be pretty terrible for that to happen in the Eastern Conference. Furthermore, rumors are swirling about his impending free agency, and he is engaged in reported feuds with teammate Dion Waiters and with Waiters' good friend Josh Gordon, the Cleveland Browns' receiver.

L. Joey Logano . Logano passed Jeff Gordon on the final lap to win this month's Duck Commander 500. The 23-year-old's No. 22 team is not quite a dynasty like that of the famous duck-callers, but he seems to be well on his way to an outstanding career. Jimmie Johnson is a +250 favorite at BookMaker to win the Sprint Cup.

M. Merle Butler . Butler won $218.7 million in the Illinois Lottery in 2012. Two years later, an Instagram account has popped up in Butler's likeness saying that he will mail out $1,000 checks to his followers. Calm down, folks. It's not his account. Hoax.

N. Shabazz Napier . Napier was playing street-ball out there at times during the National Championship, but it was still good enough to beat a young Kentucky team for the title. It was also good enough for Most Outstanding Player honors. Napier scored 12 points in UConn's semifinal upset of Florida and went for 22 against UK. The senior guard averaged 21.2 points per game during the NCAA Tournament. Connecticut is +7500 at Carbon Sports to defend its title.

O. Out . Angels' outfielder Josh Hamilton will be out for 6-8 weeks due to a torn thumb ligament that he suffered while making a headfirst slide into first base during last week's loss at Seattle. Hamilton was off to a stellar start in 2014, batting .444 with two homers and six RBIs in eight games. L.A. is +220 at GT Bets to win the American League West.

P. Phoenix Suns . The Suns won three in a row to put themselves in playoff position at the back end of the Western Conference, but they promptly lost three straight and were eliminated on Monday after falling at home to Memphis. Phoenix has not made the postseason since 2009-10, when it succumbed to the Lakers in the conference finals. Memphis clinched the No. 8 seed with its Monday win.

Q. Questioning . On trial for the shooting death of girlfriend Reeva Steenkamp last February, Oscar Pistorius has been grilled by the prosecution over the past week. It's getting ugly, emotional, and graphic. If convicted, the double-amputee sprinter could face life in prison.

R. Mickey Rooney . The legendary actor died on April 6 at 93 years old. Rooney's career in the business lasted more than 90 years, including 88 years in cinema and more than 200 films.

S. Selfie . It's the photo that launched 1,000 ships. Well, not exactly, but the selfie David Ortiz took with President Barack Obama has caused quite a stir. Ortiz snapped the now-famous shot when Obama recently hosted the Boston Red Sox at the White House, and it may or may not have been a promotional deal the slugger had signed with Samsung. Boston is +1500 at BetOnline Sportsbook to win the World Series.

T. Mark Trumbo . Trumbo went on a streak of four consecutive games with home runs from April 3 through April 6. Arizona's left fielder leads the MLB with six homers, and he is also out in front with 18 RBIs. The Diamondbacks are +3000 to win the NL Pennant, per WagerWeb.

U. Unlike any other . That's the tradition of the Masters, which Bubba Watson won for the second time on Sunday. Speaking of tradition, Bubba sobbed. Again. Sportsbook has Bubba at +3000 to win the U.S. Open in June; Rory McIlroy is a +1000 favorite.

V. Victor Oladipo . The Magic stink, but not to the extent of the competition for which they are contending for the No. 1 pick down the stretch. As such, they are still trying to win games, and they actually won two in a row earlier this month. That being said, they've now lost three straight. Oladipo had scored in double-figures in 13 straight contests before going for nine last Wednesday against Brooklyn. The rookie guard is averaging 14.0 points, 4.1 assists, and 4.2 rebounds per game.
W. Winning streak . Has anyone ever been less enthused about a winning streak than Gregg Popovich? Probably not. It inevitably ended at 19 in a row with a loss at Oklahoma City on April 3. Tim Duncan and Tony Parker actually played, although neither logged 30 minutes. Manu Ginobili sat out during the Spurs' 106-94 setback. They have now lost three of their last six but had no trouble locking up the Western Conference's No. 1 seed.

X. Xander Bogaerts . Bogaerts' sample size in 2013 was small (18 games) but encouraging for the World Series champions. He is off to a strong start this season, although he has cooled off just a bit of late. The shortstop has a .283 average after batting .412 through five games, .360 through his first seven, and .314 through his first 10. Interestingly, Bogaerts has not yet driven in a run.

Y. Yangervis Solarte . Who? Solarte, a 26-year-old New York Yankees' rookie, is hitting .357 in 12 games. The Venezuelan has not yet gone deep, but he has six doubles and seven RBIs. New York (Tanaka) is a -202 home favorite vs. the Cubs (Hammel) on Tuesday, per BookMaker.

Z. Zlatan Ibrahimovic . Ibrahimovic is out for 3-4 weeks with a hamstring injury. The Swedish striker is undoubtedly Paris Saint-Germain's best player-and maybe the best in the world outside of Lionel Messi and Cristiano Ronaldo-and his absence cost PSG last Tuesday. Chelsea recovered from a 3-1 loss in the first leg of its Champions League quarterfinal to win 2-0 at home on Tuesday. The Blues advanced past PSG and into the semifinals on away goals.
Read more articles by Ricky Dimon