Underrated Players in the 2014 World Cup
by Trevor Whenham - 2/21/2014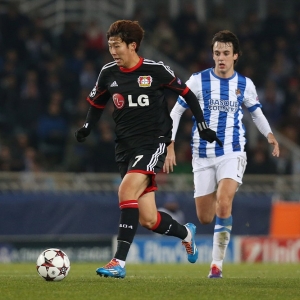 There are so many superstar players due to be playing in the World Cup this summer in Brazil that it can be very easy for very good, very influential players — the kind with the ability to impact the outcome of games to fly under the radar and not get the attention from the betting public that they deserve. Bettors who can spot these players and anticipate their importance can give themselves a big edge heading into the tournament.
Here are six players who have a real chance to outplay their current reputations — and establish inflated new ones:
Son Heung-Min, South Korea: Most casual bettors pay far more attention to the English Premier League than they do to German soccer. When Heung-Min resisted the temptation to move to the EPL this past year and moved from Hamburg to Bayer Leverkusen instead, then, bettors got a lucky break because a lot of people don't know how good he is. The 21 year old is turning into a very good player — Bayer Leverkusen paid more in transfer fees than they ever have for another player. The Koreans are in tough in Group H, with Belgium and Russia to deal with. It isn't impossible to imagine them advancing, though, and if they do then this young striker will be at the core of the effort.
Pablo Zabaleta and Angel di Maria, Argentina: The Argentinians are facing massive expectations in this tournament — they are my pick to win it all, and I am certainly not alone. While there are no shortage of stars on this team, and no player who will see significant minutes for this squad or any other elite team can be called truly underrated, these two stand out to me as players who are better than the average public better will think they are. Di Maria, who plays for Real Madrid, is a midfielder who knows how to score, but he doesn't let the temptation to do so get in the way of a commitment to defensive play. He is well-rounded and dangerous. Zabaleta, who plays at Manchester United, is a dream defender for a coach. He plays without ego, and he doesn't care about attention. He just focuses entirely and relentlessly on stopping opposing players, and he is very good at it. These two won't grab the headlines on this team, but they are positioned to be a big part of whatever success the team can have.
Miralem Pjanic, Bosnia and Herzegovina: Here's the biggest thing to know about this midfielder — he's just 23 years old, yet only three players on his team have more caps than the 46 he has. His team has a big task ahead of it. They aren't going to beat Argentina in Group F, and they will struggle to get past Nigeria and advance. Pjanic may not provide the leadership this time around for this team. If he were a stock, though, he would be one you would want to buy now — in bulk. Four years from now he is going to be a much bigger name than he is now, and there is a decent chance that he will take a big step down that road in Brazil in June.
Juan Cuadrado, Colombia: Colombia is a team I quite like in Group C. They aren't a truly elite team by any means, but they have landed in a reasonable spot here. One of the reasons to be high on them is that they have a secret weapon in Cuadrado. Playing for Fiorentina, he has taken massive steps forward in the last year, and as an explosive midfielder he is now extremely dangerous. He's very fast, and teams immediately regret when they give him some room to move. He's emerging as a star in Italy, and he could do the same internationally with his performance in this tournament. A lot of eyes will be on his game against Ivory Coast because of their brilliant midfielder, Yaya Toure. If Cuadrado can show that he isn't outclassed in comparison then his stock would rise.
Charles Aranguiz, Chile: Chile is a feisty team that could make life miserable for Spain or Netherlands in Group B. If they do some real damage then Aranguiz, a 24 year old midfielder, could play an important role. He flies under the radar of casual bettors because he has yet to start playing outside of South America. A move to Europe could happen after this summer if he plays like he is capable of, and then he won't be quite as much of a secret. He's definitely one to watch.
Read more articles by Trevor Whenham