Weekly Q&A with Doc's Sports Expert Handicapper Raphael Esparza
by Doc's Sports - 6/3/2014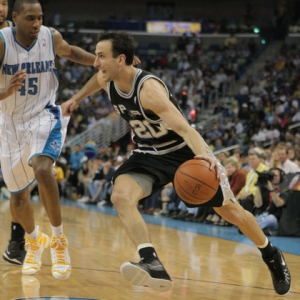 When it comes to wagering on sports, Doc's has been at the forefront of the selection industry for well over four decades. You do not stick around this long in such a competitive business as this without doing something right, and our results so far this year for the NBA, NHL and MLB are some of the best on record. We pride ourselves for the ability to consistently provide a very loyal customer base with a steady stream of winning picks for all the major sports. Along with a Unit Betting System that delivers a proven money management system to successfully build your bankroll, Doc's Sports has a very talented team of expert handicappers that continue to deliver the winning picks you have come to expect over these many years.
One expert handicapper that has worked his way to the top of the list over the past eight years is Raphael Esparza. His experience handicapping sports goes back even further than that during a long and illustrious career working behind the counter for some of the biggest sportsbooks in Las Vegas. Raphael became known as The Vegas Informer during his rise to the prestigious position of Director of the Race and Sports Book for MGM Grand's Aria.
After retiring from the sportsbook industry late last summer, he now spends all of his time honing his selections with the help of a solid network of some of the biggest and most influential insiders in Las Vegas. These professionals know the sports betting industry inside and out, and Raphael incorporates this "inside edge" into all the picks he releases. What really makes his selection service unique is the ability to offer packages for a wide array of sports that include the WNBA, horse racing, boxing, professional tennis and soccer leagues all around the globe.
Doc's Sports has initiated a weekly Q&A with Raphael for the sole purpose of giving our readers exclusive access to this "inside edge". The aim of these conversations is to get his expert feedback on some of the hottest trending topics in the sports betting industry today. What better source is there than someone with inside access to the undisputed sports gambling capital of the world? The following is this week's conversation.
Doc's Sports: We have been dissecting the NBA playoffs since the opening tip in the first round with the same conclusion that Miami and San Antonio were on a collision course with one another to once again meet in the NBA Finals. Now that this matchup is in place, can the Spurs come through as -130 series favorites to end the Heat's impressive run?
RE: I am actually surprised at the series price for this matchup. I still believe the Heat are the better overall team with LeBron James, so I would have to say there is some solid value in their +110 odds to win. You also have to take into consideration that the Spurs' Tony Parker is not 100 percent and Miami's Dwyane Wade is, which could become a deciding factor as the series wears on.
Doc's Sports: Turning to the Stanley Cup Finals, it is the East Coast-West Coast clash we were pulling for from the start of these playoffs, but which team prevails; New York or Los Angeles?
RE : With a very generous series price of +155, I would have to go with New York as an underdog to win this series. Goalie play in the NHL Finals is such a huge part of the game, and given the current form of the Rangers' Henrik Lundqvist and the Kings' Jonathan Quick, New York has a huge advantage.
Doc's Sports : We all know that you are a big tennis fan. Now that it is crunch time in this year's French Open, can you give us your winner on the Men's side and the Women's side?
RE: Starting with the Men's side, this is clearly Rafael Nadal's tournament to lose after looking dominant on clay through the first few rounds. Andy Murray has an outside chance to pull off the upset, but I am not betting against Nadal. Maria Sharapova has a pretty clear path to the title for the Women, but she did struggle a bit to get past the quarterfinals, which is a minor cause for concern.
Doc's Sports: The 2014 World Cup gets underway later this month in Brazil. Do you have any general tips for handicapping the matchups at this level of play?
RE: One of the first things I look at is a team's form in the recent round of 'friendly matchups' that have taken place. These can give you a good idea of current form as well as what a particular country's overall roster looks like. I also look for countries with some quality talent that may be a bit 'under the radar' as a mid-range longshot heading into group play. The three at the top of my list right now would be Chile, Columbia and Ghana.
Doc's Sports : The field for this year's Belmont Stakes is pretty much set barring any last-minute scratches, so all we are waiting on is Wednesday's post-position draw before the morning line is set. As the hype for a possible Triple Crown winner in California Chrome continues to build, can you give us one or two longshots that have a legitimate shot to stun the field this upcoming Saturday.
RE: Looking at the field as it now stands, the two horses that have a chance to make the most noise at longer odds would be Kid Cruz and General A Rod. Both horses have the ability to stay in the mix with the rest of the field. I may not bet them to win, however I might be inclined to add them into an exacta or trifecta wager.
Click here to visit Raphael Esparza's Insider's Page at Doc's Sports for more information on his amazingly-profitable sports handicapping picks. Also, get $60 worth of Esparza's member's picks absolutely free - no obligation, no sales people - you don't even have to enter credit card information. You can use this $60 credit for any sport Esparza handicaps. Click here for $60 worth of free picks from Raphael Esparza . Also be sure to follow him on Twitter @VSIDocsports.