2014 World Cup Betting: Most Interesting First-Round Games
by Trevor Whenham - 6/11/2014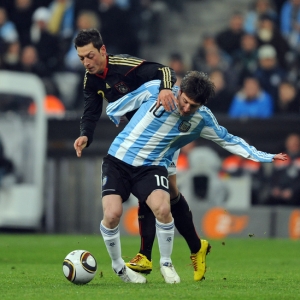 As we sit here on the eve of the great spectacle that is the World Cup, here are the five games in the first eight days of the first round action that have me most excited from a betting perspective along with some reasoning for my excitement:
Argentina vs. Bosnia and Herzegovina, June 15: This is our chance to get a sense of just how angry and determined these Argentineans are this time around - if their passion can match their talent. This is the opener for both teams, and it matches up the two best teams in Group F. The gulf between Argentina and Bosnia is absolutely massive, though - they exist on completely different tiers. Given the incredible firepower Argentina has, and their depth and defensive strength as well, they could easily run away with this one, winning by multiple goals and making a real statement to the other top contenders in the tournament that they aren't kidding around. If they are feeling cocky, though, then they might coast into this one, and Bosnia is easily good enough to steal a draw if things go just their way. It's not hard to be very optimistic about this Argentina squad, and the betting public obviously is, but after this game we will have a better sense of how justified that love is.
Germany vs. Portugal, June 16: Group G was seen as the Group of Death when the pairings were released, but that sentiment has been tempered lately as reality has sunk in. It seems now to be the common belief that Germany is superior to the rest, Portugal is clear second-best, and the U.S. and Ghana are left to pick up scraps and hope for a miracle. This opening game will be the first big test of that notion. It seems very likely that the winner of this game will win the group. That should be Germany, and they certainly have a history of getting up for this tournament. Portugal is dangerous, though, and we don't yet really know just how good they are. If anything is going to shake up this group and make it interesting again, it would be a very strong Portuguese showing here.
Belgium vs. Algeria, June 17: Belgium is getting a whole lot of hype as an up-and-coming squad. I'm not yet convinced that they deserve it. They are young and talented, but they haven't even played in this tournament for a long time, never mind actually won anything. I tend to think that this is more of a dress rehearsal for a strong showing in Russia in 2018. What could start to make me think I am not giving them enough credit, though, is a massive win here. If the Belgians can absolutely crush the Algerians - something that on paper they certainly should be able to do - then some of my assumptions about their youth and inexperience would start to be challenged. If it is just a narrow, uncomfortable win - or even a draw or an incomprehensible loss - then I'll feel fine about where I am standing right now.
Spain vs. Chile, June 18: In order for this game to be as compelling as it has the potential to be, I am making two assumptions - that Spain is going to beat Netherlands in their opener and that Chile will completely annihilate Australia in their first game. If both those happen - and I feel good about both - then this is a game for the ages. Spain has won the last three major tournaments they have played in. Chile is dangerous, talented, and close to home. It's the establishment against a hip upset pick. Can Chile show that they are ready for prime time? Or will Spain clinch the group with a game still left to play? This is a David vs. Goliath game, except David has a gun instead of a slingshot, and he has a pretty good idea of where to hit Goliath to make him hurt. There is no first-round game I am more excited about - and the pandemonium likely in the stands will only add to it.
Uruguay vs. England, June 19: If things play out the most likely way in the opening games then Uruguay will have beaten up on Costa Rica, and England will have lost to Italy - though likely not in humiliating fashion. That makes this a crucially important and very intriguing game. England would absolutely need a win here to give themselves a chance to advance - or a draw at the very least, but that is far from ideal. Uruguay would have the chance to gain confidence through a statement win and to all but secure a second-round berth. That means they can head into their big one against Italy worried about seeding instead of survival. If England can draw or beat Italy then this one become even more important because both teams would be playing to win the group, and England would be even more motivated than if they had lost one. The good news for Uruguay bettors is that that first game against Costa Rica will give us a good chance to assess Luis Suarez and the state of his knee before fully trusting him here.
Get free picks from any Doc's Sports handicapper - there is no obligation for this offer and no credit card required. Just sign up for an account, and you can use the $60 in free picks for any Doc's Sports Advisory Board handicapper and any sport. Click here to get started now.
Read more articles by Trevor Whenham