2014 World Cup: France to Play the Role of Sleeping Giant
by Strike Point Sports - 5/5/2014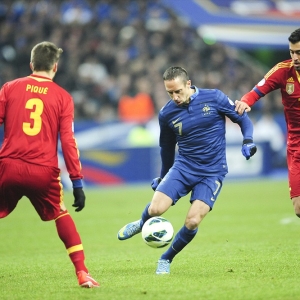 Managed by acclaimed boss Didier Deschamps, Les Bleus possess all the necessary ingredients to create a masterful performance in Brazil. This summer is Deschamps first major tournament as boss after being appointed to replace Laurent Blanc after Euro 2012.Each of the past few major tournaments under former management were met with weighted expectations. However, France drastically underachieved and fell short of high hopes placed upon them by their country. After winning both Euro 2000 and the 2002 World Cup, France has really taken a step back to be honest as far as elite contenders go. Their embarrassing group stage exit in South Africa at the 2010 World Cup was a gigantic failure and that surely will be on the minds of both the players and supporters alike as the team looks to redefine and redeem themselves this summer.
France are listed at +2200 to win the World Cup.
With depth, experience and some of the most in-form players in the world, France will undoubtedly challenge any country to make a deep run in the tournament. Captain Hugo Lloris creates the foundation between the sticks as one of the most reliable and talented goalkeepers in the world. It is hard to argue which part of the pitch is strongest for France,not to mention their depth surely helps to make this a challenging debate. One of the most consistent players for club and country since the last World Cup has been Franck Ribery, whose play has raised questions of just how close he is to becoming one of the best players in the world, evidenced by his Ballon d'Or finalist nomination as soccer's top player.
Swarmed by word-class footballers in the middle of the pitch, Ribery will put in the work with dynamic playmakers such as Paul Pogba, Matthew Valbuena, Blaise Mautidi, Yohan Cabaye and Samir Nasri. Ball possession and midfield production will be necessary in order to provide enough chances for the big boys up front. Led by one of the best strikers in the world, the top of the line starts and ends with Karim Benzema. The Frenchman will look to continue his amazing year at Real Madrid and help lead his country to a strong showing in Brazil. Other striking options include Arsenal striker Oliver Giroud and emerging starlet Loic Remy, both whom have enjoyed success in England playing for Arsenal and Newcastle, respectively.
If France are not dangerous enough in their opponent's final third of the pitch, the French back line will surely stir up frustration for their opposition's chances via a strong back line in front of the aforementioned Lloris. Led by Patrice Evra, Laurent Koscielny, and Bacary Sagna, this quartet will be strong, experienced and assuredly counted upon to keep chances few and far between. Sagna and Evra are most likely to fill the wing back roles, and either one or both Raphael Varane and Mamadou Sahko will play the starting centre back role alongside Koscielny.
When all is said and done, if these fine players are able to live up to their abilities, a lofty price tag such as +2200 to win the World Cup doesn't seem as much of a stretch as it does on paper.I think a quarterfinal appearance for France is a reasonable goal, and from then on anything is possible with some of the more talented players in the field. The French possess great talent, and the disappointment of four years ago might just spark a special run from a team sitting well beyond the radar this summer.
Strike Point Sports has established themselves as one of the top soccer handicappers with their success on the big tournament stage. From the 2006 World Cup, Euro 2008, 2010 World Cup and Euro 2012, SPS earned $100 clients over $8,200 in profit from these four major events. This summer's World Cup is going to be another moneymaking opportunity, and they are looking forward to their soccer selections and another winning tournament.
Visit Doc's Sports for coverage of the 2014 World Cup and more articles leading up to this summer's major soccer tournament.