2014 World Cup Group B Picks and Betting Odds
by Trevor Whenham - 1/14/2014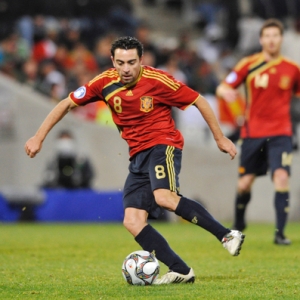 In most groups in the World Cup, teams are focused on finishing first or second — just advancing to the second round. This is one of those rare groups, though, in which second may not be good enough. The second place team in Group B will have the unfortunate fate of playing the Group A winner — which is almost certain to be Brazil — in the first round of the playoffs. Ouch. The Group B winner, meanwhile, is spared the fate of having to play the host team until the finals of the tournament. Add that layer of intrigue to a group that is very competitive, with three teams that are all very deserving of moving on, and you have the recipe for one of the best groups in the tournament. Group G, with the Americans, Germans and Portuguese, is most often described as the Group of Death, but for my money Group B deserves that title.
2014 World Cup Group B Picks
Best team: Spain. You can't look beyond the defending champions. They were second in the Confederations Cup to Brazil, and they have won the last two European Championships. It's not tough to make the argument that this team isn't what it has been in recent years, but they are still unquestionably among the world elite, and they will be very tough to beat. I almost hope they stumble at some point in group play, though — just enough to finish second. The prospect of a Spain vs. Brazil showdown for the right to play in the quarterfinals is almost too exciting to imagine.
Worst team: Australia. One of these things is not like the other. Spain, Netherlands and Chile are all strong programs that unquestionably deserve a chance to keep playing. Australia is a program that is only here because of geography — if they had to qualify from any other region they wouldn't have a chance. It would be an all-time upset if they found a way to get through.
Best game: A lot of people would point to Spain vs. Netherlands to open group play. Assuming both teams win their openers, though, I am more interested in seeing Spain vs. Chile. Two Spanish-speaking countries at very different places in their development as soccer powers. Chile is an underdog, but they are fearless and talented, and they will have plenty of fan support. The appeal of the Dutch and Spaniards is their reputation as much as anything. For Spain and Chile, it's all about intensity, passion, and something to prove.
Predicted order of finish: I can't go against Spain to win it all. I don't like the Dutch nearly as much as some do right now, so Chile gets the nod to finish second. The Dutch would be third, and I don't expect Australia to get a single point in the standings.
Team-by-team Breakdown (odds to win Group and tournament from Sportsbook.ag)
Australia (+65000 to win the tournament, +3000 to win Group B): Third straight time in the tournament. Third different head coach. This isn't a bad team. They just aren't nearly good enough to compete on this stage against this quality of teams. With a much more fortunate draw they could perhaps have advanced, but a lack of depth and lousy matchups likely seal their fate here.
Chile (+4000, +450): In 2010 these guys played truly exciting soccer. Their fate there could be sadly similar to what they face here — they finished second in Group H behind Spain but lost in the Round of 16 to Brazil. They showed how talented and dangerous they are by travelling to London in November and beating England 2-0 in a friendly. Four days later they gave Brazil a very tough test in Toronto before losing 2-1. They are creative and aggressive, and they will make things very interesting. They don't have the talent of the top two teams in this group, but they certainly won't be caught flat-footed — and are very capable of catching either team off guard.
Netherlands (+2500, +225): This team is talented, but that's always the case. The problem with the Dutch isn't that they don't have what it takes to win. It's that they find frustrating ways to fall short in pressure situations time and time again. Sometimes they fall just short. Other times, like at Euro 2012, they fall way, way, way short. They finished second to Spain in 2010, but I just don't trust that they are mentally tough enough. They face two games against very good opponents, and I don't have faith that they will win both. Really, they are going to disappoint their fans at some point in this tournament, so wouldn't it be better for them to get it over with quickly and get knocked out in the round robin?
Spain (+650, -140): There is some history working against this team here. No squad has defended their World Cup title since Brazil did so in 1962, and no European team has won a World Cup played in the Americas. The team was also humiliated in the final of the Confederations Cup, losing 3-0 to Brazil. Of course, they didn't even make the final of the Confederations Cup in 2009 and won the World Cup the next year. The team is getting older and hasn't replaced their core talent as well as they were expected to. That means that the window could be closing for this team. They know how to win, though, and winners who are backed into a corner often come out swinging. It would be a surprise if Spain won the tournament, but not a major one. This is a tough group, but it is theirs to lose.
Read more articles by Trevor Whenham