2014 World Cup Group D Picks and Betting Odds
by Trevor Whenham - 1/28/2014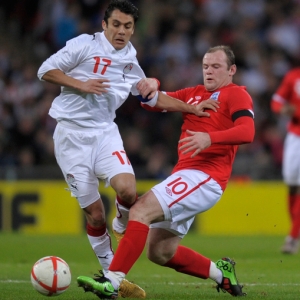 The thing about this debate over the Group of Death that happens at every major tournament is that there is no right answer. Few people would pick Group D as their choice, but there is no doubt that it has elements of deathliness to it. There is very little to separate England, Italy and Uruguay. They are three teams that have all won the tournament in the past but which likely aren't in position to add to their historical totals. Costa Rica, meanwhile, almost certainly isn't going to advance, but they are well-positioned to crush some dreams and send a team home early. They are the ideal spoiler.
World Cup Group D Picks
Best team: Uruguay. Though you could make an argument for England or Italy and I wouldn't argue with you. This one is a dogfight between three evenly-matched teams. None of them are likely good enough to win it all, but they all probably deserve to advance.
Worst team: Costa Rica. This team qualified as the second team out of the ridiculously weak CONCACAF but wouldn't have come close to qualifying out of a stronger region. Even in this group without a true elite contender they are well behind the pack.
Best game: England vs. Italy. You could make an argument that Italy vs. Uruguay is better, and based purely on the matchup it could be. This game is the first for both teams, though, and will be a very good measuring stick for both squads — two teams that don't particularly like each other.
Predicted order of finish: Costa Rica will finish last. That much I am fairly confident about. Of the other three I have the least confidence in England, so I will tab them for third. I like Uruguay slightly over the Italians so will give them the edge. If the second-place team in this group were to win their Round of 16 matchup they would face a likely date against the host Brazilians, so first place is significant here. Of course, the winner of the group would be on track to a quarterfinal with Spain, so it's a tough spot for both squads.
Team-by-team Breakdown (odds to win Group and tournament from Sportsbook.ag)
Costa Rica (+100000 to win the tournament, +2000 to win Group D): This is not a team that is entirely without merit. They play very disciplined and largely effective defensive soccer. That could certainly be enough to make things interesting — especially against England and Italy. Their problem, though, is that their offensive game is just plain lousy. Terrible. If they fall behind against these three opponents they are quite likely to stay behind. They just don't seem to have the depth to be a serious threat.
England (+2500, +200): England disappoints in the World Cup. It's their thing. So, will they be able to manage it again here? Probably. The difference, though, is that unlike past years I don't think anyone but the most loyal of fans really expects much from them. They have some very nice players — Rooney and Wilshere are world-class. They just don't seem to care enough. Their coaching is almost robotic, there is no passion to the team, and they are tough to trust. I wouldn't be terribly surprised if they won the group. The problem is, though, that I also wouldn't be that surprised if they dropped all three games. England hasn't had an identity as a team for a decade or more now. Until they find one, they will continue to flounder.
Italy (+2500, +170): As the 2006 champion and a Euro 2012 finalist this team is obviously relevant — and probably the most talented in the group. They also have exceptional coaching — something that always seems to be the case for the Italians. Their problem, though, is that as the team that won it in 2006 aged they have failed to develop the same caliber of young talent to replace them. With guys like Balotelli and Pirlo they certainly have talent to contend and win this group. They also looked strong in qualifying. It just comes down to whether they can get everything moving in the right direction at the same time.
Uruguay (+2500, +180): This team was a semifinalist in 2010, so they obviously have some game. They haven't been quite as strong since and didn't qualify particularly well or play great in the Confederations Cup. They still have a very good front end, though — Luis Suarez is the best player in the group in my eyes — and they have the potential to really do some damage. While their overall talent is likely a notch or two behind Italy, I am putting my faith in the advantage of playing in South America to make the difference. They should have strong crowd support, and they have enough experience now to handle the pressure positively.
Doc's Sports has a great offer for new clients. You can get $60 worth of picks from any Advisory Board handicapper for any sport he handicaps. All with no obligation and no credit card needed. Claim your free picks today.
Read more articles by Trevor Whenham