2014 World Cup Group F Picks and Betting Odds
by Trevor Whenham - 2/13/2014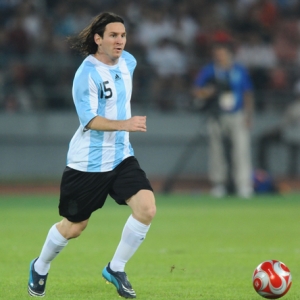 Argentina may be in an even better situation than Brazil is in this tournament. The immensely-talented team is good enough to win it all, and they get to play close to home where things will be familiar and fan support will be plentiful. They don't have to deal with the pressure of playing at home, though, so they should be able to sleep a little more soundly than the Brazilians during the tournament.
Like Brazil, the Argentineans were also blessed with a group that they would have to work really hard not to win. Bosnia and Herzegovina and Nigeria are respectable teams, and one of them will be respectable in the elimination round, but they are in an entirely different class than this loaded Argentinean team. If Argentina is even half the team most people think they are then this group won't challenge them. If it does, though, then things really get interesting.
Group F at a glance
Best team: It goes without saying that it is Argentina by a very wide margin. They are the second choice to win the entire tournament, and they have a deep and loaded roster. Their biggest issue is that while they may very well be the second-best team in the world, they are only the second-best team in South America. Assuming neither team falters in group play, Brazil and Argentina would be on track to meet in the finals in a game that would rock an entire continent on its foundations.
Worst team: Iran gets the nod here. There are some decent players on the roster — especially striker Reza Ghoochannejhad, who has the inside track to being named captain of the tournament's all-name team. They largely play in the domestic league, though, and just aren't going to have the experience, talent, or depth to be a serious contender. They could trip up any opposing team if things work perfectly for them, but it's very unlikely that they can do enough to advance. One thing they have going for them is that their manager, Carlos Queiroz, led Portugal in this tournament in 2010. Of course, he was heavily criticized for that performance.
Best game: Nigeria vs. Bosnia and Herzegovina. Argentina will obviously be the team to watch in this one, and they play an exciting style to watch. In terms of significance, though, this is the game. The winner of this game is very likely to be the one to advance to the second round of the tournament, so the stakes will be astronomically high, and both teams will know it. It is the second game each team will play, so they will be seasoned and ready to play at their best — though Bosnia has the misfortune of playing Argentina in the opener, so they could be shellshocked. This one has the potential for fireworks.
Predicted order of finish: Argentina will come out on top. I give Nigeria the edge to finish second, with Bosnia and Herzegovina coming in third thanks to a win over Iran. The Iranians will bring up the rear and will be lucky to earn a single point.
Team-by-team Breakdown (odds to win Group F and tournament from Sportsbook.ag)
Argentina (-550 to win the group, +400 to win the tournament): Two words — Lionel Messi. That's enough to explain why this team gets so much attention. The guy is pretty good at soccer. While his presence on any team would make them dangerous, he is far from the only weapon here. A brilliant attack led by Gonzalo Higuain. A great midfield featuring the under-appreciated Angel Di Maria. Ridiculous depth. There are some concerns about the quality of the backfield, but it's not like it is terrible, and there is much talent in front of them that it shouldn't often be an issue. This team is good. So good that they are my pick to win it all.
Bosnia and Herzegovina (+650, +21000): This team is built around a very good attacking duo of Vedad Ibisevic and Edin Dzeko. They are going to be able to score, and they are going to be fun to watch. They are going to have to score a ton of goals, though, because this team just isn't going to impress and amaze with their ability to defend. Goalkeeper Asmir Begovic is going to be extremely busy. I'm not convinced he is up to the challenge.
Iran (+3000, +100000): The biggest asset here may be their manager. Queiroz has taken a big step down the food chain here going from Portugal to Iran, and he knows it. The poor performance and questionable decisions hurt his career, and he could do a lot to save himself here with a surprising performance. He'll be hungry, and he has learned about what not to do. He also has some real scoring talent to work with. If he gets creative and has a lot of luck he could make things interesting. Clearly, though, I'm not optimistic.
Nigeria (+900, +25000): My favorite trivia tidbit about this team — captain and goalkeeper Vincent Enyeama has scored 18 career goals because he takes penalties. You don't see that every day. He's also very good. He will save this team at times, but he doesn't have to do all the work because he has some real talent in front of him. As is the case with each team in this group they are going to be able to score, and they are going to be creative. Their schedule also sets up well for them — a warmup against Iran before that Bosnia and Herzegovina tilt.
Want free sports betting picks? Doc's Sports has you covered – get $60 worth of picks free from any of Doc's Sports expert handicappers. Click here for free picks (new clients only).
Read more articles by Trevor Whenham