2014 World Cup Group H Picks and Betting Odds
by Trevor Whenham - 2/25/2014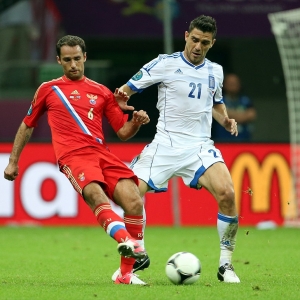 This group is a perfect example of how even the most time-tested of phrases aren't always true. We've heard all our lives about how they save the best for last. Group H will be the last group to start round-robin play, and they will play the last game of the round-robin portion of the tournament. And this most certainly isn't the best group of the tournament. Not by any measure. There is one quite good team, though they fall below the elite of the tournament. There is one decent team that has the potential to win a playoff game or two. And then there are two teams that are just happy to be here. Barring a massive surprise, there is a real shortage of drama and not a lot of games to get excited about here. In the case of this year's tournament, then, the saying should be that they play the best then they play the last.
2014 World Cup Group H picks at a glance
Best team: Belgium. It's not even close. They cruised through qualifying with only two draws as blemishes in their 10-game schedule. After qualifying for six straight World Cups, the Belgians have not played in the last two. That caused massive frustration in the small country, and the team that finished fourth in 1986 has worked very hard to be sure that the embarrassment is a thing of the past. They are young but very talented, and they are the one team in this group with a chance to do something special.
Worst team: Algeria. Africa is not particularly strong right now, and Algeria is far from the strongest team in that region. They benefited from a soft path through qualification, and they still only made it through by the narrowest of margins — they tied Burkina Faso in a two-game playoff in the final round, and they only qualified because they scored more away goals. They are outclassed — even in this group.
Best game: At the risk of really sounding negative about this group, the Belgium vs. Russia contest that will be played in the second set of games in this group is not only the best game in the group but the only one that is particularly interesting. These squads met in 2002 at the World Cup. Belgium pulled off an upset, and their current coach, Marc Wilmots, scored the winning goal in that game.
Predicted order of finish: I expect this group to be very chalky. Belgium will win the group, with Russia qualifying for the round of 16 in second place. South Korea will beat Algeria to finish third, and the Africans will wind up last.
Team-by-team Breakdown (odds to win Group and tournament from Sportsbook.ag)
Algeria (+3000 to win the group, +100000 to win the tournament): As negative as I have been, there is a bit of talent here — Ishak Belfodil and Saphir Taider have made some noise playing in Europe. They also have a history of playing up to the level of top opponents — they beat West Germany, the finalists, in the preliminary round of the 1982 World Cup, and they have fared well against other elite teams over the year. I'm just trying to find the bright side, though — I really don't like much about this team on this stage.
Belgium (-175, +1300): This team is a step below the very best teams like Brazil and Argentina, but they are certainly in the second group. While they struggled in recent years, they have been developing a very deep and impressive generation of young talent. They don't have a whole lot of household names — at least not to casual fans — but they don't have a particular weakness, either. They are strong in goal, and they have good talent everywhere up to the front as well. Their lack of experience on this stage is a concern because we don't know how they will handle the pressure and the hype. If they can achieve their potential, though, they will be fun to watch.
Russia (+200, +7500): The coaching here is one of the biggest storylines. Fabio Capello was chased out of England after a hugely disappointing performance at the World Cup in 2010. As is so often the case with coaches, though, all he had to do was go slightly down the ladder to find another gig. His impact has been obvious so far. He took a defense that was really questionable and transformed it to one that allowed just five goals in qualifying. He'll be hungry to redeem himself, but it seems doubtful that he has the talent needed to contend with the best. They could face a Round of 16 contest with Germany if they finish second in this group, though, so it is going to be tough for this team to shine.
South Korea (+900, +40000): The key here is Son Heung-Min. He plays at Bayer Leverkusen, and that team paid a higher transfer fee for him than they have for any other player. He's an exciting and dangerous forward. I just don't think he has enough talent to work with here. Best-case scenario is that they beat Russia and take the second qualifying spot. I just don't see them beating Belgium, though.
Want free sports betting picks? Doc's Sports has you covered – get $60 worth of picks free from any of Doc's Sports expert handicappers. Click here for free picks (new clients only).
Read more articles by Trevor Whenham