2014 World Cup Handicapping: Interesting Parlay Bets for Group Winners
by Trevor Whenham - 6/11/2014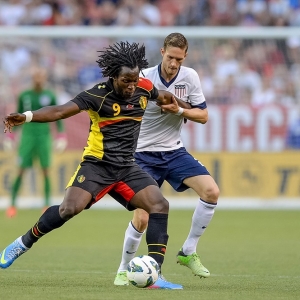 Bovada has made betting on parlays for group winners in the World Cup very easy. They have offered a wide range of three-, five-, seven- and even eight-team parlays to choose from.
The obvious concerns about parlays also apply here. Parlays are typically not the best way to find value because the odds of the parlay are typically far worse than they should be given the odds of the individual events involved. That means that looking at these bets is as much out of interest and the challenge of them as anything else. In other words, these are a way to get tuned up for the World Cup action and to pass the time before games start more than they are sound investments. With that being said, let's take a look.
To tackle this series of bets, it only makes sense to start out by looking at each of the eight groups and breaking them down into three tiers. Tier A is the groups that have a clear and obvious winner. Tier B has a solid favorite but some strong contenders chasing them. Tier C are the groups that are totally wide open with multiple teams having a good chance to win it all.
Tier A
Group A: if Brazil doesn't win this group then the entire country will instantly self-destruct. Mexico will elevate their game somewhat, but it won't be enough to threaten the champs.
Group F: Argentina is very good, and there just isn't a legitimate threat to beat them unless something goes horribly wrong. Bosnia and Herzegovina is the best of the rest, but they are of a totally different caliber.
Tier B
Group C: Colombia is the best team in this group, and if superstar Falcao hadn't been lost to injury then they would definitely be in tier A. While they are not the same team without him, they should still have the firepower to come out on top in what is the weakest group of the tournament. Greece and Japan could surprise, but they are not as good as the Colombians.
Group E: I like Switzerland here. A lot of people really seem to be liking France these days - and they do have the edge in the odds. Ecuador and Honduras likely aren't top-level threats, but it's pretty much a coin flip between the top two teams.
Group G: With all due respect to most of you reading this, I don't like much about the Americans right now. They are playing reasonably well leading up to the tournament, but I just don't think they have the depth to really compete. I have concerns about Ghana as well. Germany is the clear star of this group and the most likely winner. Portugal is dangerous, though, and seems to be gaining momentum as the tournament nears.
Group H: Belgium is the favorite here, and they are unquestionably talented. They are young and very inexperienced, though, so the situation could be too much for them. If that is the case then Russia could make things interesting.
Tier C
Group B: The best of the groups is also one of the most wide-open. Spain is favored, but they may not be at the peak of their skills entering this tournament. They will be challenged by the Dutch in their opening game and then by Chile in their second game. Anything could happen here, and it makes it tough judge.
Group D: This is the most wide-open of any group in the tournament. Italy, Uruguay or England could all win this group without raising too many eyebrows, and there is little to separate the teams until they start playing games.
Once the teams are separated into groups, it's just a matter of finding the parlay bets that best balance risk and potential reward. The Tier A teams have very little risk involved, but their potential for return is low as a result. They wouldn't provide much of a return in a three-team parlay, but you could use one of the two teams with two teams from other groups in a three-team parlay or use both teams to make a five-, seven- or eight-team parlay more interesting. Tier C teams can be largely ignored unless you are taking a shot at the seven- or eight-group parlays and you need them. Tier B is where the money will be made - if you can pick the teams correctly.
Instead of messing around with picking a few individual parlays - you can do that by yourself now that the framework is in place - I'm going to swing for the fences and pick an eight-team parlay. In group order: Brazil, Spain, Colombia, Uruguay, Switzerland, Argentina, Germany, Belgium. That pays 125/1. I'd take that. For the record, the favored parlay - Brazil, Spain, Colombia, Italy, France, Argentina, Germany and Belgium - comes in at just 50/1.
Want free sports betting picks? Doc's Sports has you covered - get $60 worth of picks free from any of Doc's Sports expert handicappers. Click here for free picks (new clients only).
Read more articles by Trevor Whenham