2014 World Cup Handicapping: Most Overrated Players
by Trevor Whenham - 2/12/2014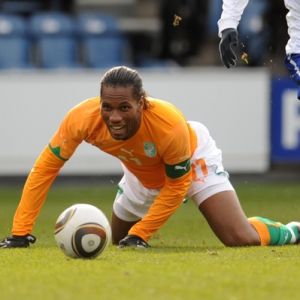 If a player is good enough to make the national side for the World Cup and play significant minutes then they are very good. The public has a tendency, though, to assume that some players are better than they really are — or at least than they are likely to be at this point. High-profile players can have a reputation that doesn't match realistic expectations, and that can lead bettors to inflate their importance — and the chances of their team as a result. As we head into the 2014 World Cup, here are six players that the public is very likely to give too much credit to in their handicapping:
Franck Ribery, France: France in general is one of the more overrated teams as the betting public remembers when they were great and expects some version of the same. Ribery is one of the higher-profile players on the team, and he has reputation that has been deserved in the past — the guy can really score, and he was named top player in Europe last year. He'll be 31 when the tournament rolls around, though, and this year he just hasn't been scoring at quite as high of a rate. He's far from a bad player, but I am not convinced that he is living up to his best right now or that he can be counted on to carry a French team that is lacking in balance.
Wayne Rooney, England: By now Rooney has a well-established reputation — he only plays well for Manchester. He does not seem to be able to perform at a high level when the games really matter internationally. He doesn't generally seem to be nearly as sharp as he once was, so when you take his regular level of play and discount it for World Cup play you get a player who could be a real disappointment. Despite his eternal international struggles, though, Rooney still has a reputation among the betting public as a big-time performer. Many would say he is one of the best in the world. They would not be right.
Steven Gerrard, England: I almost feel bad about including the captain here. The team is so high-profile, though, that I can't leave him off. Gerrard's biggest fault could be that he cares too much. His team is too often apathetic and seemingly disinterested, so Gerrard seems to take too much upon himself and try to turn things around on his own. That leads to breakdowns in discipline and to getting out of position and giving up opportunities. Gerrard has a reputation as a rock at the heart of this team. While he is a good leader, the good isn't always balanced off by the bad.
Didier Drogba, Ivory Coast: I feel really bad about having to include Drogba on this list. Ivory Coast has been a very fun team to watch in the World Cup recently, and Drogba has been at the heart of that. He is a massive talent, and he has defined his national team as much as any player in the world. The sad fact is, though, that he'll be 36 by the time the World Cup rolls around, and he just isn't the player he once was. He still has the heart of a lion, but casual bettors who have gotten used to viewing him as a megastar internationally are almost certainly giving him too much credit.
Gerard Pique, Spain: The defender has had plenty of success. He also has a very good publicist, and as a result of his constant self-promotion and his relationship with Shakira he is viewed as a far more significant player than he actually is. He's solid, but vulnerabilities can certainly be exposed, and he isn't the wall that he is paid to be. Some guys get too much credit because of their public profile. Pique certainly fits in that category.
Mario Balotelli, Italy: The 23 year old is wildly talented — and he'd be the first to tell you so. His biggest problem, though, is that he can't seem to keep his head in the game all of the time. He will show the flashes of brilliance that made many think he was the next great star of the sport, but then he'll just disappear — or actually be a detriment to his game. He's inconsistent, and it's frustratingly difficult to predict when he will shine and when he will disappear. By this stage in his career he should be in the discussion for best player in the world. As it is, though, it's just way too easy to give him too much credit.
Read more articles by Trevor Whenham