Betting Odds and Free Picks for Player and Team Props for Monday
by Dave Schwab - 3/23/2015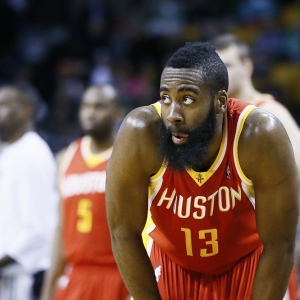 Betting on individual player props or team props is a great way to supplement the action for that night's games. Sportsbook.ag is one of the top sites out there for releasing prop bet odds, so each Monday I dig deep into the numbers to come up with free picks for a few of these prop bet odds that have the best chance on playing off.
The following is a brief look at my top two picks for this Monday night in the NBA on Sportsbook.ag player and team specials for the top matchups on the slate. I have also included my top prop bet pick of the week as released by BetOnline.
Rockets/Pacers Player Specials- James Harden Double-Double
This Monday night, the Houston Rockets will go on the road to face the Indiana Pacers in an inter-conference matchup between two teams looking to get back to its winning ways.
The Rockets are clinging to third place in the Western Conference standings at 46-23 on the year, but they are just 3-3 in their last six games following Saturday's 117-102 loss to Phoenix. In that game, James Harden was held to just 16 points, two rebounds and five assists as compared to his season average in all three categories of 26.9 points, 5.8 rebounds and seven assists. Last Thursday, he exploded for 50 points in a win against Denver while grabbing 10 rebounds and dishing out four assists.
The player prop odds that Harden posts a double-double in Monday night's game have been set at +150, and I am going to take that bet. The Pacers' playoff chances in the East have taken a major hit with a five-game losing streak, and the last thing they need is Harden coming to town fresh off a bad loss of his own.
Wizards/Warriors Game Props- Largest Lead of the Game
The Washington Wizards wrap up their four-game road trip out west with the toughest of their four matchups this Monday night coming against Golden State. They have already lost to the Los Angeles Clippers by 14 points and the Sacramento Kings by 23 points, so it is hard to see them being all that competitive against the league's top team.
Sportsbook.ag has set the betting odds at -130 that the largest lead in this game will go "over" 18.5 points and the betting odds for the "under" 18.5 are an even money +100.
The Wizards did play Golden State pretty tough the last time they met on Feb. 24 in a seven-point loss at home, but looking back at the Warriors' current five-game winning streak, the average margin of victory has been 16.6 points. That includes a 114-95 rout at home of the Eastern Conference's best team, Atlanta, on March 18.
I think it is well worth the risk to go with the over in this prop in what should be another relatively easy win at home for Golden State.
Top Prop Bet pick of the Week- NCAA Tournament Most Outstanding Player
BetOnline has just posted its prop bet odds for this season's Most Outstanding Player in the 2015 NCAA Tournament's Final Four and this is a great time to take advantage of the peak value in these odds given that there are still 16 teams in the field.
The first assumption I am going to make with this pick is that undefeated Kentucky completes its 40-0 run through the season and wins the national title. All the betting odds from any sportsbook favor this outcome, and I am not about to bet against the Wildcats given just how good they have looked since mid-February with one dominating victory after another.
This is an extremely well-balanced team with five different players holding the top five betting odds on BetOnline's futures odds list. Willie Cauley-Stein has the best odds at +300 followed by Trey Lyles at +500, but I am looking to stretch the value a bit with a play on Karl-Anthony Towns as a +600 third favorite.
I realize that the Wildcats are still four victories away from sealing the deal and that any of the five players on this list could rise up and earn this award in the final two games of this run, but to me, Towns is already in championship form with 21 points and 11 rebounds in Kentucky's opening 79-56 win against Hampton. He went on to score eight points in Saturday's 64-51 romp against Cincinnati while adding another seven rebounds to his tournament total.
If he continues to play at a high level and then dials things up in his final two games, he should already be pretty bright on the voter's radar screen to win the Final Four MOP Award.
Read more articles by Dave Schwab