Betting Odds and Tuesday Picks of the Day from the Odds Shopper
by Dave Schwab - 3/23/2015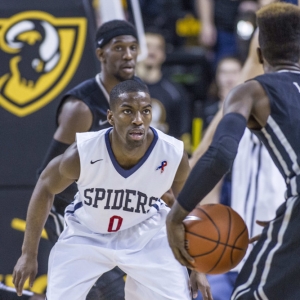 The stage is set for the start of the Sweet 16 Round of this season's NCAA Tournament later this week with four games both Thursday and Friday, but I have turned my attention to a pair of intriguing matchups in this season's NIT Quarterfinal Round on Tuesday night for this week's Odds Shopper.
The following is a brief look at both of these games where I shopped the odds to try and get the best value for my picks.
NIT Quarterfinal- Miami Hurricanes vs. Richmond Spiders
The Hurricanes opened this tournament as the No. 2 seed in Region 2. They survived a close call in last Tuesday's 75-71 victory against No. 7 North Carolina Central as 8.5-point favorites, but they did cover as 4.5-point favorites in this past Saturday's 73-66 win over No. 6 Alabama to set up Tuesday's matchup against the region's top seed. It was the first time Miami covered against the spread in its last four contests.
Free $60 in Member Sports Picks No Obligation Click Here
Sophomore guard Manu Lecomte is going to have to come up big for the Hurricanes again on Tuesday night. He pumped in 18 points in the NIT opener and followed that up with 17 points in Saturday's win. He went 5-for-11 from the floor against the Tide, but Miami as a whole shot just 40.7 percent from the field. On the year, this team averaged 68.4 points per game while shooting 43.4 percent from the field.
Richmond's NIT opener ended as a "push" with an 84-74 victory against No. 8 St. Francis as a 10-point favorite. The Spiders then knocked off No. 5 Arizona State 76-70 as 4.5-point favorites in Sunday's second round action. It was their eighth SU win in their last nine games while going a solid 7-1-1 ATS. The lone loss was to VCU in a 70-67 setback in the Atlantic 10 Tournament as two-point underdogs on March 13.
Senior guard Kendall Anthony had the hot hand against the Sun Devils with a game-high 21 points while going 3-for-4 from 3-point range. Richmond also had three other players with at least 15 points to help pace the win. The Spiders are averaging 65.4 PPG, but they have now eclipsed that number in each of their last four games.
I am going with Richmond in this matchup as the better all-around team, especially given the fact that it is playing on its home court. The oddsmakers have opened the Spiders as slight one-point favorites, but despite the fact that the spread has already jumped to two points with BetOnline and Top Bet, I am still good with my pick.
NIT Quarterfinal- Vanderbilt Commodores vs. Stanford Cardinal
No. 5 Vanderbilt opened play in the NIT's Region 3 with a 75-64 upset of St. Mary's as a 2.5-point underdog. It punched its ticket to this round by hammering No. 8 South Dakota State 92-77 as an 8.5-point favorite last Friday. The Commodores are now 8-2 both SU and ATS in their last 10 games.
They appear to finding their form at just the right time behind sophomore center Damian Jones and freshman guard Wade Baldwin IV. Jones led the way in the NIT opener with 21 points and seven rebounds, and Baldwin had a big game against South Dakota State with 20 points, 10 rebounds and nine assists to help pace that win. Vanderbilt has now scored 73 points or more in six of its last eight games.
Stanford came into this tournament as the No. 2 seed in Region 2, and it earned that lofty ranking with solid victories against No. 7 UC Davis and No. 3 Rhode Island as a favorite in its first two games. Despite these two wins, the Cardinal have been a tough team to bet on after failing to cover in 10 of their previous 12 games. Their SU record over the same stretch was an even 6-6.
Senior guard Chasson Randle remains Stanford's top scoring threat with 18.9 PPG. He scored a game-high 35 points in Sunday's 74-65 victory against Rhode Island while shooting 9-for-16 from the field. This team has now posted 71 points or more in three of its last four games to basically mirror its 72.3-point scoring average on the year.
I like the Cardinal's chances to come away with the SU win as the higher seed playing at home, but it will not be easy, so I am taking Vanderbilt and the points. Stanford opened as three-point point favorites, and both BetOnline and Top Bet have bumped up those odds in my favor to 3.5 points.
Read more articles by Dave Schwab