Case of the Mondays: Bengals, Broncos Lose AFC Control to Patriots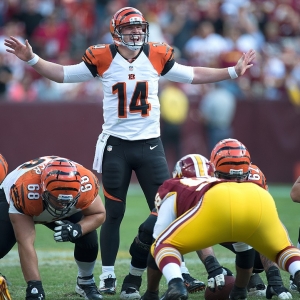 While New England played on the road in Week 14 as Cincinnati and Denver enjoyed the friendly confines of home parks, all of that hardly mattered in the ongoing battle for AFC supremacy. It was the Patriots who took care of business, whereas the Bengals and Broncos went down in the flames of upset losses. And the Bengals lost more than just a game on Sunday.

Odds provided by MyBookie.ag unless otherwise indicated .

Andy Dalton . Cincinnati's quarterback fractured the thumb on his throwing hand during the first quarter of Sunday's setback against Pittsburgh and did not return. He is expected to miss the last three games of the regular season, if not more. Adding insult to injury, the Steelers pulled away from the home team for a dominant 33-20 victory. A.J. McCarron replaced Dalton and went 22-of-32 for 280 yards with two touchdowns and two interceptions. Additionally, Dalton may not get an extra week of healing prior to the Bengals' first playoff game because they are suddenly in grave danger of missing out on a first-round bye.

Atlanta Falcons . The Falcons were once 5-0. They were also 6-1. Now they are 6-7 and almost certain to miss the playoffs. Their losing streak hit six games on Sunday with a humiliating 38-0 loss at undefeated Carolina. Matt Ryan's alarming slump arguably reached a low point, as the veteran quarterback completed 22 of 34 attempts for 224 yards while turning the ball over twice (one interception, one fumble). Even running back Devonta Freeman, who took the NFL by storm throughout the first month of the season, gained only 40 yards on 12 carries and also lost a fumble.

Army . It would be fair to say that Army-Navy is arguably the only game in sports that annually features no losers. But on the football scoreboard, Army once again came up short. Although the Cadets accounted themselves extremely well as 21-point underdogs against Navy, the fact that they had a real chance to pull off an improbable upset-and didn't-has to sting. Army, which has now lost 14 in a row in the head-to-head series, took leads on three occasions at 3-0, 10-7, and 17-14. All of that scoring, however, took place in the first half. Navy scored a third-quarter touchdown, blanked the Cadets throughout the entire second half, and held on for a 21-17 victory. The Midshipmen are -3.5 favorites over Pittsburgh in the Military Bowl.

Golden State Warriors . They lost! The Warriors lost a basketball game! While Milwaukee deserves some credit, it got a major assist from Boston. The Celtics had taken the air out of Golden State 24 hours earlier, pushing the 2014-15 champions to double-overtime in what was eventually a 124-119 Friday night loss for the home team. Clearly gassed, Stephen Curry and company paid a visit to the Bucks on Saturday and went down in listless 108-95 fashion. Curry went only 2-for-8 from the three-point range, and Klay Thompson, probably not 100 percent because of an ankle injury, scored just 12 points on 4-for-14 shooting. The Warriors came within one stop of successfully completing a seven-game road trip before going home for five in a row, but they could not finish the job. They are even money to win the NBA title.

North Carolina . UNC suffered its second loss of the season and first with point guard Marcus Paige when it fell at Texas 84-82 last Saturday. The Tar Heels led almost the entire game-albeit by an extremely slim margin-before finding themselves tied in the final 10 seconds with Texas possessing the ball. Isaiah Taylor of the Longhorns missed a three-pointer, but a long rebound fell comfortably to a teammate 12 feet from the basket. Javan Felix calmly sank a game-winning jumper at the buzzer, and not a moment too soon. Even after video review, it was almost impossible to tell if Felix got the shot off in time. Carolina is +800 to win the National Championship.

Manchester United . Man United had every reason to remain tied with rival Manchester City on the English Premier League table, one point back of Arsenal. But while the Sky Blues and Gunners took care of business this past weekend, the Reds floundered against an unimposing opponent in the form of AFC Bournemouth. Mired in 14 th place in the standings out of 20 clubs, Bournemouth pulled off a 2-1 upset on Saturday. United got off on the wrong foot by giving up a goal in the second minute, scored an equalizer in the 24th minute, and then allowed what proved to be the game-winner early in the second half during 54th-minute action. With upstart Leicester City (tied for second with 32 points) still to play Chelsea on Monday, Man U sits in fourth-four points south of league-leading Arsenal. Man City is a +125 favorite at BetOnline Sportsbook to win the EPL title.

St. Louis Cardinals . Always failing to grasp the concept of free agency, fans-at least those in St. Louis-seem to be in an uproar that outfielder Jason Heyward has bolted for the rival Cubs. The Cardinals cannot be feeling too good, either. They traded promising starter Shelby Miller (who incidentally just garnered the Braves an incredible haul of prospects) prior to last season in exchange for what turned out to be one year of Heyward. The 26-year-old batted .293 with 13 homers, 60 RBIs, 79 runs scored, and 23 stolen bases while leading St. Louis to a title in the unbelievably competitive NL Central. Free to go wherever with his contract up, Heyward signed an eight-year, $184 million deal with Chicago last Friday. The Cubs and Mets are +800 co-favorites to win the World Series.
Read more articles by Ricky Dimon