Case of the Mondays: Heat's Hopes Take a Hit with Bosh Health Scare
by Ricky Dimon - 2/23/2015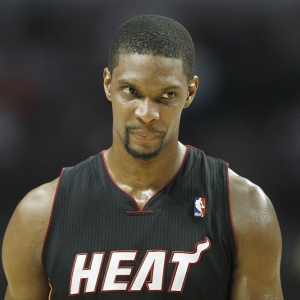 Chris Bosh's health is obviously much more important than Miami's win-loss record, but his exit could not have come at a worse time. Speaking of bad timing, misfortune struck Kurt and Kyle Bush at the worst possible moment (Daytona 500), and Sergio Garcia played his worst golf of the weekend when it mattered most.

All odds provided by Sportsbook.ag
Miami Heat . In the post-LeBron James era, Miami has managed to hang around as a potential Eastern Conference playoff team. The Heat seemed like a lock when they traded for Phoenix's Goran Dragic (16.1 ppg) just before last week's deadline. But optimism descended into shock last Saturday when it was announced that Bosh (21.1 ppg, 7.0 rpg) will be out for the season after developing blood clots in one of his lungs. Although the 12th-year pro is expected to make a full recovery, the medication he is on requires six months of limited physical activity. Miami is 23-31 and in seventh place in the East, just one game clear of three teams currently outside the playoff picture. Cleveland is -120 to win the conference.

Boston Bruins . The Bruins enjoyed a surprising 6-2 blowout at Chicago on Sunday, but they will have to win another game or two before the end of their slump is confirmed. Boston had previously lost six contests in succession dating back to Feb. 8, giving up five goals in three regulation losses and twice losing 4-3 in extra frames (once in overtime, once in a shootout). The team has plunged to eighth in the Eastern Conference and is clinging to the last playoff spot, three points ahead of Florida. Meanwhile, Boston announced over the weekend that defenseman Kevan Miller has to undergo season-ending shoulder surgery. It is +650 to win the East.

Rolando McClain . To say McClain's NFL career has been troubled would be an understatement. Still, he has managed to be extremely productive at times. The former Alabama star had 99 tackles and five sacks with Oakland in 2011 before eventually retiring after the 2013 campaign. Dallas coaxed him out of it prior to last season, and McClain answered the call by finishing as the team's second-leading tackler. However, he sustained concussions in both of the Cowboys' playoff games and now he is in line for a four-game suspension in 2015 for violating the NFL's substance-abuse policy. The 'Boys are +900 to win the NFC Championship next season.

Duke opponents . It was not a good week to go up against Duke, even though Jahlil Okafor sustained an ankle injury in one game and then missed the next one. North Carolina led by 10 with barely more than three minutes remaining and held a seven-point advantage with 1:30 left at Cameron Indoor Stadium last Wednesday. Nonetheless, the Blue Devils stormed back to force overtime and win 92-90. Although Okafor returned after briefly heading to the locker room against UNC, he was held out against Clemson on Saturday. No matter; Duke hammered the visiting Tigers 78-56 as Quinn Cook poured in 27 points. The Devils are +1200 to win it all; Kentucky is a -120 favorite.

Chelsea . Arsenal and the two Manchester clubs have given Chelsea opportunities to run away with the English Premier League title, but the Blues are not yet shutting the door. They left it open last Saturday with an unceremonious 1-1 draw against Burnley, which is in 18th place on the table and in position to be relegated out of the league. Chelsea was reduced to 10 men when Nemanja Matic was controversially sent off by a red card and Burnley took advantage with an equalizer in the 81st minute. The Blues' loss coincided with a dominant 5-0 performance by second-place Man City at the expense of Newcastle United. City is now within five points of the EPL lead. Chelsea is -600 to hang on for the title; City is +300.

Busch brothers . Last week began with the usual number of Busch brothers (two) all set to go for Sunday's Daytona 500. By the time the Great American Race got underway, it was a Busch-free event. Kurt and Kyle missed it for very difference reasons, neither of which was good. The latest chapter in Kurt's ongoing saga with an ex-girlfriend who may or may not be a trained assassin was a court finding that he committed domestic violence. NASCAR has indefinitely suspended him. Kyle crashed in an Xfinity Series race a day before the 500 and suffered a compound fracture of his right leg. Jimmie Johnson is a +450 favorite to win the Sprint Cup; Daytona 500 champ Joey Logano is +800.

Sergio Garcia . At the Northern Trust Open on Sunday, James Hahn won a three-man playoff that was almost a seven-man playoff (a quartet finished one stroke back of Hahn, Dustin Johnson, and Paul Casey). Of course, there could have been no playoff at all. Garcia, who was among those on the outside looking in at 5-under, went into the final two holes at 7-under. Two pars would have given him the trophy and even a par at 18 after bogeying the 17th would have sent him to playoff. Instead, the Spaniard closed with the ol' disastrous bogey-bogey. He played his last six holes in 3-over after going through his first 12 of the round in 3-under. Garcia is +800 to win a major in 2015; he is +3500 to win the Masters.


Read more articles by Ricky Dimon