Case of the Mondays: Big Blue Nation Feeling Blue
by Ricky Dimon - 4/6/2015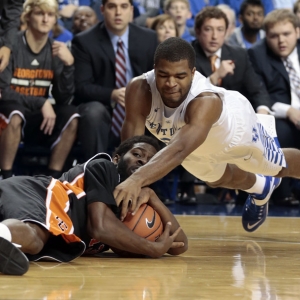 So much for 40-0. The final mark will go down as 38-1. In a season that was championship-or-bust (is any Kentucky season not categorized as such?), the Wildcats swept their way through the entire schedule before running into Wisconsin in the Final Four last Saturday. The Badgers pulled off the upset, sending all of Kentucky into what will undoubtedly be a deep depression until the 2015-16 campaign begins.

All odds provided by Sportsbook.ag
Kentucky . Wisconsin was always thought to be a tough matchup for Big Blue Nation, and right from the start of the semifinal showdown there was no reason to think otherwise. Only when Kentucky went on an 8-0 run and held its opponent scoreless for more than six minutes to take a 60-56 lead did things seem to be under control. But the Badgers struck back, scoring eight straight points of their own en route to a closing stretch that saw them score 15 of the game's last 19 points. The result was a 71-64 upset, which was followed by an expletive and racial slur uttered by Andrew Harrison during UK's press conference. In other words, it was just a bad, bad-disastrous, in fact-day to be a Wildcat. Wisconsin is a -1 favorite against Duke on Monday.

South Carolina . The South Carolina women almost reached the NCAA Tournament final after a erasing a 12-point deficit against Notre Dame to take their first lead of the game with barely more than a minute remaining on Sunday. Notre Dame, though, regained the lead and won 66-65 on Madison Cable's only bucket of the evening-a put-back with 18 seconds left. The Gamecocks then failed to get off any decent look at the buzzer. But hey, the good news is they would not have had the benefit of going up against Maryland in Tuesday's National Championship. They would have had to face Connecticut, because the Huskies trounced the Terrapins in Sunday's nightcap-so the 'Cocks would not have won it all anyway.

Oklahoma City Thunder . The Thunder have lost three in a row and are just a half-game ahead of the New Orleans Hornets for the final playoff spot in the Western Conference with five regular-season games remaining (six for New Orleans). They gave up 135 points to Dallas last Wednesday, lost at Memphis by eight last Friday, and fell at home to Houston 115-112 on Sunday. Kevin Durant, of course, is out for the year. Serge Ibaka, Nick Collison, and Andre Roberson are also injured. Is it all slipping away from OKC? The Thunder are +7500 to win the West.

Dustin Byfuglien . A four-game suspension could not have come at a worse time for Byfuglien and the Winnipeg Jets. That's how many games the veteran defenseman was docked for his crosscheck to the head of New York Rangers' center J.T. Miller last Tuesday. It came with five games remaining on Winnipeg's schedule, meaning Byfuglien will be available only for Saturday's finale against Calgary. He missed last weekend's 5-4 win over Vancouver and will be absent from road dates this week with Minnesota, St. Louis, and Colorado. The Jets are tied with Los Angeles for the eighth and final playoff spot in the Western Conference. They are +145 underdogs at Minnesota on Monday.

Atlanta Braves . There's rebuilding…and then there's what the Braves are doing. They had already gotten rid of Jason Heyward (traded to St. Louis), Justin Upton (traded to San Diego), and Evan Gattis (traded to Houston), just to name a few. Starting pitchers Kris Medlen and Ervin Santana were among those who departed via free agency. Atlanta's house-cleansing reached new heights on Sunday when the team unloaded fan favorite and all-star closer Craig Kimbrel to San Diego. The much-maligned Melvin Upton Jr. (formerly known as B.J., of course) was also in the deal, meaning he is reunited with his brother on the Padres. Kimbrel has 185 saves since the start of 2011, the most in Major League Baseball in that span. Atlanta (Teheran) is a +110 underdog at Miami (Alvarez) on Monday.

Liverpool . It has been a forgettable English Premier League stretch for Liverpool, which lost to Manchester United the previous Sunday after Steven Gerrard was sent off by a red card and suspended for three matches. As such, he could not suit up for last Saturday's showdown against Arsenal. The Reds trailed 3-0 by halftime and ended up falling to the Gunners 4-1. They even gave up three goals in the span of a ridiculous poor eight minutes late in the first half. Gerrard will miss the next two dates on the schedule: an FA Cup quarterfinal against Blackburn on Wednesday and an EPL matchup with Liverpool next Monday. Liverpool is tied for fifth on the Premier League table with 54 points, seven back of fourth-place Manchester City and fading fast from 2015-16 Champions League contention. City is a -158 favorite against Crystal Palace on Monday.

Johnson Wagner . Wagner has nothing to be ashamed of after his performance at the Shell Houston Open. But he also doesn't have a Masters invitation. Wagner had not yet qualified for this week's proceedings at Augusta National, so he needed to win in Houston in order to secure a spot-just as he did in 2008. Playing with a sponsor's exemption in a tournament from which he otherwise would have been absent, the 35-year-old came painfully close to getting the job done. His final-round 69 on Sunday was good enough for a playoff, which he dramatically entered by draining a 25-foot birdie putt on the 72nd hole. After Jordan Spieth was eliminated on the first extra frame, Johnson lipped out a four-footer on the second hole to give J.B. Holmes the victory. Spieth is a +800 co-favorite with Rory McIlroy to win the Masters.
Read more articles by Ricky Dimon