Case of the Mondays: Clippers limping into break, Tiger limps off course
by Ricky Dimon - 2/9/2015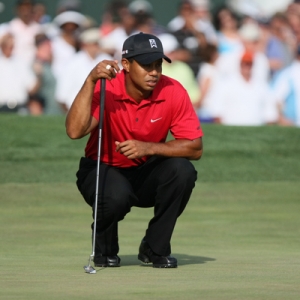 This past week was a brutal one for teams like the Los Angeles Clippers and-despite not even being in season-the Cleveland Browns. As for individual sports, golf dealt yet another blow to Tiger Woods. The former world No. 1 struggled in his opening round at Torrey Pines before withdrawing yet again because of back pain.

All odds provided by Sportsbook.ag
Blake Griffin . The Clippers are still 33-18, but that's mainly because they started the season 16-5. L.A. has been an absolute disaster of late, losing all four of its games last week. It fell to lowly Brooklyn, got blown out by Cleveland, was outscored by 41 points in the second and third quarters after leading Toronto by 15, and gave up 131 points to Oklahoma City. Moreover, Griffin is out through the all-star break due to surgery to remove a staph infection from his elbow. He missed Sunday's contest against the Thunder and will be reevaluated late next week. The Clippers are +8.5 underdogs at Dallas on Monday.

Evander Kane . The story with Kane is a bizarre one and likely getting weirder before it ultimately ends. Winnipeg's star forward was a healthy scratch from last Tuesday's game at Vancouver in what Paul Maurice called "a coach's decision." Kane had reportedly violated the team's dress code by wearing a track suit instead of a dress suit to a meeting. Sometime during or after practice, teammate Dustin Byfuglien allegedly tossed Kane's track suit in the shower. Maurice, whose squad is in a battle for a Western Conference playoff spot, won't have to make any more tough decisions on whether or not to play Kane because the 23-year-old is out for the rest of the season due to shoulder surgery. Winnipeg is +3000 to win the Western Conference.

Cleveland Browns . The Browns seemed to be on the rise as they stayed in playoff contention for much of this past NFL season. Suddenly, however, they are once again a laughingstock of a franchise. Johnny Manziel, on whom Cleveland spent a first-round draft pick, is in rehab. Josh Gordon has been suspended for the whole 2015 campaign thanks to recurring extracurricular transgressions. Brian Hoyer is thinking about life after Cleveland, apparently upset over the in-game text messages being sent from the front office to the coaching staff regarding the quarterback situation. The NFL is currently investigating text-message gate. The Browns are +3500 to win the AFC Championship.

Maryland . Maryland's first season in the Big Ten started off well enough as it won 14 of its first 15 games and 17 of its first 19. Road woes, however, have contributed to an alarming recent slide. The Terrapins have lost their last three contests away from home by a combined 59 points and each one by at least 16 points. They fell to Indiana 89-70 on Jan. 22, to Ohio State 80-56 on Jan. 29, and to Iowa 71-55 on Sunday. The Hawkeyes' thorough beatdown could have been much worse as they led Maryland 40-17 at halftime before sleepwalking through the second 20 minutes. But there is some good news for the Terps: they have only one more road game the entire rest of their month, and their three remaining visits are to three of the five worst teams in the conference. Maryland is +20000 to win it all; Kentucky is a -140 favorite.

USWNT . With three years to prepare for the next World Cup (and the next time the common soccer fan tunes in), the U.S. men's national team beat Panama 2-0 in friendly on Sunday. The American women, on the other hand, lost their weekend friendly 2-0 to France. Theirs was arguably more important, too, since the women's World Cup is this summer. The USWNT was without goalie Hope Solo, who is suspended 30 days for a variety of off-the-field incidents. Abby Wambach did not start, perhaps because of an artificial surface being too tough on her knees. Sydney Leroux missed the whole game as a result of injury. It's clear the team was less than full strength, but it's also clear the Americans have some issues to sort out before the summer. They are +225 favorites to win the World Cup.

Detroit Tigers . This did not come as a huge surprise, but Detroit missed out on free-agent pitcher James Shields. The former Kansas City starter signed a four-year, $75 million contract with San Diego on Monday. The Tigers had been looking at Shields to help fill the void left by Max Scherzer, who bolted for Washington. In other news, designated hitter Victor Martinez paid a dreaded visit to Dr. James Andrew last week. That development is never a good one, and it wasn't for Martinez. The 33-year-old underwent surgery to repair a torn meniscus, and he may not be ready in time for opening day. Martinez hit .335 in 2014 with 32 home runs and 103 RBIs. Detroit is +900 to win the American League.

Tiger Woods . Playing last week at Torrey Pines, Tiger was looking to avoid a last-place finish in a third consecutive tournament. He managed to do it, but not the way he would have hoped (and if you take a look at the leaderboard, you can still find him all the way at the very bottom). The 14-time major champion withdrew on the 12th hole of his first round, citing an all-too-familiar issue of back pain. Tiger, who carded an 82 in the second round of the Waste Management Open in Phoenix six days earlier, was 2-over at the time. He has now withdrawn from three of his last nine events. Tiger is +700 to win a major in 2015.


Read more articles by Ricky Dimon