Case of the Mondays: Spurs off to Slow Start in Playoffs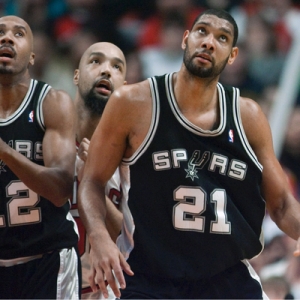 For the most part, road teams are expected to lose Game 1 of any playoff series. That the Brooklyn Nets, Portland Trail Blazers, and Boston Celtics did just that on Sunday came as no surprise. The San Antonio Spurs' setback, however, was more alarming. San Antonio got manhandled by the L.A. Clippers 107-92 in the opener of what on paper is the most intriguing first-round matchup of the NBA's postseason.

Odds provided by Bovada Sportsbook unless otherwise indicated.
San Antonio Spurs . The Spurs briefly recovered from losing the first quarter 30-18 during Game 1 at the Staples Center by taking a two-point lead in the second. But it all went south for the visitors just prior to halftime, as L.A. regained a six-point lead at the intermission and extended it to 15-the eventual winning margin-going into the fourth quarter. San Antonio won 11 of its last 12 games to finish the regular season, but this was not Gregg Popovich's normal team on display. The Spurs turned the ball over 14 times, missed 12 free throws (14 for 26), and made only 10 of 33 free-throw attempts. They are +700 to win the NBA title.

Free $60 in Member Sports Picks No Obligation Click Here
Ottawa Senators
. To say the Senators and Montreal Canadiens do not like each other would be a gross understatement. So it's safe to assume Ottawa would like nothing more than to come back from 2-0 deficit and steal the first-round series. Now, though, the Senators will have to recover from a 3-0 hole. Making things all the more painful is that in actuality, little-other than that glaring 3-0 mark-separates the two teams. Montreal has won all three contests by one goal; 4-3 in the opener, 3-2 in overtime in Game 2, and 2-1 in overtime on Sunday. Ottawa is a -115 home favorite in Game 4 on Wednesday (BookMaker).
Jon Lester
. This is not how Lester or the Chicago Cubs could have envisioned their honeymoon proceeding. The partnership got off to an inauspicious start when Lester took the mound on Opening Day and lasted only 4.1 innings in a 3-0 loss to the St. Louis Cardinals. Fast forward two more outings and Lester is now 0-2 with a 6.89 ERA. Sunday's effort was actually the southpaw's best of the season, but it still wasn't good. Lester went 5.1 innings and allowed three runs on six hits and two walks as Chicago fell to the San Diego Padres 5-2. The Cubs are +850 to win the National League Pennant.
Matt Barkley
. College eligibility ain't walkin' through that door for Barkley. Life must have been good as quarterback of the USC Trojans, but the NFL has not yet worked out. In two seasons with the Philadelphia Eagles, Barkley has attempted 50 passes with zero touchdowns and four interceptions. He might not be around for a third. When Tim Tebow-whom the Eagles singed on Sunday-is chosen over you for the third-string quarterback job, you know the writing is on the wall. Chip Kelly reportedly tried to trade Barkley before inking Tebow to a deal, but no team would bite. A release seems to be in the immediate future. Philadelphia is a +1800 seventh choice to win the Super Bowl.
Rafael Nadal
. Nadal at least fared better last week in Monte-Carlo than he did in Indian Wells (quarterfinals) and Miami (third round). But there is just one problem-or two. Monte-Carlo is on clay, a surface on which anything less than a title is a disappointment for the Spaniard. Not only did Nadal lose in the semifinals, but he also succumbed to his rival who is becoming his nemesis. Novak Djokovic, the champion in both Indian Wells and Miami, continued to look unbeatable as he disposed of Nadal 6-3, 6-3 before beating Tomas Berdych for the title on Sunday. Is this year going to be the first in the last six in which Nadal relinquishes his French Open throne? He is +175 to win a 10
th
Roland Garros title; Djokovic is a +110 favorite.
Real Madrid
. Cristiano Ronaldo and company beat Malaga 4-1 in La Liga action last Saturday, extending their unbeaten streak across all leagues to five matches. But that is just about where the good news ends for Madrid. Los Blancos lost both Gareth Bale and Luka Modric to injury during the win over Malaga. Bale picked up a calf problem and is likely to miss six weeks, while a knee issue could keep Modric out even longer. That means both men will obviously miss Wednesday's second leg of a Champions League showdown against Atletico Madrid (aggregate 0-0 after one match). The two clubs have faced each other seven times this season and Real has not yet defeated its in-city rival a single time. Real is a -130 favorite to beat Atletico.
Kevin Kisner
. A relatively obscure name on the PGA Tour, Kisner could not have expected to win his first title when he arrived at Harbor Town last week for the RBC Heritage. But he probably assumed that beating the third-round leader (Troy Merritt) by five shots on Sunday would be enough. It was more than sufficient to surpass Merritt, but Jim Furyk fired a final-round 63 and thus a playoff had to decide things between the underdog and the veteran. Kisner birdied the first extra hole only to see Furyk extend the battle by calmly draining a six-foot birder putt of his own. The 2003 U.S. Open champion soon sank a 12-foot birdie attempt on the next hold to end Kisner's title bid. Jordan Spieth, meanwhile, followed up his Masters victory with a T11 finish at 10-under-which included a Friday 62. Kisner is +7500 to win this week's Zurich Classic; Spieth is a +700 second choice to win the U.S. Open.
Read more articles by Ricky Dimon