PGA Tour Handicapping: Tiger Woods Pursuit of Jack Nicklaus for Major Wins
by George Monroy - 2/11/2015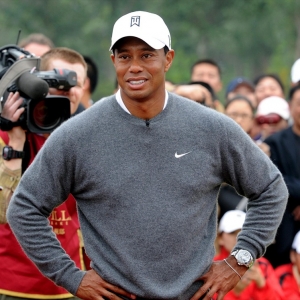 When Tiger Woods last won a major in 2008-a dramatic US Open playoff victory with a broken leg-the question on everyone's mind was not "if" he would ever pass Jack Nicklaus for the most majors won by a professional golfer but "when". Nowadays, after a much-publicized divorce, multiple injuries, disappointing finishes, and no majors to be placed on his mantel, the more apt question is if Woods will ever win his 15th major.
The 14-time major winner, who still may go down as the greatest golfer ever, had to withdraw from Torrey Pines in early February due to extreme back spasms and may not be healthy enough to even play in the Masters come April. Woods, at this point in his career, isn't leaving much room for optimism that another major will eventually come. His body may have simply betrayed him. Let's take a look at the question of whether or not he can catch Jack Nicklaus with 18 majors. Odds come from Bovada.
Bovada Odds, Injuries and Tournament Withdraws
Bovada has a line on its betting board asking whether or not Woods will ever pass Nicklaus at 18 majors. The site is not taking action on the "no" side of that equation, but is giving out +1400 on the "yes" side of the bet. The line is essentially placing odds on whether Woods will win five more majors over the course of his career, and at this exact moment, with former No. 1 golfer in the world expected to miss time due to injury, it's hard to even entertain the idea of wagering on a yes.
Will Wood pass Nicklaus?
Yes +1400
No: off the board
Woods is a huge underdog to even win one major this year, according to another prop offered by Bovada, where the golfer is a -700 favorite to not take home a major win in 2015. Including Woods' latest injury, the golfer has withdrawn form three tournaments over his last nine starts and in six of his last 65 starts since 2010. Prior to that time frame Woods withdrew from only three tournaments in 253 events. Age is definitely a factor in Woods' play, but the deteriorating state of his body should be of more concern to bettors.
Plenty of golf's great players have won majors well into their 40s, with Nicklaus winning one at 46 years old and Julius Boros capturing the PGA Championship at 48. In sports, however, there is a saying that "father time is undefeated," and once a player's body betrays them there's no going back.
Woods, at 39 years old, still has the potential to win a few more majors over the course of his career. He could conceivably play for another five to seven years, but at that rate he would need to collect five major wins in 20 something events-which turns into roughly one in every four or five majors. Woods is currently on a six-year majors drought, which has already spanned 20 something events. Maybe it's finally time to start coming to the realization that Woods will not surpass Nicklaus, and hoping he hits the 15-major mark should be our biggest worry for the player.
Read more articles by George Monroy