Sports Betting Futures Odds: Warriors, Panthers Still Enjoying Perfection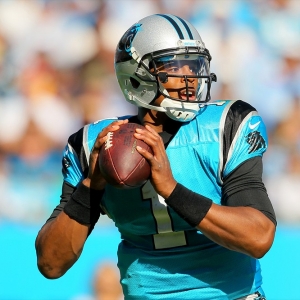 The Golden State Warriors have remained without a loss through five games of a current seven-game road trip, improving to 23-0. They have 59 to go for a perfect regular-season record. Obviously that is not going to happen, but perfection could take place in the NFL. Stephen Curry's favorite team, the Carolina Panthers, are still sitting pretty at 12-0.
Odds provided by BetOnline Sportsbook unless otherwise indicated.

Golden State Warriors

73 wins or more (Even) - Michael Jordan's 1995-96 Bulls went 72-10, so a 73-win campaign for Golden State would break the record. The Warriors are clearly in position right now, but they still have to play San Antonio four times-not to mention a whole host of other formidable Western Conference competition. Fewer than 73 wins is -130.
Western Conference (-150) - The quest for 73 wins could also be hindered by a potential early clinching of the West's No. 1 seed. That would ensure Curry and the rest of the gang are well-rested heading into the playoffs. Golden State went 39-2 at home during the last regular season, and it is obviously undefeated this time around (10-0).
NBA Championship (+125) - The Warriors are not too far away from being even money against the rest of the field to win the NBA title. If they advance to the NBA Finals they would almost certainly have home-court advantage, because nobody in the East is better than 14-7 (the Spurs are currently second overall at 18-5).

Golden State vs. Cleveland (Even) - Last year's two finalists are even money (at MyBookie.ag) to go head-to-head once again for the title. The Cavaliers own a one-game lead in the Eastern Conference right now. Most importantly, Kevin Love is healthy, LeBron James is getting rest, and Kyrie Irving is close to returning.

Carolina Panthers (MyBookie.ag)

16-0 regular season (+180) - The Panthers were +300 last week to go undefeated in the regular season, but that was before they won at New Orleans and before Atlanta confirmed-again-that is probably even worse than its .500 record suggests. Carolina still gets to play the Falcons twice in addition to unimposing dates with the Giants and Bucs.

NFC Championship (+220) - Carolina was +150 last week, but Cam Newton and company struggled at New Orleans en route to a 41-38 victory. The Seahawks also looked like their old selves by going on the road to destroy Minnesota 38-7. Although the 10-2 Cardinals may not be able to steal home-field advantage, they looked good again in blowing out St. Louis.
Super Bowl (+400) - Interestingly, the Panthers' Super Bowl odds improved at the same time the team became less of a favorite in the NFC. They were +500 last week and are now +400 favorites, which can be explained in part by the fact that New England has suddenly lost two in a row. Now Tom Brady may have to play a road playoff game at Denver or Cincinnati.

vs. Atlanta (-7.5) - With the No. 1 seed still in play (sort of) and coming off a close one at the Saints, Carolina will not be messing around on Sunday. The Falcons were once 5-0 but have since lost six of seven games, including a current stretch of 0-5. Matt Ryan has thrown 11 interceptions in his last eight outings against defenses much weaker than that of the Panthers.

NFL MVP

Cam Newton (-275) - Thanks to back-to-back losses by Brady's Patriots, Newton has surged to the forefront of the MVP race. Of course, a lot of it has to do with the former Heisman Trophy winner's own play. He has passed for 25 touchdowns and rushed for seven more. In his last four games Newton has 13 total scores and just one interception.

Tom Brady (+250) - Consecutive setbacks against Denver and Philadelphia are hurting Brady's stock, but he is still putting up incredible numbers despite being saddled with a sub-par, injury-plagued supporting cast. The 38-year-old is completing 63.7 percent of his attempts and has thrown for 3,912 yards and 31 touchdowns with only six picks.

Carson Palmer (+1000) - It is a two-man race right now, but Palmer could storm into contention if the Patriots continue to lose and if both Newton and the Panthers cool off just a bit. The 35-year-old boasts a 63.9 completion percentage, 3,693 passing yards, and 29 scoring strikes compared to just nine interceptions.

Andy Dalton (+3300) - Like Palmer, Dalton is a long shot right now but is at least somewhat in the discussion because his team is running away with what was thought to be a competitive division (Dalton in the AFC North, Palmer in the NFC West). Big Red has completed 66.1 percent of his throws and has 28 total TDs (three rushing) with six INTs.

College Football Playoff
Alabama (-110) - The Crimson Tide are the second seed because they have one loss to Clemson's none, but they have been the best team in the nation since getting upset by Ole Miss on Sept. 19. No other opponent aside from Tennessee has come within fewer than 13 points of Alabama.
Oklahoma (+240) - It is hard to explain how a team that lost to Texas is playing for the National Championship, but Oklahoma has quite simply turned things around in a major way. Baker Mayfield and the Sooners have since defeated three Top-11 teams in Baylor, TCU, and Oklahoma State.

Clemson (+500) - Clemson may be the top-ranked team in the land, but it is the third choice to win it all heading into the tournament. As with every recent ACC champion, the Tigers' schedule is a bit lacking. But they have three Top-16 wins (Notre Dame, FSU, UNC) and any team with Deshaun Watson at QB is dangerous.

Michigan State (+600) - A dreadful loss to Nebraska notwithstanding, the Spartans know how to win close games. They survived Michigan in miracle fashion and earned three-point victories over Iowa, Ohio State, Purdue, and Oregon. But moving up to No. 3 may have hurt, because now MSU faces 'Bama right off the bat.
Read more articles by Ricky Dimon