Sports Betting Futures Odds: Cubs vs. Mets Headlines Baseball's Final Four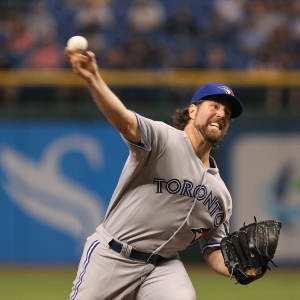 And then there were four. Either the Cubs, Mets, Blue Jays, or Royals will be World Series champions next month. But first they have to get through their respective league championship series. On the gridiron, the Big Ten has become especially intriguing with Jim Harbaugh's Michigan on the rise and seemingly able to challenge Michigan State and Ohio State.


World Series

Chicago Cubs (+175) - Chicago has the hitting (nine home runs in the last two games of its NLDS win over St. Louis, for example) and the pitching (Jake Arrieta and Jon Lester, for example). This young team may not know enough about curses to get in its own way of winning the Cubs' first World Series since 1908.

Toronto Blue Jays (+175) - Favored to win it all when the playoffs began, Toronto almost crashed out right away. Instead, it recovered to beat Texas in five games after dropping the first two at home. If the Blue Jays end up going all the way, Wednesday's seventh inning will become even more legendary.
Kansas City Royals (+350) - The Royals own plenty of experience, having lost to San Francisco in seven games in last year's World Series. This season's club is showing the same toughness, having stormed back from the brink of elimination (down 6-2 after seven innings of Game 4 in Houston).

New York Mets (+500) - An intriguing NLCS will feature plenty of young guns-specifically the Mets' pitching staff against the Cubs' hitting. Jacob deGrom, Noah Syndergaard, and Matt Harvey lead the way for New York. But after going five with L.A., the Mets' rotation is not set up as perfectly as Chicago's.

ACLS MVP (BetOnline Sportsbook)

Josh Donaldson, Toronto (+500) - The Blue Jays' third baseman went wild during the regular season, hitting 41 home runs and driving in 123 while batting .297. He compiled a modest .222 average in the division series against Texas but went deep twice and recorded four RBIs and five games.

Jose Bautista, Toronto (+550) - Bautista is responsible for what may go down as the most memorable play of these playoffs. His three-run blast in the bottom of the seventh in Game 5 proved to be the series winner. The veteran right fielder hit 40 homers during the regular season and two against the Rangers.

Edwin Encarnacion (+600) - Not far behind Donaldson and Bautista, Encarnacion blasted 39 dingers in the regular season. The designated hitter got Toronto started with a homer in Game 5 and finished the series with a .333 average to go along with three RBIs and three runs scored.

Marcus Stroman (+700) - Stroman is scheduled to get the start in Game 3 and again-if necessary-in Game 7 at Kansas City. That will give him a chance of being the hero. The 24-year-old gave up just two runs in six innings in Game 5 on Wednesday. David Price is the fifth choice at +750.

Big Ten Championship
Ohio State (-130) - The defending national champions are looking like this year's version of the 2013 and 2014 Florida State Seminoles. Ohio State is undefeated but has been downright mediocre in compiling its 6-0 record. If the Buckeyes struggled with Northern Illinois, Indiana, and Maryland, what will they do the last two weeks of the season against MSU and UM?
Michigan (+225) - Well, that didn't take long. The jury is still out on just how drastic and immediate of a turnaround this will be in Ann Arbor, but Harbaugh's first year is off to a stellar start. Michigan's only loss is a 24-17 setback against Utah, the current No. 4 team in the nation. The Wolverines have since won five straight with three consecutive shutouts.

Michigan State (+550) - The Spartans' second game of the year resulted in a three-point win over Oregon. That looked good at the time; now it looks borderline terrible. In two conference contests against weak opposition, Michigan State has won by a combined 10 points. We will find out how good this team is on Saturday.

Iowa (+700) - Iowa has surprised almost everyone en route to a 6-0 record and is currently in control of the wide-open Big Ten West (Ohio State, Michigan, and Michigan State are all on the other side). The Hawkeyes' two opponents from the East are Indiana and Maryland. Needless to say, the schedule sets up well for them to reach the title game.

Jordan Spieth Majors Won in 2016

Zero (-110) - The 2015 golf season came to an unofficial end with last week's Presidents Cup, won by the United States over the International team by an extremely slim 15.5-14.5 margin. Interestingly, neither Spieth nor Jason Day did much of anything. Spieth has failed to win a major in 22 of his 23 years on Earth. Who knows when that will happen again?
One (+150) - He is actually favored to go without a slam in 2015-but so is every other golfer, of course. The world No. 1 may be good value at +150 to win one. Barring injury, it's hard to see him not winning again in 2016. But even someone as great as Spieth probably needs more than a little luck to win multiple.
Two (+600) - That's how many Spieth won this season, having triumphed at the Masters and the U.S. Open. Nobody came close to stopping him in Augusta before he benefited from a 72nd-hole collapse by Dustin Johnson at Chambers Bay. It may be tough to duplicate the feat with Day on a meteoric rise and if Rory McIlroy can refrain from soccer-related injuries.

Three (+2000) - Spieth was not far off from making it three-or more-majors to his credit in 2015. He finished one shot out of a playoff at the British Open and fell victim only to a dominant performance by a red-hot Day at the PGA Championship (where Spieth beat everyone else by at least two strokes). He is +8000 to win the calendar-year Grand Slam.
Read more articles by Ricky Dimon