Sports Betting Futures Odds: Spieth Favored at British With McIlroy Out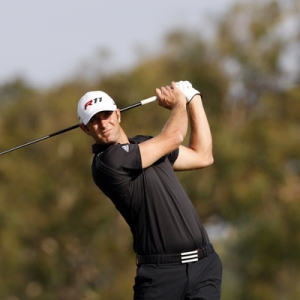 Golf's third major of the season begins on Thursday at St. Andrew's, and it will come and go without world No. 1 Rory McIlroy, who is on the shelf due to injury. That could leave the door open for Jordan Spieth, who prevailed at both the Masters and the U.S. Open. Spieth is looking to match Serena Williams with the first three legs of the Grand Slam in their respective sports.

Odds provided by Bovada Sportsbook unless otherwise indicated .

British Open

Jordan Spieth (+450) - McIlroy suffered a recent ankle injury while playing soccer, so he is out and thus Spieth is the undisputed and overwhelming favorite. Spieth rolled at the Masters and got some help from Dustin Johnson to hold on at the U.S. Open. Moreover, he picked up another win last week at the John Deere Classic.
Dustin Johnson (+1000) - The second hard-to-believe major heartbreak of Johnson's career came at last month's U.S. Open with a three-putt on the 72nd hole to give Spieth a one-stroke victory. If anyone can bounce back, though, it's Johnson. He has three Top-6s in his last five majors and four Top-14s in his last five British Opens.
Rickie Fowler (+1400) - Fowler endured a disastrous two days at Chambers Bay that came completely out of nowhere. It's hard to see anything like that happening again. Fowler has four Top-5 finishes in his last six majors, including a T2 at the British in 2014. He is coming off a victory last week at the Scottish Open.
Justin Rose (+1800) - Amazingly enough, Rose has still never finished better at the Open Championship since his captivating T4 performance as an amateur way back in 1998. He has never made the cut in three trips to St. Andrews. But a solid 2015 campaign includes a T2 at the Masters.

World Series

Kansas City Royals (+600) - The Royals (52-34) have the best record in the American League by a comfortable margin. They seem like a shoe-in for the playoffs, at which point last year's experience should only help. The American League has home-field advantage in the World Series after winning the All-Star Game.

St. Louis Cardinals (+750) - In all of baseball, however, the best record belongs to the Cardinals (56-33). But they have only a 2.5-game lead in the NL Central after ending the first half by getting swept out of Pittsburgh. St. Louis has won at least one playoff series in four straight seasons and won it all in 2011.

Washington Nationals (+750) - The New York Mets are just two games back in the East, and the Atlanta Braves were in the mix until just recently, but Washington has by far the most talent (see: Harper, Max Scherzer, and Jordan Zimmermann, to name just a few). Can the Nats finally get the job done in the postseason?

Los Angeles Dodgers (+850) - Speaking of talent, arguably the best pitcher in baseball may not even be the best on his own team. Clayton Kershaw is 6-6 with a 2.85 ERA, while Zack Greinke is 8-2 with a 1.39 mark and deservedly started the All-Star Game. L.A. (51-39) appears to be cruising to the NL West crown.

MLB Regular Season Home Runs (odds provided by Sportsbook.ag)

Mike Trout (+225) - The race to lead Major League Baseball in home runs is a furious one at the break, with Giancarlo Stanton leading the way at 27 and six other players within three. Trout, who led off the All-Star Game with a homer and earned MVP honors, sits on 26. He is on pace to eclipse his previous high of 36.
Bryce Harper (+350) - Nobody is hitting with a better combination of power and average than Harper, who also has 26 dingers at the break. The Nationals' 22-year-old star boasts a .339 average to go along with 61 RBIs. He had never previously hit more than 22 home runs (when he played 139 games in 2012).
Giancarlo Stanton (+500) - Stanton is a proven slugger, having already turned in three seasons with at least 34 blasts. Plus, he already has the lead in 2015 with 27. The only reason why he is an underdog, of course, is a wrist injury. The Miami Marlins' right fielder has not played since June 26 and is expected to miss at least two more weeks.
Albert Pujols (+600) - Pujols tops the American League chart along with Trout at 26, one ahead of the Detroit Tigers' J.D. Martinez (in the NL, Home Run Derby champion Todd Frazier also has 25). The 35-year-old appears to be turning back the clock to the days when he hit more than 40 homers six times in the span of eight seasons.

Women's U.S. Open


Serena Williams (+125) - Serena already has what Jordan Spieth wants: the first three legs of a calendar-year Grand Slam. She also has the "Serena Slam" after triumphing at Wimbledon last weekend, as she won the 2014 U.S. Open prior getting the job done this season in Melbourne, Paris, and London. Will she finish it off in a calendar year in New York?
Victoria Azarenka (+700) - Azarenka's status as second favorite to lift the trophy at Flushing Meadows later this summer can be attributed to the fact that she has the best chance of toppling Serena in a head-to-head showdown. Azarenka may be 3-17 lifetime, but she has won twice since early in 2013 and all three of their meetings this season have required three sets.
Maria Sharapova (+700) - Sharapova, on the other hand, is helpless against Serena. The world No. 1 has won a whopping 17 in a row at her minion's expense, and she has taken a ridiculous 27 of their last 28 sets. In other words, Sharapova will likely need someone else to upset Serena on the other side of the draw. The world No. 2 captured the U.S. Open title in 2006.
Simona Halep (+800) - Halep enjoyed a breakout 2014 campaign but a sudden slump has allowed Sharapova to overtake her for the second spot in the rankings. The Romanian lost to a 70th-ranked opponent in round two of the French Open and to the world No. 106 in her opening match at Wimbledon. Halep has never reached the quarterfinals in five trips to the U.S. Open.
Read more articles by Ricky Dimon