Sports Betting Futures Odds: Two Playoff Spots for Three Teams in AFC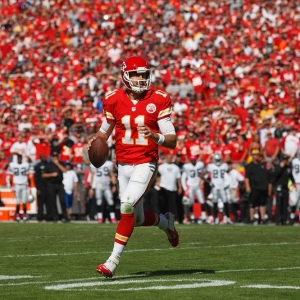 Although the 6-7 contenders (or pretenders?) are still in contention for an AFC wild-card spot, the No. 5 and No. 6 seeds are likely coming down to three teams: the Chiefs, the Steelers, and the Jets. All three are 8-5 heading into the last three weeks of the regular season. It should be a wild stretch of action on the gridiron over the next month as bowl season is soon to heat up in the college ranks.

All odds provided by BetOnline Sportsbook.

NFL team props

New York Jets in the playoffs (+190) - The Jets have caught fire at just the right time, moving into playoff position thanks to three consecutive wins-blowouts of the Dolphins and Titans plus an overtime victory over the Giants. But the schedule does not set up well. New York's only remaining home game is against New England.

Pittsburgh Steelers in the playoffs (-325) - Pittsburgh is looking like a force to reckoned with in the playoffs-if it can get there. The team's only loss in its last five outings is a setback at Seattle, and it is coming off consecutive routs of Indianapolis and Cincinnati. The Steelers' only tough opponent left is Denver, and that showdown is at home.

Kansas City Chiefs in the playoffs (-800) - The Chiefs hold a tiebreaker over both New York and Pittsburgh based on records within the AFC (the Jets have it over the Steelers). Kansas City also beat Pitt on Oct. 25 and has not lost since. The Chiefs' seven-game surge features a defeat of Denver, and their remaining schedule is extremely soft.

Carolina Panthers going 19-0 (+600) - Cam Newton and company improved to 13-0 with a 38-0 humiliation of the slumping Falcons. They wrapped up a first-round playoff bye but have not yet clinched home-field advantage throughout the NFC. The Giants, Falcons, and Bucs are left on the schedule. Carolina is +140 to complete an undefeated regular season.

Bowl season

Final outcome: Alabama over Oklahoma (+240) - Alabama is a -9.5 favorite over Michigan State, while Oklahoma is tipped to beat Clemson by little more than a field goal. That would set up a championship showdown between arguably the two hottest teams in college football. The Crimson Tide have clobbered five straight opponents by at least 14 points.

SEC wins (Over/Under 6.5) - The SEC is putting nine representatives in bowl games, down from 12 last season. Favored in all but one of the nine plus with Alabama possibly playing twice, the conference has a decent chance to lead the way in number of postseason victories. Only Florida is an underdog to Michigan (+4) in the Citrus Bowl.

Big Ten wins (Over/Under 4.5) - The Big Ten has 10 teams in bowls, plus Michigan State with a chance to strap on its pads twice. But the conference will be hard-pressed to win half of its games. MSU and Iowa, just to name a couple, are considerable underdogs (the Spartans to 'Bama and the Hawkeyes to Stanford in the Rose Bowl). Under 4.5 wins is -140; Over is +110.

Highest-scoring team (Over/Under 63.5) - This bowl season's highest-total game is the second to last one on the schedule (before the championship). Oregon vs. TCU in the Alamo Bowl features a total of 78.5. A whole host of others are in the vicinity of 70 points. Will one team erupt and score more than 63 by itself? With so many games being played, it's possible.
Basketball National Championship

Kentucky (+700) - The Wildcats will be eager to make amends for their loss to Wisconsin in the 2014-15 national semifinals. They lost at UCLA 77-67 on Dec. 3 but have otherwise cruised without much trouble. Kentucky's 9-1 record includes a 74-63 neutral-site win over Duke.

Duke (+800) - Mike Kyzyzewski and company are the defending champions. Like UK, they lost plenty of stars to the NBA but have once again reloaded. The Blue Devils have not fallen to anyone other than Kentucky and stand at 9-1 with defeats of Indiana, Georgetown, and VCU.

Kansas (+800) - Looking for their first title since 2007-08, when they beat Memphis in overtime, the Jayhawks are off to a similar start to that of Duke and Kentucky. Bill Self's team is 8-1 and its lone blemish is nothing to be ashamed of (79-73 to current No. 1 Michigan State on Nov. 17).

Michigan State (+900) - Death, taxes, and the Michigan State Spartans in the Final Four; those are pretty much the three certainties of life. This time around, Tom Izzo's Spartans would hardly be a surprise in the national semis. They are 11-0 and have beaten Kansas, Louisville, and Florida.

Champions League

Barcelona (+240) - The round-of-16 draw was held on Monday, and Barcelona has an intriguing matchup on its hands against Arsenal of the English Premier League. Of course, it's an even worse draw for the Gunners. Barca boasts Lionel Messi and Neymar-and many more-on its roster.

Bayern Munich (+260) - Bayern and Barcelona are tied for third on the list of all-time Champions League winners with five titles. The German-based club most recently won it all in 2013 and also finished runner-up in 2012. Bayern won its last three group-stage matches by a combined score of 11-1.

Real Madrid (+500) - Real Madrid tops the aforementioned chart with 10 Champions League triumphs. The Spanish club most recently got the job done in 2014 before Barcelona came out on top last season. Cristiano Ronaldo and friends have won five of six matches since getting crushed by Barca 4-0 on Nov. 21.

Manchester City (+100) - The Sky Blues have never won the Champions League. English Premier League representatives have generally struggled, although Chelsea won in 2011-12 and Man United prevailed in 2007-08. City scraped through the group stage despite losing to Juventus twice.





Read more articles by Ricky Dimon