Sports Betting Futures Odds: Playoffs? You Kidding Me? Playoffs?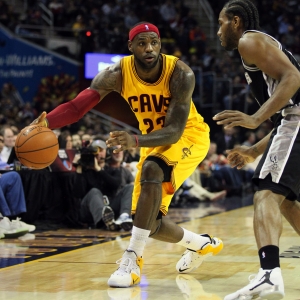 The Stanley Cup Playoffs are underway, and NBA postseason action begins this weekend. Is a Windy City sweep a possibility, with both the Chicago Blackhawks and Chicago Bulls among the top-four favorites? Or will favorites like the New York Rangers and Cleveland Cavaliers take care of business? We will find out…but not anytime soon; after all, these playoffs last forever.

All odds provided by Bovada Sportsbook .

NBA Championship

Cleveland Cavaliers (+220) - With two NBA titles under his belt, LeBron James knows how to win championships-at least when he has a great supporting cast. And that is exactly what he has in Cleveland, where the Cavs went 34-9 after starting 19-20. They should have a comfortable time with Boston before possibly facing Chicago.

Golden State Warriors (+220 ) - Led by MVP favorite Stephen Curry and fellow splash brother Klay Thompson, the Warriors coasted to the best record in basketball at 67-15-11 games better than anyone else in the Western Conference. They are 39-2 at home, where someone will have to beat them in order to deny Steve Kerr's team of the title.

San Antonio Spurs (+350 ) - Because they plummeted to the No. 6 seed out West on the last day of the regular season, the Spurs may have to win three series as the lower-seeded team just to reach the NBA Finals. Like they care? Of course they don't care. But maybe they should, because the Spurs are just 22-19 on the road compared to 33-8 at home.

Atlanta Hawks (+1200) - The surprising Hawks won 60 games in the regular season and did so without even really trying the last few weeks of the season. They will need to pick up the pace after wrapping things up on a three-game losing streak. The question is: can a team with no superstars win it all in this era? The Chicago Bulls are also +1200.

Stanley Cup

New York Rangers (+450) - New York topped the NHL standings with 113 points, although it was pretty much a logjam in the upper echelons of the business. More importantly, the Rangers are led by established veterans like forward Rick Nash and Henrik Lundqvist. They are -240 favorites to beat the Pittsburgh Penguins in round one.

Chicago Blackhawks (+550) - The Blackhawks' postseason campaign got off to an epic start on Wednesday, when they erased a 3-0 deficit in Nashville and beat the Predators 4-3 in double-overtime. Perhaps no team has more winning experience. Chicago has won two of the last five Stanley Cups and was a game away from a return trip to the finals last year.

St. Louis Blues (+750) - St. Louis was the class of the Western Conference during the regular season. It tied with the Anaheim Ducks atop the standings with 109 points, but Ken Hitchcock's team blew away the competition with a +47 goal differential. T.J. Oshie and company are -150 to get past the Minnesota Wild in the Western Conference quarters.

Montreal Canadiens (+850) - Nobody gave up fewer goals during the regular season than Montreal (Chicago was tied with 189 goals allowed). Carey Price was awesome with a 1.98 goals-against average and a .933 save percentage. The Canadiens used a four-goal second period to overcome the visiting Ottawa Senators 4-3 in Game 1 on Wednesday.

Kentucky Derby

American Pharoah (+200) - The Kentucky Derby is little more than two weeks away. American Pharoah is the early favorite-and yes, it still has to be considered early given the amount of money that is going to come in between now and post time. Pharoah, grandson of 2003 Belmont Stakes winner Empire Maker, won the Arkansas Derby last weekend.

Dortmund (+450) - Bob Baffert has likened himself to the 2015 Kentucky Wildcats. And why not? He trains the current top two derby favorites in American Pharoah and undefeated Dortmund. Now he has to hope the story ends differently than it did for UK. Son of 2008 derby and Preakness winner Big Brown, Dortmund is the Santa Anita Derby champion.

Carpe Diem (+600) - Carpe Diem is the great grandson of Unbridled (1990 Kentucky Derby champion) and grandson of Unbridled's Song (1996 Kentucky Derby favorite; finished fifth). Trained by Todd Pletcher, Carpe Diem is 2-0 this season with wins at the Tampa Bay Derby and earlier this month at the Blue Grass Stakes.

Materiality (+900) - Also trained by Pletecher, Materiality is 3-0 in 2015 with his most recent win coming late last month at the Florida Derby. He is the son of Afleet Alex, who won both the Preakness and the Belmont in 2005. This is shaping up to be an epic Kentucky Derby between Baffert and Pletcher.

U.S. Open

Rory McIlroy (+550 ) - The Masters is over, which means it is not too soon to start looking ahead at the next one-the U.S. Open in Chambers Bay, Washington. McIlroy got off to a dreadful start in Augusta but caught fire en route to a T4 finish at 12-under. The world No. 1 has won two of the last three majors and he is the 2011 U.S. Open champion.

Jordan Spieth (+700 ) - Spieth was never seriously threatened as he went wire-to-wire at Augusta National with a record-tying total score of 18-under. And it's not like his first major championship was any kind of fluke. The 21-year-old has soared to No. 2 in the world rankings on the strength of remarkably consistent-borderline dominant-results.

Tiger Woods (+1400 ) - You know how far Tiger had fallen when a T17 finish that left him 13 strokes behind the leader is considered a smashing success. But hey, it was way, way, way, way better than his previous 2015 performances. If he continues to improve at the same rate, Tiger may be ready to seriously contend by June.

Dustin Johnson (+1600 ) - Johnson and Adam Scott are the fourth favorites, both at +1600. Paulina Gretzky's other half is in fine form upon his return from a long layoff in 2014. His T6 at the Masters was his fifth top-10 showing in seven events this season, which includes a win at Doral. Johnson has two U.S. Open top-10s after tying for fourth last summer.
Read more articles by Ricky Dimon