Sports Betting Futures Odds: Four-Man Race for NBA MVP
by Ricky Dimon - 3/3/2015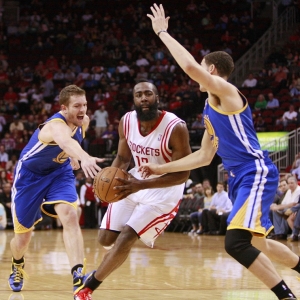 It's March, which means the Final Four is already on everyone's mind. But there is also a proverbial final four in the NBA, where the MVP race is coming down to a quartet of stars. Nobody other then Stephen Curry, James Harden, LeBron James, and Russell Westbrook is better than +5000 (Marc Gasol) to bag the league's most prestigious individual honor.

Odds provided by Sportsbook.ag unless otherwise indicated .

NBA MVP

Stephen Curry (-220) - If the MVP was an endorsement contest, Curry would have the award on lockdown (his State Farm and ESPN "chicken curry" spots, just to name a few, are money). Averaging 23.9 points per game and 7.8 assists per game, the three-point contest winner has Golden State at a Western Conference-best 46-12.

James Harden (+300 ) - One knock on Curry is a relative letdown in some of his team's biggest games this season. Harden, on the other hand, went for 33 points, eight rebounds, and five assists in an OT win over Cleveland on Sunday. But the NBA's leading scorer is suspended for Tuesday's contest in Atlanta after kicking LeBron James in the man region.

LeBron James (+300 ) - Record-wise, Curry and Harden have their teams (Houston is 41-18) well ahead of LeBron's Cavaliers (37-24). That being said, the real King James is back in the race now that Cleveland has turned it around following a 19-20 start. By LeBron's standards, his 26.2 ppg and 5.8 rebounds per game are modest.

Russell Westbrook (+450) - Along with Curry, Westbrook was one of the stars of all-star weekend (MVP of the All-Star Game with 41 points). Momentum has continued in the form of three consecutive triple-doubles (39.5 ppg in his last two games). At a mediocre 33-27, however, Oklahoma City is in danger of missing the playoffs.

ACC Tournament (odds provided by BetOnline Sportsbook)

Duke (+150) - After purging a decent portion of the Big East, the ACC Tournament should be the best in the business. Duke has gone three straight seasons without winning, its longest drought since a string of 10 titles in 13 years began in 1999. The Blue Devils' current nine-game streak includes wins over UVA, ND, and UNC.

Virginia (+175) - Virginia has clinched the No. 1 seed in the tournament and obviously one of the four all-important double-byes straight to the quarterfinals. Although a Jan. 31 home loss to Duke may be cause for concern, the Cavaliers are 28-1 and have won nine games in a row-five straight by double-digits.

North Carolina (+650) - The Tar Heels have not lifted the conference tournament trophy since 2008, but they finished runner-up three straight years from 2011 through 2013. Roy Williams' team knows how to get the job done at this event, especially in Greensboro. North Carolina, however, has lost five of its last eight games.

Louisville (+1000) - One game ahead of the Heels (who still have to play Duke this weekend) at 11-5 in the ACC, Louisville has the inside track for a double-bye to the quarters. How will the Cardinals handle their first ACC Tournament? Well, they will have to do it without dismissed point guard Chris Jones.

American League Central

Cleveland Indians (+220) - With spring training already in full force, nowhere is more parity expected in 2015 than in the AL Central. A four-team race appears to be in store, currently topped-at least according to the odds-by Cleveland and Detroit. The Indians went 85-77 last season, and Corey Kluber (18-9, 2.44 ERA) won the Cy Young Award.

Detroit Tigers (+220) - Detroit is the four-time reigning AL Central champion. The team accomplished the feat yet again in 2014 despite watching Justin Verlander compile a shocking 4.54 ERA. But either Verlander will have to get back on track or others must step up because Max Scherzer is now pitching for the Nationals.

Chicago White Sox (+250) - The White Sox went 73-89 last year, which may not be great but was a full 10 games better than their 2013 campaign. Rookie of the Year Jose Abreu (.317, 36 HR, 107 RBIs) is a big reason why the trend of improvement should continue. Chicago also added Jeff Samardzija to a rotation that already features Chris Sale.

Kansas City Royals (+600) - Kansas City went on a well-documented, borderline miracle run to the World Series and came within one game of winning it all. That being said, was it a one-time thing or can success be sustained? Billy Butler is gone, but the real cause for apparent pessimism is the departure of James Shields (14-8, 3.21 ERA).

WGC Cadillac Championship

Rory McIlory (+425) - While McIlory's game was on point in January and early February, his 2015 PGA Tour debut was a surprising failure last week. The world No. 1 won the Honda Classic in 2012 and should have won it last year, but he MCed this time around. McIlroy finished T25 at the 2014 Cadillac Championship and T8 one season earlier.

Bubba Watson (+1300) - What's not to like about Watson this week, aside from the fact that it isn't the Masters? The big-swinging southpaw fired a final-round 68 last year at Doral to finish T2 and within one shot of the lead. He placed a decent T18 at this event in 2013. Since the start of the "2015" season last fall, Watson has three top-10s in five events and one win.

Jason Day (+1400) - Day was T33 at the 2013 Cadillac before missing it last year due to injury. At least for now, the Aussie is armed with a rare clean bill of health, and it is paying off. Since the start of December he is 5-for-5 in cuts made with four top-10s and a triumph last month at Torrey Pines. Day followed that up with a T4 showing at Pebble Beach.

Dustin Johnson (+1700) - As can be expected, Johnson has been inconsistent since returning from a six-month layoff in 2014. He has two missed cuts in four events, but his good golf has been quite impressive. Johnson tied Day with a T4 performance at Pebble Beach and he lost in a playoff at Riviera two weeks ago.
Read more articles by Ricky Dimon