Sports Betting Futures Odds: Deflate-gate Takes Sports World By Storm
by Ricky Dimon - 1/22/2015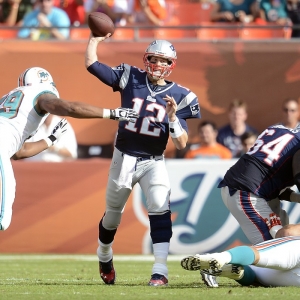 All we are hearing about on the sports shows this week are "deflate," "deflated," and the like. But the question on some bettors' minds is how often we will hear those words during the Super Bowl telecast. Speaking of deflated, there are three teams in the NBA who are positively hopeless: New York, Philadelphia, and Minnesota.

All odds provided by Bovada and Sportsbook .ag

Deflate-gate

Bill Belichick suspended for one game (+150) - As everyone in the world knows, the Patriots were found to have used footballs that were deflated approximately two pounds per square inch during their AFC Championship rout of Indianapolis. Head coach Bill Belichick tried to…deflate…the situation by saying that he had "no knowledge" and "no explanation" for what happened.


Free $60 in Member Sports Picks No Obligation Click Here


Bill Belichick suspended for the Super Bowl (+750) - For Spygate in 2007, Belichick was fined $500,000, the team took a $250,000 hit, and New England had to forfeit its 2008 first-round draft pick. Perhaps something similar-or worse-would transpire if deflate-gate escalates, but suspending the head coach for the Super Bowl is obviously a longshot.

"Deflate" or "Deflated" said during the game ("over/under" 3) - How many times will the NBC broadcast team (Al Michaels, Chris Collinsworth, and Michelle Tafoya) say the words in question from kickoff, until the game is officially over, not including halftime? It may depend on how competitive the game is and how much filler is required. Considering the current spread is pick-'em, there may not be much down time.

NBA Worst Record

New York Knicks (+125) - Break up the Knicks! Once and arguably still the laughingstock of the 2014-15 NBA campaign, New York has won two in a row with victories over New Orleans and Philadelphia. The most recent win at the 76ers' expense could prove costly in the long run in terms of the race for the worst record and the most ping-pong balls in the lottery.

Philadelphia 76ers (+150) - Despite Wednesday's result, the Sixers still "trail" NY in the aforementioned race, with an 8-34 record that is 1.5 games better than the Knicks' 7-36 mark (which is the worst in the NBA). Philly, which has no superstar like Carmelo Anthony but relies on guys like Michael Carter-Williams and Tony Wroten, is on a modest three-game slide.

Minnesota Timberwolves (+175) - New York and Philadelphia tend to steal this show while duking it out in the lesser Eastern Conference, but don't forget about Minnesota out west. The Timberwolves are 7-34, sandwiched right in between the 76ers and Knicks. They are giving up an NBA-worst 107.8 points per game, and their leading scorer is Kevin Martin, which says something about the offense.

Australian Open

Novak Djokovic (-110) - Through two rounds, the world No. 1 is looking the most dominant on the men's side. Whereas Rafael Nadal went to 7-5 in the fifth set with Tim Smyczek, Djokovic was not pushed in any set to something more competitive than 6-4 in his first two matches. The four-time Australian Open champion lost a mere five games to Andrey Kuznetsov on Thursday.

Roger Federer (+450) - Like Djokovic, Federer is also seeking his fifth triumph Down Under to gain sole possession of second place on the all-time Aussie Open title list. The 33-year-old Swiss beat Yen-Hsun Lu in three tight sets before losing one to Simone Bolelli. He is not playing poorly, but being in the same half of the draw as his nemesis-Nadal-is not favorable.

Serena Williams (+250) - There is no debate that Serena is the most talented player in the women's field and will capture the title if she plays at or even close to her best. She is, however, susceptible to occasional mental walkabouts and perhaps boredom. For example, the top seed trailed Vera Zvonareva 5-3 on Thursday…only to win 10 consecutive games to take the match 7-5, 6-0.

Maria Sharapova (+400) - The three-time finalist in Melbourne (one title in 2008) earned a second life this fortnight when she saved two match points to overcome Alexandra Panova during second-round action on Wednesday. Sharapova, in fine form having kicked off 2015 with a title in Brisbane, is on a collision course for the quarterfinals with Genie Bouchard.

Exactly one major in 2015

Rory McIlroy (+120) - The brief Hawaiian swing is complete and now the PGA Tour is out west with the Masters less than three months away. If McIlroy does not win exactly one slam this year, it may not be because he wins zero. Winning more than one is the real danger with this prop bet. The Northern Irishman is on a two-major streak after bagging the 2014 British Open and PGA Championship.

Adam Scott (+333) - One looks like a stellar bet for Scott, who owns just a single major in his career (2013 Masters) but is almost always in the mix for others. The Australian boasts an incredible nine top-10 finishes in slams since the start of the 2011 season. At what his traditionally his worst of the four-the U.S. Open-he posted a best-ever T9 showing in 2014.

Tiger Woods (+400) - Tiger is not only missing a tooth, but he is also missing a major title since the 2008 U.S. Open. At 39 years old, chances are good that the 14-time slam winner will never return to his dominant self and snag multiple majors in a season on a consistent basis. But has he returned to being good enough to prevail on occasion? Tiger talks as if he is, but recent results are not encouraging.

Jordan Spieth (+450) - Spieth's "offseason" was awesome, as he won the Australian Open then dominated Tiger's tournament, the World Challenge. Although he is not a major champion like the other three men on this list, Spieth is just 21 years old and presumably getting better and better each year, if not each month. Contention at the 2014 Masters cannot hurt as he prepares to tackle the big stages in 2014.


Read more articles by Ricky Dimon