Sports Betting Futures Odds: Curry Pulling Away in MVP race?
by Ricky Dimon - 4/1/2015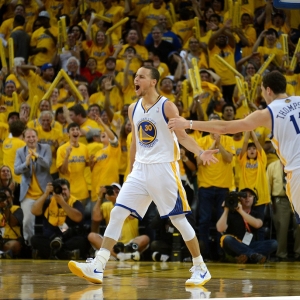 The college kids have the stage this weekend through next Monday night as the Final Four takes center stage in Indianapolis, but don't forget about the NBA. Playoffs are on the horizon and although Golden State has the No. 1 seed in the Western Conference locked up, Stephen Curry has something of his own to play for: MVP.

All odds provided by Sportsbook.ag

NBA MVP

Stephen Curry (-425) - Curry broke Chris Paul's ankles on Tuesday night, but more important in the MVP race are the numbers. He is averaging more than 23 points and seven assists per game while shooting 43.4 percent from three and 91.8 percent from the free-throw line. Golden State owns the best record in the NBA-by far-at 61-13.

James Harden (+250 ) - Despite a significant chunk of time missed by Dwight Howard, Harden has kept Houston in contention for the No. 2 seed in the West. He is second behind Russell Westbrook in scoring at 27.2 points per game and is also averaging 7.0 assists, 5.7 rebounds, and 1.9 steals.

Russell Westbrook (+500 ) - Oklahoma City must make the playoffs in order for Westbrook to have any chance, and right now the team is in position to do just that. The Thunder have a 2.5-game lead for the No. 8 spot even though Kevin Durant has dealt with injuries and is out for the season. Westbrook's late-season triple-double binge puts him in the serious MVP discussion.

LeBron James (+2000) - It looks to be a three-man race, but LeBron is in the distant equation mainly because he is LeBron. But he has been pretty good, too. After a dreadful start to the season, Cleveland is on course to lock up the No. 2 seed in the Eastern Conference behind Atlanta. LeBron is third in scoring (25.7 ppg) to go along with 7.3 apg and 5.9 rpg.

National Championship

Kentucky (-140) - The Wildcats are two wins away from a perfect 40-0 record, but their trip to the Final Four did not come without a major scare. Notre Dame had a late lead over UK last weekend, was tied in the final seconds, and got off a game-winning 3-point attempt at the buzzer. Will surviving such a tough game end up being a good thing for Kentucky?

Duke (+325) - Duke is a -5 favorite over Michigan State on Saturday (the two game's spreads, in fact, are the same; Kentucky is -5 against Wisconsin). The Blue Devils beat Utah by six in the Sweet 16, but it really wasn't that close and they have otherwise taken care of teams with ease. They have won despite just 15 combined points from Jahlil Okafor in the last two games.

Wisconsin (+400) - Wisconsin's odds are similar to those of Duke, which says a lot given that the Badgers have to go up against powerhouse Kentucky whereas the Blue Devils get No. 7 seed Michigan State in the national semis. Battle-tested following hard-fought wins over UNC and Arizona, the Badgers are led by the dynamic duo of Frank Kaminsky and Sam Dekker.

Michigan State (+850) - Death, taxes, and Michigan State overachieving in the NCAA Tournament…. Tom Izzo and company have done it again, with wins over Georgia, Virginia, Oklahoma, and Louisville. All four games en route to Indy were competitive, so it's hard to bet against the Spartans if it goes down to the wire.

Mayweather vs. Pacquiao

Floyd Mayweather to win (-190) - A month ago Mayweather was -240, but money has come in on Pacquiao to change the line. If Mayweather loses, it would be the first loss of his career. He is 47-0 as a professional with 46 KOs, while Pacquiao is 57-5-2 with 38 KOs.

"Over" 11.5 rounds (-310) - A decent amount of bets have been made on the fight going the distance, thus pushing this prop bet to -310. It makes sense because both men are awesome defenders at the expense of lacking a huge punch. Neither one has knocked out more than 60 percent of the opposition in his respective career.

Either fighter has a point deducted (+400) - This bout has been a long time in the making; too long, some would say. After all, Mayweather is 38 years old and Pacquiao is 36. Both guys could be overeager to gain an upper hand, perhaps with some illegal shenanigans. But deductions are rare, and even one is a long-shot.

Either fighter gets knocked down or out (+150) - According to the odds, neither fighter is expected to hit the canvas. Pacquiao is the far more likely of the two to get knocked down, but will Mayweather be able to deliver such a blow? Knockdowns also include any KO, TKO, or disqualification.

Shell Houston Open

Jordan Spieth (+725 ) - Spieth missed the Houston cut last season, but who cares? He is positively on fire right now. The 21-year-old has four Top-10 finishes in his last five tournaments, including a win at the Valspar Championship and a runner-up showing at last week's Valero Texas Open.

Patrick Reed (+1200 ) - Like Spieth, Reed took an MC at his last appearance in Houston (2013), but current form suggests a much different result this time around. The 24-year-old is 10-for-10 in cuts made since the official start of the 2015 golf season, with one win and second-place finish to Spieth in an epic duel at the Valspar.

Matt Kuchar (+15 00) - Kuchar seemed to be in control of this event in last year's final round, but Matt Jones forced a playoff then won with a miraculous chip-in. The former Georgia Tech star took February off and was thoroughly mediocre in March with a 23rd (Doral), 33rd (Valspar), and 15th (Valero Texas Open).

J.B. Holmes (+2000 ) - Holmes missed the cut at Bay Hill, but that appears to be an aberration as opposed to the rule. In his previous four starts, the big hitter posted three Top-10s (including two runner-ups) and a 22nd. Holmes played well last year in Houston, where he finished T-12 and fired a first-round 66.
Read more articles by Ricky Dimon