This Week in Sports Betting, A-Z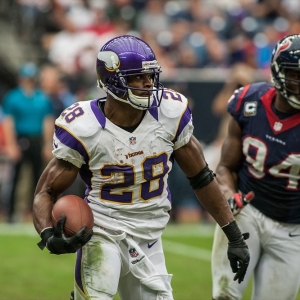 A. Adrian Peterson . The running back's hometown of Palestine, Texas, is having an Adrian Peterson Day on June 3. Word is that Peterson will attend it; but he is definitely not attending Minnesota Vikings' OTAs. No word on if New Rochelle, New York, is hosting a Ray Rice Day.

B. Beleskey, Matt . When is an overtime goal not the highlight of an NHL playoff game? When Emilio Estevez is live-tweeting, of course. Estevez, of Coach Gordon Bombay fame in "The Mighty Ducks," was going absolutely nuts with his support of the Anaheim Ducks during their Game 5 win over the Chicago Blackhawks-never more than when Beleskey lit the lamp for the game-winner. Chicago is a -140 home favorite on Wednesday, according to GT Bets.
C. Contador, Alberto . Does the Tour de France still exist? If so, Contador may be among the favorites because he is currently dominating the Giro d'Italia. Contador is a two-time TDF champion; he would be a three-time champ but his 2010 title was stripped because of-you guessed it-doping. He is a +300 third choice at Sportsbook.ag to this summer's tour.

D. Devil . That's what Joe Horn called NFL commissioner Roger Goodell. Horn, who was once fined $30,000 (prior to the Goodell era) for using a cell phone during a touchdown celebration, argued that the commish has too much power. He said NFL draft picks are walking across the stage and "hugging the devil." A little severe, maybe?

E. Edwards, Carl . Edwards won the Coca-Cola 600 last weekend for his first victory of the Sprint Cup season. In more important NASCAR developments, have you seen Kyle Busch's wife just one week after giving birth? Impressive.

F. Free Brady Blonde IPA . A bar located near Foxboro Stadium now has a "Free Brady Blonde IPA" on tap in response to the quarterback's four-game suspension stemming from deflate-gate. No confirmation yet on how it tastes, but I'm sure party animal Rob Gronkowski has enjoyed a few. The New England Patriots are +935 at BookMaker to win the Super Bowl.

G. Gone . That's what Cincinnati Reds' manager Bryan Price was before last Saturday's game against the Cleveland Indians even started. Price got ejected while exchanging lineup cards, presumably for arguing about the previous day's strike zone. How epic is this guy? I mean, he's also the one who used the f-word 77 times in one interview earlier this season.

H. Henrik Lundqvist . Not one, not two, not three, not four, not five, not six…. No I'm not talking about how many championships LeBron James said he would win with the Miami Heat. I'm talking about the number of goals Lundqvist watched his New York Rangers score in support of his net-minding in Game 6 against the Tampa Bay Lightning on Tuesday. New York rolled 7-3 to force a Game 7 on Thursday.

I. Instagram . San Francisco 49ers' quarterback Colin Kaepernick made more than his fair share of bad plays on the field last season, and he made one off it on Tuesday. Kaepernick posted a photo of the Houston flooding on Instagram with the caption, "I warned you the #7tormsComing !!!". The #7tormsComig is hashtag he frequently uses to refer to himself-and his jersey number. As expected, the post was soon deleted and followed by a Twitter apology.

J. Juan Pablo Montoya . Montoya won the Indianapolis 500 last weekend, his second time chugging the milk. He earned $2.4 million foe his effort. That may be chump change to Floyd Mayweather, but that is a rather productive day at the office by anyone else's standards.

K. Kirk, Chris . Dangit, Kirk! We could have had a four-way playoff involving Masters champion and Texas' own Jordan Spieth at last week's Crowne Plaza Invitational in Fort Worth, but Kirk drained a clutch par putt on the last hole to win by a stroke. Spieth is a +400 favorite at GT Bets to win this week's Byron Nelson Championship.

L. Letterman, David . Letterman called it a career last week. What is Montoya gonna do with no Late Show to go on after winning the 500? That was one of Letterman's great traditions!

M. McDonald, Ray . The Chicago Bears said they "believe in second chances" to explain why they signed McDonald in March. Yeah, that goes without saying when you sign someone like McDonald. To the surprise of no one, the defensive end was arrested on domestic violence charges earlier this week and promptly released before ever stepping on the field for Chicago. MyBookie.ag has a DUI or drug arrest as a +150 favorite to be the next NFL scandal.

N. Nineteen Kids and Counting . The TLC Network reality show is in hot water stemming from a child-abuse admission from one of the 19 Duggar kids, who is now 27 years old. Moral of the story: don't have 19 kids (you got that, Philip Rivers?).

O. Odom, Lamar . As for no kids and counting, Odom's pending divorce from Khloe Kardashian seems to be on hold. There has been no action from either party for almost a year and a half since Khloe filed for divorce in December of 2013.

P. Pharoah, American . American Pharoah trained at Churchill Downs on Tuesday for the first time since winning the Preakness 10 days earlier. Trainer Bob Baffert liked how the workout went, but he can't like his track record of coming up one leg short of the Triple Crown. That's the fate that befell Baffert in 1997 (Silver Charm), 1998 (Real Quiet), and 2002 (War Emblem). Will Pharoah be the one to finally deliver the first Triple Crown since 1978? Bovada Sportsbook has him as a -110 favorite to get the job done.

Q. Quentin Halys . In previous years it was a foregone conclusion that Rafael Nadal would victimize seven poor souls at each French Open. It's a certainty no more, but Halys became victim No. 1 in 2015 as Nadal aims for a 10th title at Roland Garros. The Spaniard, who has dipped to No. 7 in the world, rolled over Halys on Tuesday and is just three rounds away from a quarterfinal showdown against Novak Djokovic. Nadal is -1300 at SportsBettingOnline.ag to beat Nicolas Almagro on Thursday.

R. Ruben Amaro Jr. The Philadelphia Phillies' general manager said recently that his team's fans "don't understand the game," referring to unrest in the wake of potential trades involving veterans Ryan Howard, Chase Utley, Cole Hamels, and Jonathan Papelbon. Amaro later apologized. What he maybe should be apologizing for is his own failure to understand the process of acquiring players who can win.

S. Stephen Curry . Never in the history of sports has any fan-base been more relieved after a loss. Okay, that might be a stretch. Or might it not be? Whatever the case, the Golden State Warriors lost Game 4 to the Houston Rockets but Curry escaped a scary fall with nothing more than a head contusion. He has the green light for Game 5 on Wednesday. The Warriors are -10.5 home favorites, per BookMaker.

T. Tristan Thompson . Thompson is about to get paid. The Cleveland Cavaliers' big man declined a four-year, $54 million contract extension earlier this season. That seemed like a dumb decision at the time, but it will soon pay dividends. Big ones, too. Thompson, who will become a restricted free agent this summer, abused the Atlanta Hawks with averages of 11.8 points, 11.0 rebounds, and 1.8 blocks per game in Cleveland's Eastern Conference Finals sweep.

U. Uribe, Juan . Uribe was traded from the Los Angeles Braves to the Atlanta Braves. Then he wasn't. Then he was again. Atlanta's Alberto Callaspo was the one holding things up, as he vetoed the deal on Tuesday afternoon then had a change of heart and accepted it on Tuesday night. Maybe Callaspo realized that with his team already in L.A. for a three-game series, he would merely have to walk across the field to join his new club. The Dodgers are +650 at BetOnline Sportsbook to win the World Series.

V. Venus Williams . If this is Venus' last French Open, well, she probably won't mind. She is 42-18 lifetime in Paris with just one runner-up finish. At Wimbledon, for example, she is 73-12 lifetime with five titles. The 34-year-old was unceremoniously bounced out of this year's French with a straight-set loss to fellow American Sloane Stephens.

W. Welbeck, Danny . Welbeck crushed me in FIFA earlier this week, but PlayStation success is the only kind he will be enjoying any time soon. Arsenal manager Arsene Wenger has ruled out his striker for this weekend's FA Cup final against Aston Villa at Wembley Stadium. Welbeck has been dealing with a knee injury, and he missed Sunday's Premier League finale, a 4-1 victory over West Brom.

X. Xander Bogaerts . Thanks to a recent hot streak, Bogaerts was moved up to No. 5 in the lineup for the first time all season and promptly went 6-for-12 with a double and two RBIs in three games for the Boston Red Sox. In two appearances this week since being moved back to eighth, Bogaerts is 0-for-8. Memo to manager John Farrell: bat him fifth!

Y. Yankees . The New York Yankees continue to run out of numbers. Bernie Williams' No. 51 was retired this past Sunday, immortalized in center field and never to be worn again by a Yankee in the Bronx. Williams was good, but if the franchise continues retiring players who batted under .300 with fewer than 18 jacks and 80 RBIs per season, the supply might actually be unable to meet the demand at some point. 5Dimes Sportsbook has New York (Pineda) as a -144 home favorite over Kansas City (Young) on Wednesday.

Z. Zack Greinke . Arguably no pitcher has been more consistent than Greinke this season. All nine of his starts have been quality. He has given up no more than one run in each of his last four outings. Greinke has not won since May 5 because of some dreadful run support, but he is 5-1 with a 1.48 ERA. The Dodgers (Greinke) are -225 home favorites over the Braves (Wood) on Wednesday, as indicated by WagerWeb.
Read more articles by Ricky Dimon