This Week in Sports Betting, A-Z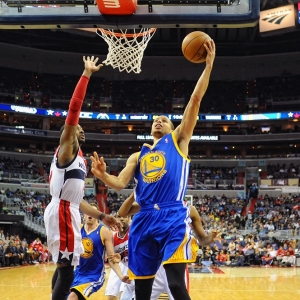 A. American Pharoah . Trainer Bob Baffert is the master of coming up one jewel short of the Triple Crown. His horses won the first two legs in 1997 (Silver Charm), 1998 (Real Quiet), and 2002 (War Emblen). Thirteen years later Baffert is at it again with American Pharoah. Will this time be different? There is reason for optimism, as Phaoroah dominated last weekend's Preakness Stakes by seven lengths. Bovada Sportsbook has him at even money to win the Belmont Stakes and the Triple Crown.

B. B.B. King . The legendary blues singer and guitarist died at age 89 last Thursday due to complications from diabetes. Prior to Game 6 against the Golden State Warriors, the Memphis Grizzlies held a "moment of song" in King's honor by playing his 1969 hit "Why I sing the Blues." RIP.
C. Curry, Stephen . Despite scoring 32 points in the Golden State Warriors' Game 6 win over Memphis and 34 in Tuesday's opener against the Houston Rockets, Curry is now the second most famous person in his household. Two-year-old daughter Riley stole the show in the postgame press conference, even telling Curry to "be quiet" because he was being "too loud." Epic…unless you were one of the reporters trying to get quotes for a deadline. Golden State is a -10.5 home favorite on Thursday, according to BookMaker.

D. Denny Hamlin . Hamlin may be best known for epic lip-syncing of Taylor Swift's "Shake it Off" (or maybe not), but he made real noise on the track last weekend. The No. 11 car captured the pole for the Sprint Cup all-star race, and it took care of business to capture the checkered flag. Hamlin's first win of the season was also owner Joe Gibbs' first victory in 24 appearances at that event.

E. Everett Golson . This is not exactly a case of sleeping with the enemy, as Notre Dame does not play Florida State in 2015 (unless they square off in a bowl game). But Irish fans must see it as Golson joining the dark side. The former Notre Dame quarterback is transferring to FSU for his final season of eligibility. With Jameis Winston now in the NFL, the door is open for Golson to start. Talk about going from one upstanding citizen to another! The Seminoles have surged to +1600 at BetOnline Sportsbook to win the National Championship.

F. Fifteen-yard line . The NFL is moving the extra-point back to the 15-yard line, effective immediately. Defenses also now have the opportunity to score two points of their own on a potential blocked-kick return. And we all now have the opportunity to see the first-ever torn ACL for a kicker celebrating a successful PAT.

G. Giancarlo, Stanton . Stanton did not just leave the proverbial yard last week. He left the yard, literally. At least the baseball that was pitched to him by some poor soul on the Los Angeles Dodgers did. Stanton's 478-foot blast went entirely out of Dodger Stadium in the Miami Marlins' 11-1 loss to L.A. He is hitting just .237 this season but has 12 home runs and 38 RBIs. Sportsbook.ag has Miami at +3000 to win the National League.

H. Houston Rockets . A Game 1 loss to Golden State takes nothing away from what the Rockets have done this postseason. Not only did they come back from a 3-1 deficit against the Los Angeles Clippers, but they also recovered from 19 points down in the second half of Game 6…in L.A.! Unfortunately for Houston, this is not the Clippers or Dallas Mavericks who it is going up against right now.

I. Iverson, Allen . A new Showtime documentary on the former NBA star debuted earlier this month. "Iverson" offers a different perspective in looking at his life and basketball career. But one thing will always remain the same for everyone: the notion that Iverson hated…wait for it…practice!?!?!?

J. Jay Cutler . Jay Cutler and his wife, reality TV star Kristin Cavallari, announced last week that they are expecting their third child. Cutler and Cavallari already have two sons, so perhaps they are just trying to maximize the chances of someone in the Cutler family tree ever having a successful career as a quarterback in the NFL. That will be all up to the next generation, of course, and the Chicago Bears know it.

K. Kraft, Bob . The New England Patriots' owner has decided to end his appeal of the punishments handed down on his team for allegedly deflating footballs. For all intents and purposes, Kraft admitted Tom Brady's guilt on Wednesday. The NFL Players Association, however, can still challenge the rulings in hopes of reducing (or eliminating) Brady's four-game suspension. New England is +450 at MyBookie.ag to win the Super Bowl.

L. Lightning . It does not matter how bad the opposing defense is (and the New York Rangers were pathetic in that department on Wednesday); when you get six goals past Henrik Lundqvist, you're doing something right. Tampa Bay has a 2-1 lead in the Eastern Conference Finals after prevailing by a ridiculous 6-5 scoreline in Game 3.

M. Mike Redmond . You know you've reached a low point when you get fired as manager of a baseball team and get replaced by a general manager. That's right; Redmond got canned last Sunday, and the Marlins installed general manager Dan Jennings as manager. He sounds like a headline news anchor; not the head of an MLB team. Jennings only previous coaching experience came at Davidson High School in Mobile, Ala.

N. Novak Djokovic . Rafael Nadal has five losses on clay this season. Djokovic has two losses the entire year-none since mid-February and none in his last 22 matches. That's why Djokovic is a -125 favorite at GT Bets to win the French Open.

O. Odell Beckham, Jr. The cover for Madden 2016 came down to Beckham Jr. and Rob Gronkowski, and it was Beckham Jr. who snagged the honor. What do you think he's more pumped about: the Madden cover or LeBron James' playoff success? The dude just loves LeBron. If you're unaware, check out OBJ's social media channels. The New York Giants are +1827 at BookMaker to win the NFC.

P. Paul Pierce . First Pierce called "game." Then he called "series." The Atlanta Hawks called both-both in Game 5 and Game 6 against the Washington Wizards. Despite hitting a host of big shots in the Eastern Conference semis, the last image we might ever see of Pierce in the NBA is his release of what would have been a game-tying three pointer no more than a 10th of a second too late.

Q. Quenneville, Joel . "It took a while," is what the Chicago Blackhawks' head coach said after Game 2 against the Anaheim Ducks. A while? His team won 3-2 on a goal with 3:48 left in triple-overtime after nearly five hours to even the series at 1-1. It was the longest game in Blackhawks' franchise history. Chicago is a -135 home favorite on Thursday, per Bovada Sportsbook.

R. Romney, Mitt . The former Massachusetts governor and 2012 presidential candidate got in the ring with Evander Holyfield in a "Fight for Sight" charity boxing match to raise money for CharityVision. The Salt Lake City faithful were treated to a Romney "knockdown" of Holyfield, after which the former heavyweight champion chased Romney around the ring-ultimately causing Romney to retire from the bout due to fear. In other words, it was the most entertaining boxing match of the month to date.

S. Sharapova, Maria . Sharpova may make absurdly-loud, bedroom-like noises when she is on the tennis court. But who cares? She's good-looking, and she wins. The defending French Open champion is coming off a title in Rome, thus cementing her status as the second favorite behind Serena Williams. Sharapova is +400 at BetOnline Sportsbook to win in Paris.

T. Trash talk . When asked recently if she could beat Floyd Mayweather in an MMA fight, Ronda Rousey responded, "I don't think me and him would ever fight unless we ended up dating." It is unconfirmed if that is a shot at Mayweather's history of domestic violence or not, bit if it is, that's some epic shade-throwing.

U. Underwood, Carrie . Underwood's husband, Nashville Predators' center Mike Fisher, recently shared a photo on Instagram cuddling with their first child. Isaiah was born in February. Fisher has never done much winning on the ice (zero Stanley Cups in 16 seasons), but it's safe to say the 34-year-old wins at life.

V. Vicente Calderon . That's where FC Barcelona captured its 23rd La Liga title, its seventh since the start of the 2004-2005 campaign. Barca wrapped up this year's league championship by blanking host Atletico Madrid 1-0 last Sunday. Lionel Messi (surprise!) scored the only goal of the match.

W. Wells Fargo Championship . The Wells Fargo Championship might as well have been the Rory McIlroy Invitational-and nobody else was invited. McIlroy fired an 11-under 61 last Saturday before coasting to a winning total of 21-under par. The two players who tied for second were a distant seven shots back.

X. Xavier Scruggs . The St. Louis Cardinals placed outfielder Jon Jay on the 15-day disabled list last week because of left-wrist tendinitis. They promptly called up Scruggs from Triple-A Memphis to replace him. Scruggs was leading Memphis with six home runs on the season. 5Dimes Sportsbook has St. Louis (Garcia) as a -103 underdog at the New York Mets (deGrom) on Thursday.

Y. Yasmany Tomas . The 24-year-old Cuban is not disappointing in his first season with the Arizona Diamondbacks. Tomas is batting .346 with one homer, 11 RBIs, nine runs scored, and two stolen bases. He is on a five-game hitting streak and has multiple base knocks in each of the five contests.

Z. Zero . Well, not quite. Shelby Miller of the Atlanta Braves came within one out of giving up zero hits to the Marlins on Sunday. Miller's no-hit bid was foiled by backup first baseman Justin Bour with two gone in the bottom of the ninth, but the Braves still completed a three-game sweep with a 6-0 win. Following his complete-game shutout, Miller is 5-1 with a 1.33 ERA in his first season in Atlanta. The Braves (Teheran) are -140 home favorites over the Milwaukee Brewers (Garza) on Thursday, as indicated by GT Bets.
Read more articles by Ricky Dimon