This Week in Sports Betting, A-Z
by Ricky Dimon - 2/12/2015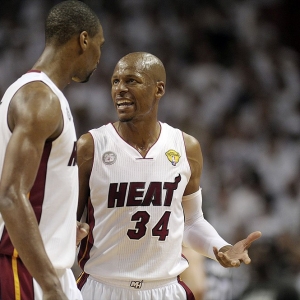 A. Allen, Ray . Like his mom in He Got Game, they're calling "Jesus! Jesus! Jesus!" Suitors, including the Atlanta Hawks, are lining up for Jesus Shuttlesworth. He will reportedly make a decision-either to stay away or pick a team for the stretch run-shortly after the All-Star Game. LeBron James is +350 at BetOnline Sportsbook to win All-Star Game MVP.

B. Bruce Jenner . You know it's a slow sports month (February always wins the championship of bad sports months) when Jenner being involved in a car crash makes the main page of ESPN.com. Yes, Jenner won gold in the men's decathlon at the 1976 Olympics. But at this point any news involving the transgender stepfather of the Kardashians belongs exclusively in the pop-culture category.
C. Caroline Wozniacki . Wozniacki: tennis player, marathoner, Rory McIlory's ex-fiancée, and now Sports Illustrated swimsuit model. And to the say her most recent status is well-deserved would be an understatement.

D. Day, Jason . It was a great day for Day last Sunday at Torrey Pines, where he won a four-man playoff to lift the Farmers Insurance Open trophy. It was an even better day for Day's wife, who stole the show with a ton of post-round air time. Day is +1400 to win this week in Pebble Beach, as indicated by Bovada Sportsbook.

E. Evander Kane . It's generally not good news when a 23-year-old either already the face of the franchise or in line to become the face of the franchise is sidelined for the season by shoulder surgery. But it's pretty much great news for the Winnipeg Jets that such is the case for Kane. Some bizarre off-the-ice issues with the team contributed to his being a healthy scratch ("coach's decision") from last week's game at Vancouver. Head coach Paul Maurice will be required to make no more decisions involving Kane, because he was traded to Buffalo on Wednesday. The Jets are +150 underdogs at Nashville on Thursday, according to BookMaker.

F. Finale . This is it for Jeff Gordon in NASCAR. The Rainbow Warrior's final season (at least final full season) on the Sprint Cup begins this weekend in Daytona, with eight days in between the first race of 2015 and the sport's Super Bowl-the Daytona 500. Gordon, a four-time champion, is +750 at Bodog Sportsbook to win the Sprint Cup.

G. Grammys . Last Sunday saw Sam Smith clean up and Kanye try to give someone's award to someone else. In other words, the Grammys went just about how everyone expected.

H. Hannah Davis . While Wozniacki can be found on the inside pages, Davis' is this year's cover girl for the Sports Illustrated swimsuit edition. There is some controversy over the front-page shot, but there can be no controversy over this: even in retirement, Derek Jeter is still winning.

I. Incognito, Richie . When Rex Ryan was introduced as head coach of the Bills, he said they were going to bully people. Apparently he meant it literally, because Buffalo signed Incognito to a one-year deal on Monday. The Bills are +2800 at Mybookie.ag to win Super Bowl L.

J. James Dolan . There is nothing competent about the New York Knicks these days, so it only makes sense that their owner is the most incompetent of all. Dolan reached a new low (few thought that was even possible) earlier this week when he responded to an e-mail from a disgruntled fan and called the fan a "hateful mess" and an "alcoholic maybe." Welp.

K. Kentucky . For the first time since a competitive three-game stretch in late December and early January, Kentucky has won two consecutive games by single digits. After beating Florida 68-61 last weekend, the Wildcats survived at LSU 71-69 on Tuesday. The Tigers went on a 21-2 run to lead by six points with fewer than eight minutes remaining, but they could not hang on. In other SEC action, 5Dimes Sportsbook has Florida as a -6 home favorite over Ole Miss on Thursday.

L. Love, Kevin . Love may not Love playing for the Cavs as he's spent this week getting called out by LeBron James on Twitter and taking the fewest shots of any Cleveland starter on Wednesday against Miami (eight; everyone else was in double-digits). Well, at least the team is finally winning. The Cavs are -1 favorites at Chicago on Thursday, per Sportsbook.

M. Marcus Posley . Posley may not be a big name, but he has a flair for big moments. In consecutive games earlier this month, the St. Bonaventure guard hit a buzzer-beater to edge Davidson 62-61 and another one to stun VCU 73-71. It is unclear why the Bonnies let someone named Andell Cumberbatch attempt Wednesday's buzzer-beater against UMass. He missed.

N. NBC . Nightly news anchor Brian Williams has been suspended six months without pay for fabricating stories about his involvement in the Iraq war and Hurricane Katrina. According to Williams, he simply misremembered what happened. Yeah, and Roger Clemens misremembered that he shot steroids into his own ass.

O. Offseason . It has been a great one for the San Diego Padres, who are unmatched by any other team in terms of upgrading its roster for the better since the end of the 2014 campaign. San Diego had already acquired Matt Kemp, Justin Upton, and Wil Myers before signing former Kansas City starter James Shields to a four-year, $75 million deal last weekend. The Padres are +850 to win the National League, as indicated by GT Bets.

P. Paul, Chris . The Clippers have actually won two games in a row against strong competition, but they are still 2-4 in their last six and 3-5 in their last eight. Moreover, Blake Griffin is out indefinitely after surgery to remove a staph infection in his elbow, and Paul is taking heat for criticizing a female referee. L.A. could do without another discrimination scandal.

Q. Quack . Coming off a runner-up finish in the inaugural College Football Playoff, Oregon wasted no time making some offseason noise. On Monday the school announced a five-year, $17.5 million extension for Mark Helfrich that will keep the head coach around through the 2019-20 season. Helfrich has a chance to really prove his worth now that Marcus Mariota is going to the NFL.

R. Road woes . Maryland began its first season in the Big Ten with marks of 14-1 and 17-2. Complete ineptitude on the road, however, has put an end to the honeymoon. The Terrapins have lost their last three games away from home by a combined 59 points and each one by at least 16 points. They fell to Indiana 89-70 on Jan. 22, to Ohio State 80-56 on Jan. 29, and to Iowa 71-55 last Sunday (trailed 40-17 at halftime). Gary Williams ain't walkin' through that door. Maryland is +20000 at SuperBook to win the National Championship.

S. Silva, Anderson . Reports surfaced last week that the UFC champion failed an out-of-competition test for performance-enhancing drugs. It now appears that he failed a second one, too. Unsurprisingly, Silva is denying all accusations.

T. Text messages . Two months ago, the Cleveland Browns were in playoff contention. Now they are the laughingstock of the NFL offseason with their best player (Josh Gordon) suspended for all of 2015, one of their quarterbacks (Johnny Manziel) in rehab, and their projected starting QB (Brian Hoyer) threatening to jump ship pending the NFL's investigation of illegal in-game text messaging from the front office to the coaching stuff. Presumably, those messages pertained to how bad Hoyer is at football.

U. USWNT . The U.S. women's national team lost a friendly 2-0 to France last weekend. However, the Americans were without Hope Solo, and Abby Wambach did not even start. You can be sure all hands will be on deck for this summer's World Cup.

V. Van Gaal, Louis . Manchester United's boss was "shocked" at how bad his team performed last week against Burnley in what was eventually a "lucky" 3-1 win. Man U might also be shocked to learn that its debt has increased to 380.5 million pounds ($583.9 million) and its revenue dropped 14 percent in the second quarter of the financial year. Oops.

W. Woods, Tiger . The guy who tracks Tiger shot by shot for all of Twitter to follow better bring some scuba gear and hacksaws the next time Tiger plays if he wants to locate the end result of every shot. This Tiger tracker right here, though, is much simpler. The former world No. 1's last three events: last place, last place, withdrew. He called it quits after 11 holes last week at Torrey Pines citing more back pain. Sportsbook has Tiger at +700 to win a major in 2015.

X. Denotes clinched playoff berth . These will soon (sooner than usual) be popping up in the NBA standings. The Hawks' magic number (their wins combined with Brooklyn losses) to wrap up a postseason spot is already down to 10. Atlanta is +625 at BookMaker to win the NBA title.

Y. Young, Nick . Iggy Azalea, Young's girlfriend, tweeted on Monday that he is afraid of Dolphins. The Lakers' guard addressed the tweet prior to Tuesday's game against Denver (the fifth loss in what is now a six-game skid), admitting its truth. Young recounted a story in which a dolphin "was trying to drown" him and took him "all the way to the bottom" in Cabo San Lucas, Mexico. It sounds a lot more exciting than playing for the Lakers these days.

Z. Zeroes . Gregg Popovich put three of them at the end of his win total after the San Antonio Spurs edged the Indiana Pacers 95-93 on Monday. He is the third-fastest coach to 1,000 victories, behind Phil Jackson and Pat Riley. Other than Popovich, only Jerry Sloan has reached the mark with one team. The Spurs are +475 at Bovada Sportsbook to win the Western Conference.
Read more articles by Ricky Dimon