This Week in Sports Betting, A-Z
by Ricky Dimon - 4/8/2015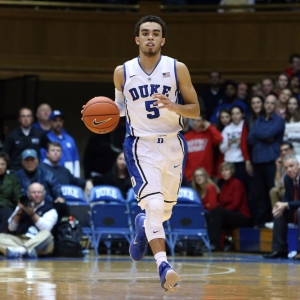 A. Aaron Hernandez . Cue up a real-life version of Brad Pitt's "What's in the box?" moment from Seven. One of the key issues in the Hernandez trial is the box that was hurriedly disposed of by his girlfriend. One can assume what was in it and why it was discarded, but nothing has been proven. Juror deliberations are underway, so hopefully this thing will finally be over soon.

B. Blue Devils . Duke won it all on Monday night, giving head coach Mike Krzyzweski his fifth National Championship. The Blue Devils trailed Wisconsin by nine points in the second half but rallied for a 68-63 victory.
C. Craig Kimbrel . The general public assumed the Atlanta Braves traded away Kimbrel because a high-priced closer has little value on a terrible team. Well, maybe the Braves just figured they would not need a closer because they'd win every game by a ton of runs. At least that's what they did on Tuesday, when seven men crossed the plate in the first inning on the way to a 12-2 win over the Miami Marlins. Kimbrel and the Padres (Cashner)are +120 underdogs at the Dodgers (McCarthy) on Wednesday, according to SportsBettingOnline.ag.

D. Dancing with the Stars . Michael Sam got booted off DWTS this week. Sam, who is estranged from his homophobic father, danced to the musical piece "Not My Father's Son" with professional partner Peta Murgatroyd and they earned their best score of the competition. But it was not enough to stick around. In other words, Sam heard the same thing this time as he did from the St. Louis Rams and Dallas Cowboys.

E. Enes Kanter . The Oklahoma City Thunder's center has seven double-doubles since March 22. Prior to Tuesday's blowout loss to the San Antonio Spurs, Kanter had produced at least 21 points and 16 rebounds in three straight games. Of course, none of it has mattered for injury-plagued OKC. The Thunder have lost four in a row and would be watching the playoffs at home if they began today. Oklahoma City is +7000 at BookMaker to win the Western Conference.

F. Female referee . Sarah Thomas is set to become the NFL's first female referee, the league announced last week. There is no denying that Thomas, who previously worked in Conference-USA, has earned such a position. There is also no denying that more and more women will continue to assume NFL-related roles as commissioner Roger Goodell continues to wage damage control following the public-relations disaster that was 2014.

G. Gilbert, Brad . A tennis tournament called the U.S. Men's Clay Court Championship is currently taking place in Houston. Gilbert, a former pro and current ESPN commentator, tried to tag the event's Twitter handle in a post earlier this week, and to say he botched it mightily would be a gross understatement. Instead, he accidentally tagged a gay porn website. Oops. John Isner is -260 at BetOnline Sportsbook to win his second-round match on Thursday.

H. Holmes, J.B . Since the start of the official 2015 campaign, Holmes has four Top-10 finishes-which includes two runner-ups and now a win. Holmes triumphed at last week's Shell Houston Open, where he erased a six-shot deficit to a red-hot Jordan Spieth with a Sunday 64 before beating Spieth and Johnson Wagner in a playoff. Sportsbook.ag has Holmes at +300 to finish in the top 10 at Augusta National.

I. Indians . Cleveland is wasting some time in not scoring a run this season (it was shut out 2-0 by the Houston Astros on Opening Day before being off on Tuesday), but it is not wasting any time locking up starting pitchers. The Indians signed Corey Kluber to a four-year, $38 million contract over the weekend then came to terms with Carlos Carrasco on a four-year deal on Tuesday. Carrasco went 8-7 with a 2.55 ERA in 2014, including 5-3 with a 1.30 ERA in his last 10 starts.

J. J.T. Miller . It was not a good week to be Miller. Last Tuesday, the New York Rangers' forward was decked by Dustin Byfuglien of the Winnipeg Jets with a crosscheck to the back of the neck (Byfuglien incurred a four-game suspension for his efforts). Two days later, Miller cut up his nose thanks to a high stick (resulting in a four-minute double-minor) by Minnesota Wild defenseman Ryan Suter. Ouch. The Rangers are +600 to win the Stanley Cup, as indicated by Bovada Sportsbook.

K. Kate Upton . Upton insisted recently that she was upset when photographer Terry Richardson released her "Cat Daddy" video on YouTube that launched her into stardom in 2012. There is no way she is upset now. Neither is Justin Verlander.

L. Liverpool . Consecutive weekends have pretty much been a disaster for Liverpool. First the Reds lost to Manchester United 1-0 after Steven Gerrard was sent off by a red card and suspended for three matches. One of those three came this past Saturday, when Liverpool trailed Arsenal 3-0 by halftime en route to a 4-1 setback. Gerrard will also miss an English Premier League clash against Newcastle next Monday. Liverpool is tied for fifth on the Premier League table with 54 points, seven back of fourth-place Manchester City and fading fast from 2015-16 Champions League contention.

M. Masters . A tradition unlike any other begins again on Thursday. Rory McIlory is a +650 favorite at Bovada Sportsbook ahead of Jordan Spieth (+900) and defending champion Bubba Watson (+1100).

N. Novak Djokovic . Djokovic won everything on his own stomping grounds (hard courts)-the Australian Open, Indian Wells, and Miami. Now the tour moves onto Rafael Nadal's turf (clay). Game on.

O. Orioles . Baltimore is a trendy pick to go a long way this season, and Buck Showalter's squad is off to a strong start. The O's are 2-0, leaving American League East rival Tampa Bay at 0-2 following wins of 6-2 and 6-5 on Monday and Tuesday, respectively.

P. Paul George . Less than a year after suffering a gruesome broken leg during a Team USA scrimmage, George is back. The Indiana Pacers' star returned on Sunday and did so with a bang as his team took care of the Miami Heat 112-89. In just 15 minutes, George delivered 13 points, two assists, two rebounds, and two steals. 5Dimes Sportsbook has Indiana as a -12 favorite at New York on Wednesday.

Q. Quincy Pondexter . The New Orleans Pelicans have-at least temporarily-overcome Oklahoma City for the eighth and final playoff spot in the Western Conference. And it's not just because of Anthony Davis (or because Kevin Durant is out for the season). Pondexter, who averages 7.2 points per game, has scored in double-figures eight times in his last 10 outings. He went for 20 points in a 103-100 win over the Golden State Warriors on Tuesday.

R. Ronaldo, Cristiano . Ronaldo scored like 500 goals in Real Madrid's recent 9-1 La Liga humiliation of Granada. Okay, it was actually five-but it might as well have been 500.

S. Smith, J.R. Nobody in NBA history has spent more time in a game beyond the three-point line without attempting a single shot from two-point land than Smith. The Cleveland Cavaliers' shooting guard went 8-for-17 from downtown and 0-for-0 from two in a win over the Chicago Bulls last weekend. Smith finished with-you guessed it-24 points. Cleveland is a -7.5 road favorite at Milwaukee on Wednesday, per Sportsbook.

T. Tiger Woods . He's playing. So far, Tiger has spent his week on the practice range in Augusta giving out more hugs than Freddie Freeman following a Braves' home run. Tiger has four green jackets but has not won it since 2005 despite contending seven times (seven top-six finishes) in his last eight appearances. Tiger is -135 at Sportsbook.ag to finish in the top 20.

U. UConn . The man who hates men's college basketball is now tied with arguably the best coach in the history of men's college basketball. Connecticut triumphed again on Tuesday, giving Geno Auriemma his 10th National Championship. John Wooden also has 10. It's already a lock that Auriemma will be alone in first place with 11 by this time next year.

V. Vick, Michael . The free-agent quarterback changed his Twitter profile picture last month to himself in an Atlanta Falcons' uniform. Atlanta, of course, is where Vick fought dogs-oh, and played some pretty decent football to boot. The motive for the picture-change that sent Twitter atwitter is unclear, but it's safe to say that a second stint with the Falcons is not happening.

W. Williams, Serena . Was Serena just trolling everyone in Indian Wells, where she boycotted the tournament for 13 years before returning this season only to withdraw prior to a semifinal showdown against Simona Halep? The knee injury seemed legitimate at the time, but a week later Serena was running like gazelle at the Miami Open en route to the title.

X. Xavier Cedeno . Cedeno, 28, snagged one of the final spots on the Washington Nationals' Opening Day roster as one of the team's left-handed relievers. It does not take a genius to figure out how easy it was to make the Nats' roster, and Cedeno's spring stats (5.06 ERA in 10.2 innings) are not the most obvious reason. All you need to know is that Dan Uggla-yes, Dan Uggla-made the team. Washington (Zimmermann) is a -133 home favorite over the Mets (deGrom) on Wednesday, as indicated by BookMaker.

Y. Yoenis Cespedes . The first home-run theft of the season was made by Cespedes on Opening Day. Kurt Suzuki of the Minnesota Twins appeared to have left the yard in the third inning, but Cespedes robbed it and ultimately preserved a 4-0 shutout for Detroit Tigers' starter David Price. Detroit is +1200 at GT Bets to win the World Series.

Z. Zlatan Ibrahimovic . Ibrahimovic and Paris Saint-Germain have the first leg of a Champions League quarterfinal against Barcelona next week. But first: the Swedish striker has his own search engine. That's right, "Zlaaatan" launched last Thursday. It's actually not that cool. It simply adds "Zlatan" to any search term and then Google produces the results. But hey, nobody else has one.
Read more articles by Ricky Dimon