This Week in Sports Betting, A-Z
by Ricky Dimon - 3/18/2015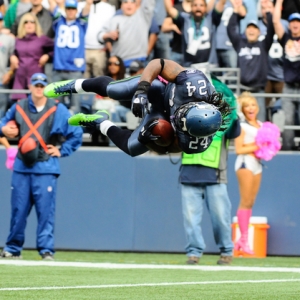 A. Anderson, Justin . If Alex Poythress came back for Kentucky for the NCAA Tournament (he isn't), it would just be unfair. If Anderson comes back to full strength for Virginia for the NCAA Tournament (he might), it will simply level the playing field. Anderson actually played in UVA's two ACC Tournament games after being sidelined by an appendectomy and a broken finger, but he did not score a single point. The Cavaliers are -16.5 favorites over Belmont, per Sportsbook.ag.

B. Beast Mode . The NFL running back carousel has been spinning wildly this month, but the Seahawks stayed out it. Beast Mode is back in Seattle. Marshawn Lynch threatened to retire, threatened to seek a trade, and threatened to get upset about not getting the ball at the one-yard line, but in the end he is returning to a team he has led to consecutive Super Bowls.
C. Camille Muffat . The 25-year-old Frenchwoman was killed when two helicopters collided while working on a reality TV show in Argentina. Muffat won gold in the 400-meter freestyle at the 2012 London Olympics in addition to a silver (200-meter freestyle) and a bronze (4x200-meter freestyle relay). RIP.

D. Dress . Blue and black or white and gold? Okay that was so like two weeks ago, but who cares? That thing was epic.

E. Ex-Saint . That's what Jimmy Graham is after New Orleans unloaded him to Seattle in exchange for center Max Unger. And you thought the NFC South was laughable last year…. New Orleans is +1800 at GT Bets to win the NFC Championship.

F. Ford, Harrison . The character played by Ford walked away from a plane crash after his dad blew off the tail with a poorly-aimed machine gun in "The Last Crusade." The real Ford survived a real plane crash earlier this month when the single-engine aircraft he was piloting had to land abruptly due to engine failure. With a little less luck, it could have been an even bigger disaster than the fourth "Indiana Jones" movie.

G. Great blessing . That's how Hunter Pence views his fractured forearm, which he sustained after getting hit by a pitch in a Giants' spring training game. Yes, he actually called it "a great blessing." That's probably not how San Francisco views it, because Pence will likely miss the first month of the regular season. The Giants are +2000 to repeat as World Series champions, according to SuperBook.

H. Hollins, Lionel . Hollins, head coach of the Brooklyn Nets, says he is "trying not to go the way of a couple of coaches that are in beer commercials." Let's hope the Nets keep losing, because those beer commercials are outstanding (thanks, Dennis Green and Jim Mora Sr.!). New Jersey has won two in a row, but it is still 2-5 in its last seven and in 11th place in the Eastern Conference-2.5 games out of a playoff spot.

I. Indiana . The Hoosiers seemed to be on NCAA Tournament thin ice after they ended the regular season on a three-game losing streak then lost their second Big Ten Tournament game to Maryland. But they got in as a No. 10 seed, and nobody is questioning it. Nobody has the time or the energy to do so, because UCLA's inclusion is depleting everyone's vocal chords. 5Dimes Sportsbook has Indiana as a +5.5 underdog against Wichita State.

J. Jordan Spieth . Spieth and Patrick Reed waged an epic duel at last week's Valspar Championship, both in regulation and throughout a three-hole playoff. They traded dramatics before Spieth's 28-footer finally ended it and gave him the trophy. Unfortunately, maybe not more than a few people saw it. 1) Tiger Woods wasn't involved; 2) it was going up against the NCAA selection show.

K. Kevin Harvick . And you thought Kentucky was dominant? How about Harvick? The guy is positively on fire behind the wheel, with back-to-back wins in Las Vegas and Phoenix. He won the Sprint Cup in 2014, has won four of the last six races dating back to last season, has won five of the last 10, and boasts a ridiculous seven consecutive top-two finishes. If the Sprint Cup format was not such a crapshoot, it would already be just about over. Harvick is a +300 favorite at Mybookie.ag to win this week's Auto Club 400.

L. Larry Donnell . The Giants' tight end was on the plane that skidded off the runway at LaGuardia Airport in New York earlier this month, breaking through a fence and nearly ending up in the water. It would be fair to say he was much luckier in this case than he was when he scored three touchdowns in a game last season while sitting on his own fantasy team's bench.

M. Maurice Jones-Drew . Jones-Drew announced his retirement from the NFL at 29 years old. Some people think that is early. Chris Borland thinks it's late!

N. New York Jets . There are not many things worse than being thrown the football by Jay Cutler. One is playing wide receiver for the Jets. Brandon Marshall will go from one experience to the other after being traded from Chicago to New York. Enjoy it, dude. The Jets are +4000 at BetOnline Sportsbook to win the Super Bowl.

O. Octopus . A giant octopus at the Seattle Aquarium scaled its glass tank and reached a tentacle or two over the wall, sparking rumors that it was trying to escape. If it was an escape attempt, it failed. Of course, it was a far better attempt than Seattle's method of trying to escape a Super Bowl thriller against New England.

P. Predators . The Nashville Predators have two wins in their last 11 games and four wins in their last 15. Is that bad? It's not good! It's especially terrible considering the Preds had been the best team in the NHL prior to the slump. They are now fifth in the league and third in their own conference with 10 games left in the regular season. Nashville is +1200 to win the Stanley Cup, per Bovada Sportsbook.

Q. Qatar 2022 . FIFA is in discussions to move the 2022 World Cup in Qatar to November and December in order to avoid ungodly heat. It's still seven years away, and this whole thing has already been a complete disaster. Just go ahead and move it to the United States. Please?!?!?

R. Rory McIlory . McIlroy has replaced Tiger Woods as the face of the PGA Tour's EA Sports video game. But he has not replaced Tiger in terms of how he throws tantrums after bad shots. Tiger's modus operandi was (and still is, depending on if he still plays golf) swear words and club slams. McIlroy apparently opts for throwing his clubs into the ocean. That's what he did with his 3-iron after putting an approach shot in the water at Doral earlier this month.

S. Syracuse . Following an extensive investigation into its athletic program, Syracuse is now on a five-year probation, will vacate men's basketball wins involving ineligible players from 2004 through 2007 and from 2010 through 2012, will vacate football wins involving ineligible players from 2004 through 2006, and Jim Boeheim is suspended for nine ACC games next season, his team is losing a total of 12 scholarships, and it did not participate in last week's conference tournament. Ouch.

T. Tyus Jones . If only Duke's freshman guard got to play against North Carolina every game…. In the Blue Devils' two rivalry wins, Jones scored 22 points at Cameron and went for 24 in the Dean Dome. He has not scored more than 22 in any other game this season and he averaged just 8.5 points per game during the ACC Tournament and committed four turnovers in a semifinal loss to Notre Dame. The Blue Devils are +850 at Sportsbook to win the National Championship.

U. United . Manchester United bowed out of the FA Cup at the hands of English Premier League rival Arsenal earlier this month. The Red Devils hosted the quarterfinal match at Old Trafford, but home-field advantage was moot as some horrific defensive ball-handling in the 61st minute led to a 2-1 win for the Gunners. On the bright side for United, Manchester City lost to Burnley last week to see its Premier League title hopes all but vanish.

V. VCU . The Rams wreaked havoc on fellow Atlantic 10 teams en route to the conference title. They are not expected to do the same in the NCAA Tournament as a No. 7 seed, but few expectations accompanied them in Brooklyn and look what happened. Shaka Smart's team, which had been blown out by Davidson 82-55 a week earlier, beat the Wildcats by 20 then took care of Dayton 71-65 in the final. VCU is a +4 underdog against Ohio State, as indicated by BookMaker.

W. Wesley Matthews . Portland's shooting guard is out for the season after suffering a torn Achilles' in a victory over Dallas earlier this month. Matthews was averaging 16.1 points and 1.3 steals per game while making 39.1 percent of his three-point attempts. That hurts, literally.

X. Denotes clinched playoff berth . Since the 1995-96 Chicago Bulls, the quickest team to earn an NBA playoff berth is…the current Atlanta Hawks! Yes, the mediocre-at-best franchise put an "x" by its name on March 3, the earliest anyone has done since those Jordan-led Bulls. The Hawks are +850 at Bodog Sportsbook to win the NBA title.

Y. Yu Darvish . The three most dreaded words in baseball are "Dr. James Andrews." Darvish paid a visit to the good doctor on Tuesday because the Texas Rangers' ace needed Tommy John surgery to repair partially-torn ligaments in his right elbow. Darvish won 16 games three years ago, compiled 2.83 ERA in 2013, and finished with a 3.06 ERA last season.

Z. Zoolander . To say Will Ferrell has been active this month would be an understatement. First he played for 10 different teams in five different spring training games last week and now he has recommended-with success-Kanye West to make an appearance in "Zoolander 2." That may not sound like great news, but it could be if you are a fan of Kim Kardashian and her backside. Because you can be sure those will be in it if Kanye is.
Read more articles by Ricky Dimon