This Week in Sports Betting, A-Z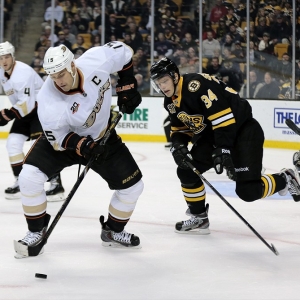 A. Anaheim Ducks . Ducks have not looked this good since Emilio Estevez graced the big screen as Gordon Bombay. Anaheim is 8-1 through two playoff series, and its only loss came in overtime (in Game 3 of the conference semifinals against the Calgary Flames). The west finals begin on Sunday against the Chicago Blackhawks. 5Dimes Sportsbook has the Ducks as -135 home favorites in Game 1.

B. Bryce Harper . Harper's seven-game hitting streak came to an end on Thursday, mainly because the San Diego Padres walked him three times-reducing him to just two official at-bats. Still, the Washington Nationals' outfielder is 14 for his last 28 with seven home runs and 16 RBIs. Six of those seven dingers came in a three-game span.
C. Ciara . Ciara and Seattle Seahawks' quarterback Russell Wilson are reportedly dating. Even though a bonehead play call has limited Wilson to one Super Bowl ring instead of two, it's safe to say life ain't too shabby!

D. Deflate-gate . It's a different world we live in than it was a year ago. In 2014, Ray Rice was suspended two games for definitely assaulting his girlfriend. In 2015, Tom Brady has been suspended four games for possibly letting a little bit of air out of some footballs. Moreover, the New England Patriots were fined $1 million and must forfeit a first-round draft pick (2016) and fourth-round pick (2017). Roger Goodell ain't messing around. New England is +500 at GT Bets to win the Super Bowl.

E. Edwards, Braylon . Luckily for Edwards, he is a former NFL player, so he will not have to feel Goodell's wrath for his latest transgression. But it's safe to say he will hear from the law. Edwards was charged with an "extreme DUI" earlier this month in Scottsdale, Ariz. His blood-alcohol level was more than twice the legal limit, and this is his second DUI since 2010.

F. Fowler, Rickie . When the highlight of your day is not an extended victory kiss from girlfriend Alexis Randock, you know things are good. Well, that may have been Fowler's highlight last Sunday-but his golf was pretty darn good, too. He played the final six holes of The Players Championship in 6-under par, forced a playoff with Kevin Kisner and Sergio Garcia, and eventually won it with a birdie on the island green on hole No. 17.

G. Game 7 . Is there anything better in sports than overtime of a Game 7 in the Stanley Cup playoffs? Unless you are a biased hater of hockey, the answer is no. Seasons either end or continue in the blink of an eye, and the Washington Capitals came out on the painful side of that scenario as the New York Rangers prevailed 2-1 on Wednesday. New York is a -140 home favorite over the Tampa Bay Lightning in Game 1 on Saturday, per BookMaker.

H. Howard, Dwight . Last Sunday, Howard scored seven points, got ejected, and watched (well, he was actually in the locker room) his Houston Rockets fall behind the Los Angeles Clippers three games to one. Fast forward less than four full days and Houston has mounted a comeback of epic proportions. Howard had 20 points and 21 rebounds as the Rockets erased a 19-point deficit late in the third quarter and win L.A. on Thursday, thus forcing a Game 7.

I. Idol . The 14th season of "American Idol" allegedly held its finale on Wednesday. Probably fewer people watched it than were in attendance for that recent game in Baltimore between the Orioles and White Sox. That may be why Fox is finally ending the show next year.

J. Jimmie Johnson . Johnson won something called the Spongebob SquarePants 400 last Saturday. We'll do him a favor and just say he won the Sprint Cup event in Kansas. Johnson was already a lock for The Chase, having previously triumphed in Atlanta and Texas. Sportsbook.ag has the No. 48 car at +600 to win this weekend's all-star race.

K. Kyle Busch . Speaking of The Chase for the Sprint Cup, Busch was granted a qualification waiver that can make him eligible for NASCAR's proverbial playoffs even though he missed the first 11 races of the season because of a broken leg. Busch, who will return this weekend in Charlotte, must win one race and finish in the top 30 in the standings in order to qualify.

L. LeBron James . No matter that LeBron went 7-for-23 from the floor on Thursday. The Cleveland Cavaliers still destroyed the Chicago Bulls 94-73 to finish off their series in six games, and LeBron finished with averages of 26.2 points, 11.0 rebounds, and 8.8 assists. Cleveland is more banged up than Happy Gilmore after his altercation with Bob Barker, so some days off prior to next Wednesday will help.

M. MVP . Perhaps fatigued from an MVP acceptance speech that lasted longer than the New Orleans Pelicans did in the playoffs, Stephen Curry slumped through two games and saw his Golden State Warriors stumbled to a surprise 2-1 deficit against the Memphis Grizzlies. But he has played like an MVP in the last two. Curry scored 33 points on 11-for-22 shooting in Game 4 then had 18 points (6-for-13 from three-point range) and six steals on Thursday as Golden State seized a 3-2 advantage. The Warriors are -5 favorites at Memphis on Friday, according to Bovada Sportsbook.

N. Nadal, Rafael . Nadal does not have much more time to get it together before the French Open, which begins in less than two weeks. The Spaniard has plunged to No. 7 in the world and has three more losses on clay this season (four) than tournament titles (one). Nadal is a +240 second choice at BetOnline Sportsbook to win the French Open.

O. Oakland Athletics . The A's were once 8-8. Now they are 13-23 and in last place in the AL West (tied for last in the entire American League). Oakland is a horrendous 1-7 in its last eight games after getting shut out by the Boston Red Sox 2-0 on Wednesday. Hey, it could be worse; at least this team isn't the Colorado Rockies (11-game losing streak snapped on Thursday).

P. Preakness . Eight horses? Seriously? That's how big (or small) the field will be for this Saturday's Preakness Stakes in Baltimore. Well, whatever gives the Kentucky Derby winner the best chance of going into the Belmont with a shot at capturing the Triple Crown is good for the sport. MyBookie.ag has American Pharoah as a -155 favorite to win the Preakness.

Q. Quintana, Jose . Quintana's ERA is still a relatively bloated 4.39 because two of his first three outings were poor, including a nine-run disaster in four innings against the Detroit Tigers. But the Chicago White Sox's southpaw has gone four consecutive starts with no more than two runs surrendered. He tossed seven innings of one-run ball while striking out 10 in a 4-2 win over the Milwaukee Brewers on Wednesday.

R. Ronda Rousey . Rousey has a Tinder problem, and the only prescription is less notoriety. The UFC bantamweight champion (and Furious 7 star) says she wants to use Tinder but is too famous to do so. She once tried using the alter ego "Brynn Campbell," reportedly with no success. Brynn Campbell's not bad, but Rousey should hit up Michael "Ron Mexico" Vick the next time she needs an alias.

S. Stink . That was Jon Lester's definition for himself after winning a third straight start. The Chicago Cubs' southpaw gave up three runs on five hits (two homers) and four walks on Monday, but his team held off the New York Mets 4-3. If Lester is stinking right now, what was he doing before this recent stretch of three victories in a row? He was previously 0-2 with a 6.23 through four starts. The Cubs are +850 at BetOnline Sportsbook to win the NL Pennant.

T. Tiger Woods . While Fowler was busy making birdies all over the place at the TPC Sawgrass, Tiger meandered his way to an uneventful T69 with rounds of 73, 71, 75, and 72. In more important news, the former world No. 1 is now single again after breaking up with Lindsey Vonn. That's right; Tiger is on the prowl again! Of course, Tiger is on the prowl even when he is in a relationship, so nothing's changed. Ex-wife Elin Nordegren is a +400 favorite at Bovada Sportsbook to be Tiger's next girlfriend.

U. UNC . Former North Carolina head coach Bill Guthridge died at age 77 on Tuesday. A longtime assistant of Dean Smith, Guthridge-as the head-led the Tar Heels to the Final Four in 1998 and 2000. RIP.

V. Van Damme, Jean-Claude . Van Damme "recreated" his famous dance/fight scene from the 1980s hit Kickboxer earlier this week on Conan. It's safe to say he's still got it at 54 years old. You don't ever want to mess with the Muscles from Brussels.

W. Wolverines . Michigan is already reporting violations under Jim Harbaugh. One involves Harbaugh sending an autographed helmet and jersey to a charitable auction. "No good deed goes unpunished" is what the head coach had to say about it on Twitter. Bad deeds also don't go unpunished, and Harbaugh's longtime friend Jim Minick has been suspended on suspicion of DUI last weekend. Harbaugh hired Minick as associate athletic director for football earlier this year.

X. Xabi Alonso . The Spaniard went up against a Spanish club (FC Barcelona) in the Champions League semifinals and it did not end well for the Bayern Munich midfielder. Bayern lost the first leg 3-0 last week, so the club's 3-2 victory in Tuesday's second leg was not enough to overcome the aggregate deficit. Barcelona will go up against Juventus in the championship match on June 6. BookMaker has Barca as a -165 favorite.

Y. Young, Chris . The two men in right-field platoon roles for the New York Yankees are trading hot streaks. Young is batting .303 with six homers and 12 RBIs, but he has not gone deep or driven in a run since May 2. Carlos Beltran (.221) is on a six-game hitting streak with two home runs and six RBIs in those six. The Yankees (Pineda) are -115 road favorites against Kansas City (the other Chris Young) on Friday, per GT Bets.

Z. Zimmer, Mike . Third-round pick Danielle Hunter, a defensive end out of LSU, must be impressing so far at Minnesota Vikings' rookie camp. Zimmer, the Vikings' head coach, has threatened to do nothing more than chop off Hunter's arms and legs. Those are tame threats by Zimmer's standards. The Vikings are +900 at Bovada Sportsbook to win the NFC North.
Read more articles by Ricky Dimon