This Week in Sports Betting, A-Z
by Ricky Dimon - 3/24/2015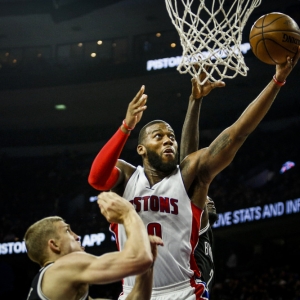 A. Andre Drummond . The Detroit Pistons' center insists he is not dating porn star Jenna Shae after a picture of them at a bowling alley surfaced recently on the internet. Of course, given Drummond's track record they may have dated and already broken up. His relationship with actress Jennette McCurdy lasted all of a few days.

B. Bryant, Kris . Chicago Cubs hype reached a new level when they signed Jon Lester this offseason, and that was before people even knew about Bryant. The 23-year-old third basemen has taken the Grapefruit League by storm, with a .480 average, eight home runs, and 14 RBIs in 10 games. Wait 'til this year? The Cubs are +1400 at Bovada Sportsbook to win the World Series.
C. Charles Clay . The NFL website lists Clay as a running back, which would be interesting given that he is 6-foot-3 and 255 pounds. That sounds more like a tight end-and that's exactly what Clay is. He is also taking his talents from South Beach to Buffalo after signing a five-year, $38 million contract last week. In the past two seasons combined, Clay caught 127 passes for 1364 yards and nine touchdowns. Sportsbook.ag has the Bills at +2500 to win the AFC Championship.

D. Durant, Kevin . Due to his recurring foot injury, Durant has been "removed from basketball activities" and is likely done for the season. Thus, the Thunder can be removed from any serious discussions of title contention. Oklahoma City is a -10.5 home favorite over the Lakers on Tuesday, as indicated by BookMaker.

E. Every, Matt . He doesn't win every week on tour, but he might win every year at the Arnold Palmer Invitational. Every went back-to-back at Bay Hill, erasing a three-shot deficit with a Sunday 66 to overcome Henrik Stenson by one stroke. The 31-year-old now owns two career victories-none outside Arnie's tournament. Every is +5000 at GT Bets to win this week's Valero Texas Open.

F. Floyd Mayweather . Money has apparently refused to accept terms for a penalty that would cost either him or Manny Pacquiao $5 million for a failed drug test prior to their fight. I'm not even sure what that means; just get to May 2 without any snafus and it will be all good.

G. Gerrard, Steven . This wasn't exactly a gaffe of Zinedine Zidane headbutt in the World Cup final proportions, but Gerrard certainly did not help his Liverpool squad on Sunday. Just 38 seconds into his day after getting subbed in at halftime, Gerrard incurred a red card for stomping on the ankle of Man U's Ander Herrera. Reduced to 10 men, Liverpool never seriously threatened, and United's 1-0 lead at the intermission stood up.

H. Hardy, Greg . The talented-but-volatile defensive lineman recently inked a one-year deal with the Dallas Cowboys that could be worth up to $13 million. Some Cowboys' fans are up in arms given Hardy's questionable character, but such is life when your owner can throw around $13 million like its chump-change. Dallas is +1300 at Mybookie.ag to win Super Bowl L.

I. Indian Wells . With each passing week, it is looking more and more like tennis has a Big 2 rather than a Big 4 on its hands. Novak Djokovic and Roger Federer squared off in the Indian Wells final for a second straight year after Djokovic humiliated Andy Murray in the semis. Rafael Nadal did not even make it that far, as he lost to Milos Raonic in the quarters. "Just wait until clay" is what the Spaniard must be thinking.

J. Jacoby Ellsbury . Ellsbury, who has been sidelined by a strained oblique, says he will be ready for Opening Day. The Yankees' outfielder was also called "a rock star" by Alex Rodriguez earlier this week. Compared to how A-Rod is received by fans these days, yes, Ellsbury definitely has rock-star status.

K. Kershaw, Clayton . Some dude on the A's named Andy Parrino spoke for the frustrations' of all hitters when he nailed Kershaw in the face with a liner during a spring training game last Friday. Kershaw was fine, but he needed some dental work on two teeth. You can be sure the southpaw will be back and forcing hitters to get some work done on their egos in no time. BetOnline Sportsbook has the Dodgers at +350 to win the National League Pennant.

L. Lyles, Trey . March Madness makes for the greatest month in American sports, but Canada better be getting on the bandwagon because one of its native sons is in fine form. Lyles contributed 10 points and six boards (and one posterization) against Hampton then recorded a double-double (11 points, 11 rebounds, plus two blocks) as Kentucky eased past Cincinnati.

M. Molly whop . Calvin Johnson has put a ring on the woman who threatened to "molly whop" his baby mama. He got engaged last week to Brittney McNorton, who is known by some as the daughter of former Lions' defense back Bruce McNorton and by others for her role in the aforementioned domestic dispute with Megatron's ex-girlfriend.

N. Nash, Steve . Nash retired from the NBA last week following a 19-year career. He was a two-time MVP and finished with 10,335 assists, good for third on the all-time list, one ahead of Mark Jackson. Congrats, Steve.

O. Obama, Barack . The POTUS attended the Princeton first-round game in the women's NCAA Tournament because the FLOTUS' brother's daughter plays for the Tigers. He must have liked what he saw, because No. 8 seed Princeton beat No. 9 seed Wisconsin-Green Bay 80-70. Unfortunately, the Tigers had to play second-seeded Maryland on Monday-and lost 85-70.

P. Pittsburgh Penguins . The March of the Penguins has not been a good one. They are 5-6 this month and have lost four of their last five games. During a recent four-game skid, Pittsburgh scored two total goals. Evgeni Malkin has been out with a lower-body injury, but he should return this week. The Pens' only win in their last five has come against lowly Arizona, which is a +280 underdog at Detroit on Tuesday, per Bovada Sportsbook.

Q. Quentin Snider . The freshman guard has stepped up to help Louisville reach the Sweet 16. He hit two game-winning free throws and scored 16 points in a win over UC-Irvine before draining two three-pointers a 10-point, four-rebound effort as the Cardinals got past Northern Iowa 66-53 on Sunday night. The only question with him is why his surname is "Snider" not "Snyder." Of course, an even better question is why Cards' big man Montrezl Harrell has an "l" on the end of his name. Louisville is a -2 favorite over N.C. State, according to Sportsbook.ag.

R. R.J. Hunter . It does not get more epic than what transpired in one of the first games of the tournament between Georgia State and Baylor. The 14th-seeded Panthers ended the game on a 13-0 run to erase a 12-point deficit, won 57-56 on a last-second shot by Hunter that came from 30 feet away and set the head coach tumbling out of the chair from which he was coaching after sustaining a torn Achilles' while celebrating his team's conference championship. Moreover, that coach is Hunter's dad. You cannot make this stuff up, folks.

S. Serena Williams . Either it was the ultimate troll, or she was actually injured. After boycotting the event for 13 years following a racially-charged incident, Serena reached the Indian Wells semifinals last week then withdrew citing a knee issue-thus depriving the fans of a blockbuster showdown with eventual champion Simona Halep.

T. Tommy John . Major League Baseball is becoming all too familiar with Dr. James Andrews. So, too, are the New York Mets. Zack Wheeler (3.54 ERA, 187 Ks in 185.1 innings last season) is undergoing Tommy John surgery this week to repair a torn ulnar collateral ligament. He joins Yu Darvish as pitchers who are already done for this year before it even starts because of ol' TJ. Wheeler also follows in the footsteps of teammate Matt Harvey, who missed all of 2014 with the same injury. The Mets' over/under win total is 82.5 at BookMaker.

U. UCLA . It's more of a fact than an opinion that UCLA should not have made the tournament. But the Bruins did, and the rest is history-albeit a brief, two-game history so far. They benefited from a favorable goaltending call to scrape past SMU 60-59 before getting to play UAB instead of Iowa State. Steve Alford's team trounced the Mustangs and will battle Gonzaga on Friday. UCLA is a +8.5 underdog against the Zags, per GT Bets.

V. Villanova . To the surprise of no one, Villanova is the first No. 1 seed knocked out of the NCAA Tournament (lost to N.C. State 71-68). To the chagrin of head coach Jay Wright, his team's ouster came during the very first weekend. But, hey, at least he still looks like George Clooney.

W. Waterhouse, Suki . The 23-year-old actress and model is newly single after a two-year relationship with Bradley Cooper came to an end. That's good news for all other single guys and bad news for Cooper. Although it's probably a safe bet he is as lethal with cupid's arrow as his character was with a rifle in "American Sniper."

X. Xavier . Only in one region, the West, did three of the top four seeds advance to the Sweet 16. Xavier is the lone outsider in that section after taking care of Ole Miss and Georgia State. But things are not going to get any easier for the sixth-seeded Musketeers. They will face Arizona on Thursday and would then run into either Wisconsin or North Carolina. 5Dimes Sportsbook has Xavier as +11 underdogs against the Wildcats.

Y. Young, Joseph . Oregon is out of the Big Dance, but not before Young announced himself on a national stage. The senior guard went for 27 points in a win over Oklahoma State, including 23 in a nine-minute stretch. Young then dropped 30 on Wisconsin, but the top-seeded Badgers held off the Ducks 72-65.

Z. Zayn Malik . Malik has left One Direction's current tour for personal reasons. In their first concert without him last week, the boys introduced themselves individually by name instead of as "One Direction." If (when?) Kentucky wins it all, will it go down as "Aaron, Andrew, Dakari, Devin, Karl-Anthony, Marcus, Trey, Tyler, and Willie" instead of as "Kentucky" in the absence of Alex Poythress?
Read more articles by Ricky Dimon