Weekly Q&A with Doc's Sports Expert Handicapper Raphael Esparza
by Doc's Sports - 2/10/2015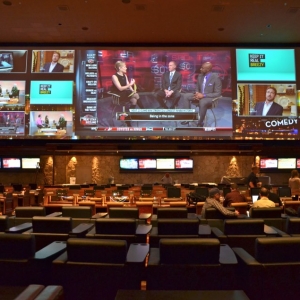 Doc's Sports is now in our 44th year in the sports betting business and better than ever with winning selection packages for all the major sports. One of the primary reasons that we have been leaders in this highly-competitive industry for so long has been the ability to surround ourselves with some of the top expert handicappers in their field. Diversity is the spice of life, and we have something for everyone in this lineup of shining stars.
One of the brightest stars entering his ninth year with Doc's has been Raphael Esparza. Formerly known as the Vegas Sports Informer during a long tenure behind the counter of some of the biggest sportsbooks in Las Vegas, he once held the prestigious position of Director of the Race and Sports Book for MGM Grand's Aria until his retirement in 2013.
Raphael continues to work hard each and every day to bring you winning selections for a wide scope of sporting events. One of the secrets to his success is a vast network of Las Vegas "insiders" that includes some of the biggest and most influential sports personalities in town. These professionals know the sports betting industry inside and out, and he has been able to incorporate this "insider's edge" into all of his selection packages to help make savvy bettors a small fortune over the past several years.
As an expert handicapper, some of his most unique offerings include the WNBA, horse racing, boxing, professional tennis and soccer leagues all around the globe. One week you might find picks for pro wrestling and the next it could be some prop bet picks in the world of entertainment. It's safe to say that if a sportsbook posts odds for it, he will handicap it.
Doc's and Raphael have developed an ongoing weekly Q&A that is designed to delve deeper into the Las Vegas betting scene as well as discusses some of the hottest trending sports betting topics of the day. We have found that there is no better source than someone that is a true "insider" in the undisputed sports gambling capital of the world. The following is this week's conversation.
Doc's Sports: In a recent edition of ESPN The Magazine, the whole topic of legalized sports betting in the United States was discussed. In your opinion, how far do you think we are away from some kind of national legislation that could actually make sports betting legal on a country-wide basis?
RE: I still think we are ways off of any type of serious effort to legalize sports betting on some kind of national level, but I do expect a few cash-strapped states to keep pushing this agenda such as New Jersey has been doing for the past few years.
Doc's Sports: In that same magazine, the estimated figures for how much money that is currently being bet illegally in the US are staggering; to the tune of hundreds of billions. What is Las Vegas's general attitude about expanding legalized sports betting outside the Nevada borders?
RE: I probably mentioned this before, but the sportbook in most major casinos is hardly the profit center when it comes to the total gambling picture. I would seriously doubt that there is any major concern if gambling on sports started popping up in any other states. Las Vegas still is and will always be a vacation and gambling destination that just so happens to also have sports betting on its plate.
Doc's Sports: The start of the 2015 NCAA Men's Tournament is still more than a month away, but there is already quite a bit of talk about which four teams will claim the No. 1 seeds this year. Right now, which four teams would be at the top of your list?
RE: Usually this is the time of the season when this debate rages on in full force, but right now the top four teams of Kentucky, Virginia, Gonzaga and Duke are pretty much set in place. Wisconsin could sneak in if one of those four stumble down the stretch, but the gap with the next wave of teams in the national rankings remains fairly wide.
Doc's Sports: Earlier in the NBA season we discussed your list of players that can have the biggest impact on the betting lines for the games. Can you give us one or two up-and-coming players that could be poised to join this list in the coming years?
RE: I would have to put someone like Portland's Damian Lillard in that category if he keeps playing at the level he has so far this season. I would also have to add the top two or three players with Atlanta to the list much the same way I singled out San Antonio for having a system of players that can move the line, not just one superstar.
Doc's Sports : Speaking of NBA superstars, a new post in your blog, Straight Bet Talk, covers your top three picks to possibly upset favorite Stephen Curry for this year's Most Valuable Player award. Of the three (LeBron James, Anthony Davis and Marc Gasol), which player would be you top choice to win this year's award instead of Curry?
RE: I would have to go with the value in the longer odds on the Grizzlies' Marc Gasol, especially if Memphis can overtake Golden State down the stretch for the top seed in the Western Conference. He is starting to establish himself as a legitimate member of that elite class of players in the league.
Click here to visit Raphael Esparza's Insider's Page at Doc's Sports for more information on his amazingly-profitable sports handicapping picks. Also, get $60 worth of Esparza's member's picks absolutely free - no obligation, no sales people - you don't even have to enter credit card information. You can use this $60 credit for any sport Esparza handicaps. Click here for $60 worth of free picks from Raphael Esparza . Also be sure to follow him on Twitter @VSIDocsports.