All-Sports Expert Betting Tips to Help Win Cash this Week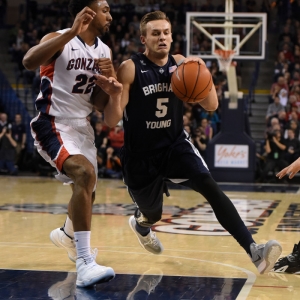 Winning a sports bet is always a thrilling event, but the real goal of any avid sports better is to string together far more wins than losses to generate a solid return on investment. A certain amount of luck is often involved when it comes to winning, but a solid inside edge that helps to tip the scales in your favor against the sportsbooks is what any true sports bettor is always looking for.
The expert handicappers at Doc's Sports make their living off that inside edge, and many times it is the driving force behind their biggest plays with Doc's Unit Betting System. The following are a few of this week's expert betting tips to help win cash this week.
Betting on the Bulldogs to Keep the Big Dance Streak Alive
Everyone expects teams such as Kansas, Duke and Kentucky to be in the NCAA Tournament every single season, but when it comes to Mid-Major programs, the Gonzaga Bulldogs out of the West Coast Conference have been a sure thing since 1999 with 17 straight appearances in the Big Dance.
That streak could be on the line heading into the semifinals of this year's WCC Tournament. The 2015-16 Bulldogs are viewed as a bubble team at best, and the only way they can guarantee themselves a spot to the 68-team field to keep this streak alive is to win the automatic bid that comes with winning the conference tournament.
Gonzaga is listed as a +110 favorite with BetOnline to get past BYU on Monday night and beat the winner of the Pepperdine/St. Mary's matchup in the WCC championship game. The Bulldogs have been listed as two-point favorites against BYU, but they could easily open as slight underdogs in a third matchup against No. 1-seed St. Mary's. This is assuming that the Gaels get past Pepperdine as 7.5-point favorites in Monday night's other WCC semifinal matchup.
The third time could be the charm after Gonzaga dropped its two regular-season meetings against the Gaels. St. Mary's betting odds to win the WCC Tournament are +170, followed by BYU at +325 and Pepperdine at +1400.
Can the Cardinals Defy the Odds to Win the NL Central
The St. Louis Cardinals have been the poster child for stability and continued success in the majors for quite some time. Going back to the 2000 MLB season, they have been in the postseason 12 times. This run includes nine National League Central Division titles, four trips to the World Series and two MLB World Series titles in 2006 and 2011.
Going back over the Cardinals last five seasons, they have made five straight playoff appearances, with the last three a result of winning the Central. According the BetOnline's MLB futures odds it looks like they are going to have to keep their playoff streak alive as a wild card team in the NL. The Chicago Cubs are -200 odds-on favorites to win the Central Division, followed by St. Louis at +300 and Pittsburgh at +400.
These three teams battled each other all season long in 2015 with St. Louis edging out Pittsburgh by two games and the Cubs by three games with an overall record of 100-62 that was the best in the majors. Chicago is definitely the sexy pick in this year's division race, but all the value still lies in the Cardinals' +300 odds to once again finish on top.
Going With the Warriors on the Rebound
Golden State went into Sunday's road game against the Los Angeles Lakers as 17.5-point favorites in what was supposed to be a nice send off for Kobe Bryant in the Warriors last trip to the Staples Center to face the Lakers in his storied career. In what was expected to be another romp on their way to a new NBA single-season record for straight up wins, Golden State got a harsh lesson on why they play the games. It lost to Los Angeles 112-95 in one of this team's most dismal performances in quite some time
With no time to lick their wounds or mend its bruised ego, Golden State has to play host to Orlando on Monday night as a heavy 14.5-point favorite. I would probably take the risk on BetOnline's -2000 moneyline that the Warriors win this game SU to pocket a quick $100 bucks. However, would you bet on them to cover another big spread after going just 3-7-1 against the spread in their last 11 games?
This season's trends have shown that Golden State responds well to losing with a SU 5-0 record following its previous five SU losses. And while that record drops to 3-2 ATS, the average margin of victory in those five wins was 16.8 points. Going back a bit further in time, the Warriors are 14-1 SU following their last 15 losses with an 11-4 record ATS. They are 3-0 ATS in their last three home games following a loss with a 16.3-point winning margin. You may not want to take the risk of betting on Golden State to cover on Monday night, but do not be foolish by betting against this team in this situation .
Read more articles by Dave Schwab