Case of the Mondays: Tough Start to Season for Cowboys, Ryan's Bills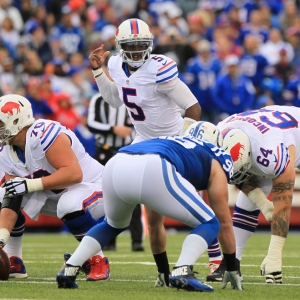 It will be February of 2017 before every team in the NFL is undefeated again. More than half of the league is still unblemished as of this Monday, but the loss column for more than a few unfortunate squads took a hit in Week 1. The Dallas Cowboys lost an NFC East divisional game at home, while the Buffalo Bills scored the fewest points of all the teams that suited up on Sunday.

All odds provided by Bovada Sportsbook.

Dallas Cowboys . There were all kinds of thrillers across the NFL on Sunday. To the surprise of nobody, one such contest took place at AT&T Stadium between the Cowboys and Giants. Playing without injured starting quarterback Tony Romo, Dallas scored the first six points of the game and led for more than 20 minutes of the second half but it ,could not hang on for victory. A touchdown pass from Eli Manning to Victor Cruz with 6:13 left in the fourth quarter propelled New York past the home team 20-19. The 'Boys had a chance to answer, but Terrance Williams failed to get out of bounds on a completion to the Giants' 40-yard line and Dallas-with no timeouts-saw the clock expire. The Cowboys are +3300 to win the Super Bowl.

Rex Ryan . One week has always been enough for NFL coaches to be put on the hot seat. It appears as if the 2016 season will be no exception. Things went from bad to worse for Ryan's Bills, who's Sunday morning started with linebackers Jerry Hughes and Zach Brown missing one of the team buses and opting to take Uber to their game against the Baltimore Ravens. Hughes, Brown, and the rest of the defense played well, but Buffalo's offense sputtered in a 13-7 loss. The Bills finished with an anemic 160 total yards of offense.They are -1.5 home favorites over the New York Jets on Thursday.

Oklahoma State . Mike Gundy is a man! He's 40! But even Gundy (who's now 49, actually) may require more than a few days to get over what transpired between his Oklahoma State Cowboys and the Central Michigan Chippewas last weekend. Leading 27-24 with four seconds remaining and in possession of the ball, the Cowboys thought they had run out the clock but instead got called for intentional grounding on fourth down. Central Michigan regained possession (wrongly, as it turned out) and on an untimed down successfully converted an unbelievable 51-yard Hail Mary to win 30-24. "While I'm disappointed in myself, I am also disappointed that we had 10 rules officials who didn't properly apply the rule," Gundy said."I give credit to Central Michigan for coming up with a great play and executing it as well as they did." OSU is a -6.5 home favorite over Pittsburgh on Saturday.

Stephen Strasburg . Stop me if you've heard this one before: Strasburg is dealing with an arm injury. Last Wednesday, the Washington Nationals' right-hander left his start early because of soreness in his surgically-repaired elbow. Strasburg is heading for a second opinion after being initially diagnosed with a strained flexor mass. His status for the postseason is uncertain. The Nats are +600 to win the World Series.

Manchester United . The first Manchester Derby of the 2016-17 English Premier League campaign did not go well for Man U. Even with home-field advantage at Old Trafford, the Red Devils fell to Manchester City 2-1 this past Saturday. City dominated much of the opening half and led 2-0 after 36 minutes en route to victory. United kept it close thanks to Zlatan Ibrahimovic's goal in the 42nd minute, but that is how the score remained the rest of the way. Both clubs had been undefeated and untied through three matches, so the Sky Blues are now atop the EPL table with 12 points-three clear of their Manchester rival. Man City is a -110 favorite to win the league title.

Rickie Fowler . Unless one of the qualified golfers withdraws from The Tour Championship, there will be no Fowler at East Lake later this month. The 27-year-old American started the BMW Championship at 22nd in the FedEx Cup standings, well inside the 30-player cut line. He still would have been okay after stumbling to a 1-over total of 289 if not for the performance turned in by Charl Schwartzel. The South African, who was in 43rd place prior to the third tournament of the Playoffs, fired a final-round 64 (8-under) to soar into a tie for fourth place at the BMW. Despite all of that, Fowler still could have gotten in to East Lake ahead of Schwartzel if J.B. Holmes had bogeyed the 72nd hole. Instead, Holmes drained a short but tricky par putt to put Schwartzel through while knocking Fowler out. But the news was better for Fowler on Monday, when he and Holmes were linked again. They were picked-along with Matt Kuchar-by captain Davis Love III for the United States Ryder Cup team.The USA is a -185 favorite over Europe.

Novak Djokovic . This one may not sting quite as bad for Djokovic as some other Grand Slam final losses. After all, he had been struggling physically throughout the summer and was unsure to even play the U.S. Open until a week before it started. The world No. 1 had also stumbled through the tournament without performing his best while benefiting from all kinds of injuries incurred by his opponents. Still, any loss in a major title match is a tough one and that is the fate that befell Djokovic on Sunday in New York. The defending champion took the first set from Stan Wawrinka but ended up falling to the third-ranked Swiss 6-7(1), 6-4, 7-5, 6-3. It is the third slam victory for Wawrinka, while Djokovic remains stuck on 12.Djokovic is a -120 favorite to win the 2017 Australian Open.
Read more articles by Ricky Dimon