Case of the Mondays: Spurs-Thunder Heading Back to San Antonio Tied 2-2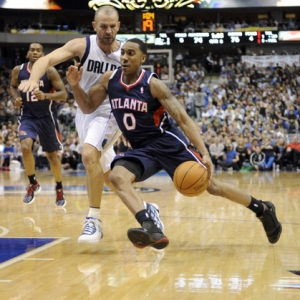 It will require at least two more games to decide the Western Conference semifinal series between the San Antonio Spurs and Oklahoma City Thunder. That much is guaranteed after the two teams split contests at each of the home venues. The Eastern Conference semifinal series featuring the Cleveland Cavaliers and Atlanta Hawks, on the other hand, requires no more games. Cleveland finished off a sweep (again) by surviving a thriller on Sunday.

Odds provided by BetOnline Sportsbook unless otherwise indicated.


Tim Duncan . The end appears to be near for Duncan; just how near may be up to his teammates. San Antonio's veteran center scored eight points in Game 1 against the Thunder, which is a little bit less than his regular-season average-but it was a downright eruption compared to what has since transpired. In the last three outings, Duncan has made a total of two shots (field goals and free-throws combined) for all of four points. After logging more than 20 minutes of court time in the opener and again in Game 2, the 40-year-old played just 14 minutes on Friday night and a mere 12 on Sunday afternoon. He did not score or even attempt a shot in the most recent contest. It is the first time he has been held scoreless in 249 career playoff games and the first time he has committed four fouls prior to halftime. The Spurs are -6.5 home favorites in Game 5.

Atlanta Hawks . The Hawks are now 0-12 in their postseason history against Cleveland, including 0-8 in the last two seasons. They got swept in last year's conference final before getting bounced in the second round this time around. Atlanta really had no reason to lose four straight to the Cavs in 2016, but it managed to find a way. The underdogs erased all of an 18-point deficit in Game 2 on the road but could not finish, led for most of Game 3 at home before being outscored 36-17 in the fourth quarter, and were winning Game 4 on Sunday with little more than a minute remaining only to once again suffer from a glaring lack of a closer. Cleveland is a +225 second choice to win the NBA championship.

New York Islanders . Speaking of elimination, the Islanders are gone. New York survived a thriller of a first-round series against the Florida Panthers, but it apparently did not have much left in the tank for the Tampa Bay Lightning after winning four games by one goal-including three in overtime. Tampa Bay dropped the first game of the Eastern Conference semifinal series at home, but it promptly reeled off four consecutive victories and sealed Florida's fate by dominating 4-0 on the road on Sunday. The Lightning are +200 to win the conference and +525 to win the Stanley Cup.

Desormeaux brothers . Led by Kent Desormeaux cracking the whip and Keith Desormeaux training him, Exaggerator was considered one of the top threats to favorite Nyquist heading into the Kentucky Derby. And Exaggerator did not disappoint-but he could not quite catch Nyquist down the stretch. Running into traffic 3.5 furlongs from the finish line may have been the difference between winning and coming in second place by little more than a length for the Desormeaux brothers, who have now been second behind Nyquist a whopping six times. Nyquist is +220 to win the Triple Crown.

Pittsburgh Pirates . Pittsburgh overwhelmed the St. Louis Cardinals 10-5 on Sunday to take two of three in its road series, but the team is still 2-5 in its last seven games. It kicked off the week by getting swept at home by the Chicago Cubs, who outscored their opponent 20-5 during the three-game set. But here is the really bad news for the Pirates: they have to play the Cubs again this week. Chicago is an unbelievable 24-6, five games better than anyone in the National League and three games clear of everyone else in the majors (the Chicago White Sox, coincidentally, are 22-10). The Cubs have won seven in a row to seize a 7.5-game lead over second-place Pittsburgh in the NL Central. The Pirates (Niese) are -113 favorites at the Cincinnati Reds (Straily) on Monday.

Rafael Nadal . The first month of the clay-court swing could not have gone any better for Nadal. He won each of his two appearances in Monte-Carlo and Barcelona, world No. 1 Novak Djokovic showed signs of vulnerability by losing his opening match in Monte-Carlo, and Stan Wawrinka-a fellow competitor for the No. 4 seed at the French Open-struggled (No. 4 status is crucial because No. 5 could meet Djokovic in the French Open quarterfinals). But then the Mutua Madrid Open happened last week. Although Nadal advanced to the semifinals, he promptly got taken out by Andy Murray and Djokovic eventually captured the title. Just like that, the nine-time Roland Garros champion once again looks like a relative longshot (compared to Djokovic, at least) to triumph at the clay-court major that begins later this month. Djokovic is a -145 favorite.

Martin Truex Jr. Truex pretty much dominated Saturday night's Sprint Cup event at Kansas Motor Speedway. He ended up with nothing to show for it-unless you consider 14 th place as something. The No. 78 Toyota started on the pole and led 172 of 267 laps before before a loose wheel forced the driver to make an unscheduled pit stop with 52 laps remaining. That put him well back in the field as Kyle Busch capitalized on the opportunity and sped away to his third win of the year and ninth top-five finish in 11 starts. Truex has not yet enjoyed Victory Lane in 2016. "I don't know what the racing gods have against me, but-damn-this sucks…. I couldn't believe it. (I) went around (turns) one and two and was like, 'Damn, the wheel is loose.' I kept telling myself maybe it's not.... (It's) frustrating, but that's how it goes." Busch is +500 at MyBookie.ag to win the Sprint Cup championship.
Read more articles by Ricky Dimon