Case of the Mondays: Cavs in a Hole, But Warriors Won't See Green in Game 5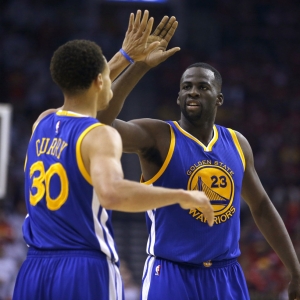 LeBron James and the Cleveland Cavaliers are on the brink of another NBA Finals loss after they dropped Game 3 at home to the Golden State Warriors last Friday night. In six career NBA Finals appearances, LeBron is 2-4 lifetime-with setbacks in each of his two stints in Cleveland (first against San Antonio and last year against Golden State). The Warriors, though, will be without Draymond Green on Monday.

All odds provided by Bovada Sportsbook .

Cleveland Cavaliers . After dropping the first two contests of their NBA Finals rematch against the defending champion Warriors, the Cavs appeared to be making a real series out of it when they dominated Game 3 by a ridiculous 120-90 scoreline and led Game 4 by as many as eight points in the second half. But that's where it went downhill again for Cleveland as Golden State erased the eight-point deficit to lead by two going into the fourth quarter. Stephen Curry and company slowly pulled away en route to a huge 108-97 victory. The Cavs doomed their Game 4 chances and put themselves on the brink of elimination by going 6-for-25 from 3-point range. They are +1000 to come back and win it all.

Draymond Green . There is some good news for the Cavs, however, and it's that Green has been suspended for Game 5. The NBA reviewed the do-it-all forward's swipe at LeBron in the ol' groin region and assessed a Flagrant 1. It means Green now has four flagrant fouls during these playoffs, which is grounds for an automatic one-game suspension. The former Michigan State star averaged 14.0 points, 9.5 rebounds, 7.4 assists, and 1.4 blocks per contest during the regular season, with extremely similar numbers in the playoffs. Green scored 28 points in Golden State's Game 2 victory over Cleveland on June 5. The Warriors are -6 home favorites on Monday.

San Jose Sharks . San Jose had to sit around on its own ice and watch the Pittsburgh Penguins celebrate the Stanley Cup championship on Sunday night. The Sharks had forced a Game 6 by prevailing on the road last Thursday, but they could not get the job done at the SAP Center with their season on the line. Pittsburgh broke a 1-1 tie when Kris Letang lit the lamp 7:46 into the second period, and the visitors went on to win 3-1, clinching the fourth cup in franchise history. As for the Sharks, who joined the NHL in 1991, they were playing in the Stanley Cup Finals for the first time ever.

Oakland Athletics . The A's actually won a baseball game on Sunday. It was their first time finding the win column since June 1. After losing each of the first two chapters of this past weekend's series at Cincinnati by 2-1 decisions, Oakland beat the Reds 6-1 in the finale. The relative power surge was sorely needed as the A's had scored a grand total of two runs in their three previous outings. They are 10 games under .500 at 26-36, in last place in the American League West, and 12.5 games back of division-leading Texas. The Rangers are +450 to win the AL Pennant and +1000 to win the World Series.

Phil Mickelson . Things could be worse for Mickelson at the moment. He could be Tiger Woods, for example. He could have been Jordan Spieth at hole 12 of the Masters. But he's Mickelson, and he appears to be a very real contender to at least make some noise at this week's U.S. Open. The 45-year-old finished tied for second on Sunday at the FedEx St. Jude Classic, good for his fifth top-five showing of 2016. But a win continues to elude Mickelson, who last prevailed at the British Open in 2013. Trailing Daniel Berger by three shots heading into the final round, Lefty pulled to within one of the lead with two birdies on the first three holes of the back nine. After that, though, he missed makeable birdie efforts on 13, 14, and 17 as Berger held on for a three-stroke victory over Mickelson, Steve Stricker, and Brooks Koepka. Mickelson is +2800 to win the U.S. Open; Jason Day is a +600 favorite.

Breshad Perriman . The 2016 season could be over before it starts for Perriman, who also missed all of the Ravens' 2015 campaign with a knee injury. Perriman suffered a partially torn ACL during offseason training activities on Tuesday. The 22-year-old receiver could be sidelined for just a few months, but season-ending surgery may be more likely. A dreaded visit to Dr. James Andrews on Monday will determine the severity. "I was just talking to (fellow cornerback) Lardarius Webb about how good Breshad was looking and how we were looking forward to seeing him play this year," Baltimore's Shareece Wright said in an interview with ESPN. Perriman was drafted 26th overall in the 2015 first round and has never played a down in the NFL. The Ravens are +275 to win the AFC North.

Chase Elliott .The youngest top-three finish in the history of NASCAR took place on Sunday at Michigan International Speedway. Elliott played a role in such a finish-but not the biggest, most desirable role. Joey Logano, 26, took home the checkered flag ahead of the 20-year-old Elliott and 23-year-old Kyle Larson. The average age of 23 triumphed the previous mark of 24.7, set at a trio of races in 1950 and 1951. In Elliott's opinion, however, the order of finish probably should have been Elliott, Logano, and then Larson. The No. 24 Chevrolet shifted into a wrong gear on lap 153 and got passed by Logano, who remained in front the rest of the way. "I definitely messed up," said Elliott, whose second-place finish is his best ever. "Putting it in the correct gear would be a good start."
Read more articles by Ricky Dimon