Case of the Mondays: Stanton Out for Season, Wentz Also Injured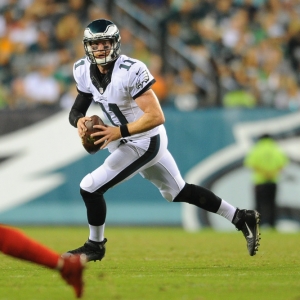 Miami Marlins' slugger Giancarlo Stanton is likely out for the year, and the timing could not be worse for a team that is in the thick of wild-card contention. On the gridiron, meanwhile, the season has not yet begun, but Philadelphia Eagles' quarterback Carson Wentz is already nursing an injury. Speaking off beginnings, the 2016-17 English Premier League is off and running; defending champion Leicester City, however, is not.

All odds provided by Bovada Sportsbook.

Giancarlo Stanton . Stanton, who has 25 home runs and 70 RBIs in 2016, is expected to miss the rest of the season with a left-groin injury. He got hurt this past Saturday while trying to extend a single into a double against the Chicago White Sox (Stanton was tagged out to end the game, giving the Sox an 8-7 win). "He looked like he got shot," Miami manager Don Mattingly noted. "You just see the leg give out. Obviously it's not a very good sign when you see that. Hopefully he's out a couple of weeks and we get back at it. If not, we've got to do what we've got to do." Rumors are already circulating that the Marlins will reach out to former New York Yankee Alex Rodriguez. They are currently 61-56 and just a half-game behind the St. Louis Cardinals for the National League's second wild card. Miami is +1600 to win the NL Pennant; the Chicago Cubs are +140 favorites.

Carson Wentz . The No. 2 overall pick suffered a hairline fracture in his ribs during Philadelphia's 17-9 preseason victory over the Tampa Bay Buccaneers last Thursday night. Although the team initially believed the result of a big hit was nothing more than soreness, additional tests two days after the game revealed a more extensive problem. Wentz could miss the remainder of preseason action, but he is still hopeful to appear in the fourth and final game. Of more concern for Wentz, however, is his status for the regular reason. The Eagles have toyed with the idea of letting Sam Bradford and Chase Daniel handle things under center in 2016 while letting Wentz learn from the sidelines, and this development may convince them to execute that plan. Philly is +400 to win the NFC East.

Alabama . So much for Crimson Tide head coach Nick Saban's attempt to block Maurice Smith from transferring to Georgia. Saban told his former cornerback in June that he would not let him transfer to another SEC school, and that plan seemed to be working-for a while. But the conference intervened and announced last Friday that Smith can join the Bulldogs as a graduate transfer and be eligible right away. Thus he heads to Athens to join his former 'Bama defensive coordinator Kirby Smart, now head coach of the Bulldogs. Georgia is +900 to win the SEC and +3300 to win the National Championship.

Team USA . There are not many teams in all of sports that can go undefeated and still be a disappointing. The United States' men's basketball team is one of them. Although the heavily-favored Americans went through group play at the Rio Olympics with a perfect 5-0 record, they struggle in each of their last three contests. Team USA trailed Australia by five points at halftime before winning 98-88, edged Serbia 94-91, and then held off France 97-94 on Sunday. That's not exactly domination. The U.S. is a -2000 favorite to take home the gold.

Gabby Douglas . Douglas was, of course, part of the Team USA "Final Five" that captured the gymnastics gold medal last week in Rio. But that was the lone highlight for someone who is accustomed to even greater success. After all, Douglas also won individual all-around gold four years ago at the London Olympics. This time she did not qualify for the all-around competition and failed to medal-or even come close to medaling-on the uneven bars this past weekend. Additionally, Douglas was criticized for not putting her hand over her heart during the team's medal ceremony and for generally looking unhappy throughout the Olympics. "I tried to stay off the internet because there's just so much negativity," the 20-year-old said. "It was hurtful. It was. It's been kind of a lot to deal with." Simone Biles is a -350 favorite to win another gold on the beam.

Robert Allenby . Golf was reinstated into the Olympics for this year, so that competition dominated the sport's headlines over the last few days (Justin Rose won gold, Henrink Stenson took silver, and Matt Kuchar got bronze). But there was a PGA Tour event taking place simultaneously, and it did not end well for Allenby-not on the course and not off it, either. The 45-year-old Australian missed the cut by three strokes at the John Deere Classic and was later arrested at a casino outside of Rock Island, Ill. on Saturday morning. He was charged with disorderly conduct and criminal trespassing and his bond was set at $1,500. Patrick Reed is a +1400 favorite to win this week's Wyndham Championship.

Leicester City . The 2015-16 Foxes ain't walkin' through that door…. Well, at least not yet. Leicester City went on a miracle run to last season's English Premier League title, blowing away the rest of the field with 81 points to second-place Arsenal's 71. But Leicester's title defense got off to a rough start this past Saturday, when the club paid a visit to Hull City and lost 2-1. The Foxes gave up a goal during first-half stoppage time, equalized just 14 seconds into the second 45 minutes, and allowed what proved to be the winner in the 56th minute. It was an unceremonious opening loss for Leicester against a Hull City side that was not even part of the Premier League last season. Manchester is a +200 favorite to win the EPL; Leicester is +5000.
Read more articles by Ricky Dimon