Case of the Mondays: Spieth Collapses at the Masters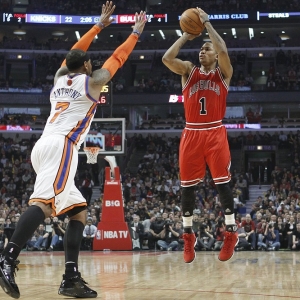 It was all right there for Jordan Spieth to deliver another wire-to-wire Masters victory. In fact, he might as well have already won a second consecutive Masters. And then, in the blink of an eye, he didn't have it won. Bogeys on 10 and 11 were merely the appetizer to what became one of the most shocking collapses in tournament history on 12. Spieth's woes paved the way for unheralded Danny Willett to storm from behind and steal the green jacket.

Odds provided by BetOnline Sportsbook unless otherwise indicated.


Jordan Spieth . The leader after each of the first three rounds at Augusta National, Spieth took a one-shot advantage into the final day. That cushion ballooned to a seemingly insurmountable five strokes heading to the back nine. But that's when it all fell apart for the 22-year-old, who carded fives on two tough par-4s before going in the water twice en route to quadruple bogey 7 on the par-3 12th. Willett's coinciding, bogey-free surge ensured that Spieth not only lost the Masters but also lost it by a relatively comfortable three shots. Willett fired a Sunday 67 to capture a first career major title. Spieth, who had to put the jacket on Willett as the defending champion, is a +550 third choice to top the PGA tour money list in 2016 (Bovada Sportsbook).

Boston Bruins . Spieth admitted, of course, that getting over this one will take a long time. Similarly, the Bruins have begun what will surely feel like an unbearably long offseason. Needing a win last Saturday against Ottawa to reach the playoffs, Boston collapsed on its home ice. It led 1-0 after one period but gave up a ridiculous four second-period goals on the way to a 6-1 loss. Thus, the Flyers got in by winning their last two contests and the Red Wings also bagged a postseason spot despite a closing setback against the Rangers. Washington is a +135 favorite to win the Eastern Conference.

Chicago Bulls . This is a franchise that will almost inevitably no longer have-or even share-the NBA's best all-time single-season record when the sun comes up on Thursday morning. That's because the Warriors scored tough wins this past week at Memphis and San Antonio to extended their amazing mark to 72-9 (currently a half-game better than the 72-10 standard set by the 1995-96 Bulls). But all of that is the least of Chicago's worries right now. The current team will not be participating the playoffs; it was officially eliminated from contention by virtue of Indiana's victory over Brooklyn on Sunday. At 40-40, the Bulls will see their streak of seven consecutive postseason appearances (currently third most in the league) come to an end. The Warriors are -145 favorites to win the NBA title.

Minnesota Twins . The Braves have probably been the worst team in Major League Baseball so far this season. Two clubs remain winless going into the second week of action, and Atlanta is saddled with a league-worst minus-21 run differential. But it is Minnesota that owns the worst record in the business at 0-6, a half-game worse than the Braves' 0-5 clip. In addition to a 7-0 shutout at the hands of Kansas City, the Twins have suffered five losses by no more than two runs-including three by one run. They have crossed the plate a mere 12 times, the fewest (tied) in all of baseball. Minnesota (Gibson) is a +105 home underdog against the White Sox (Quintana) on Monday.

Kyle Schwarber . Favored to win the World Series before this 2016 campaign started, the Cubs have done nothing to change that status. They are 5-1 after taking two in a row against the Angels and three of four at the Diamondbacks' expense, all on the road. But they were a victim of bad luck out in L.A. last week, as left fielder Kyle Schwarber suffered a torn ACL and LCL in a collision with center fielder Dexter Fowler during Thursday's win at Arizona. Schwarber, who hit 16 home runs in just 232 at-bats last season, is obviously out for the year. The Cubs are +600 favorites to win it all.

Manchester United . Man United's bid for the 2015-16 English Premier League title had long since gone by the wayside. But the Red Devils still have to worry about simply punching a ticket to the 2016-17 Champions League. They were competitive through 70 minutes with second-place Tottenham Hotspur on Sunday, but a sinking ship went down as fast as Spieth's two golf balls on 12. The Spurs poured in three goals in the span of six minutes to prevail 3-0. Man U remains in fifth place on the EPL table, one spot (and four points) out of an automatic Champions League berth. Rival Manchester City, meanwhile, scored a tiebreaking goal in the 66th minutes of a 2-1 win over West Bromwich to extend its lead over United from one point to four points. Leicester City is a -600 favorite to win the EPL.

Martin Truex Jr. This was nowhere near along the lines of what Spieth went through, as Truex's lead was not as big and the stakes were certainly not as high. Like Spieth at the Masters, however, there was no reason why Truex shouldn't have gotten the job done at Texas Motor Speedway on Sunday. A dominant No. 78 car led for a race-high 141 laps-including by an unheard-of eight sections at one point during a long stretch without cautions early in the action-but its driver opted against putting on four new tires during a caution with 45 laps remaining. All but two of the lead-lap cars went for four new ones. One of those drivers was Kyle Busch, who had no trouble blowing by Truex following a restart with 33 laps to go.



Read more articles by Ricky Dimon