Case of the Mondays: Heat Fail to Rise, Join Spurs in the Offseason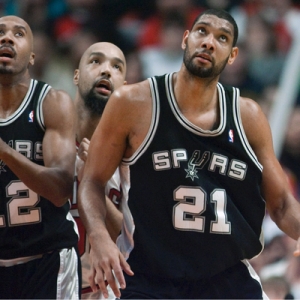 The NBA's conference semifinals failed to deliver drama that once seemed possible. Cleveland swept Atlanta despite almost losing three of the four games, Golden State got Stephen Curry back to take care of Portland in five, Oklahoma City caught fire to upset San Antonio in six (and the clincher was a snooze-fest), and the only Game 7-between Toronto and Miami-turned into a laugher. The story will likely be a similar one in the Eastern Conference Finals, but the West could give us something of interest.

All odds provided by BetOnline Sportsbook.

Miami Heat . With Chris Bosh on the sideline because of recurring blood clots, the Heat simply did not have enough star power to compete with Toronto over the course of seven games. Nobody on the visiting team scored more than 16 points (Dwyane Wade and Goran Dragic each finished with 16) in Sunday's decisive showdown, which the Raptors won 116-89. Toronto got 35 points from Kyle Lowry, and its other leader, DeMar DeRozan, added 28. Bismack Biyombo delivered 17 points and 16 rebounds.The Raptors are +10.5 underdogs at Cleveland on Tuesday, and they are +925 to win the series.

LaMarcus Aldridge . The star forward was brought in by the Spurs to be a younger version of Tim Duncan-what Duncan used to be, so to speak. He was brought in to get San Antonio a couple of steps further than last year, when the defense of their 2013-14 title ended in round one against the Clippers. Aldridge briefly showed signs of accomplishing the goal as he wrapped up the opening series versus Memphis with consecutive double-doubles before averaging 39.5 points in the first two outings against Oklahoma City. But after shooting a ridiculous 33-for-44 in Game 1 and Game 2, Aldridge never shot better than 50 percent in the last four contests and never scored more than 24 points. The Thunder erased a 2-1 series deficit by winning three in a row, ultimately dominating Game 6 at home 113-99 last Thursday. OKC is a +7.5 underdog at the Warriors on Monday, and it is +350 to win the series.

Dallas Stars . Speaking of Game 7 laughers, Dallas vs. St. Louis on the ice made Toronto vs. Miami on the hardwood seem like an absolute thriller. The Stars had staved off elimination by winning Game 6 on the road and thus headed back home with all the momentum, but everything went up in smoke last Wednesday night. St. Louis scored three goals in the first period, including one with four seconds remaining, en route to a 6-1 humiliation of the home team. The Blues, who prevailed the conference finals opener 2-1 at San Jose on Sunday, are -215 to advance past the Sharks.

Jose Bautista . That was very impressive by Bautista to not go down on Sunday. But that's just about where the good news ends for the Blue Jays' slugger. The right-handed blow to the face he absorbed from Rangers' second baseman Rougned Odor will live in internet lore, complete with GIFs, Vines, Crying Jordans, and more. After getting hit by a pitch, Bautista retaliated in the form of a hard slide into second base while trying to break up a double play. Odor took exception and touched off a bench-clearing brawl with his right hook. Adding insult to injury, albeit with a small footnote, Toronto lost 7-6. The Blue Jays (Happ) are -119 home favorites over Tampa Bay (Smyly) on Monday.

Jordan Spieth . In his first tournament after more than a month since collapsing on the Back 9 at the Masters, Spieth never came close to getting back on track. The two-time major champion, who vacationed in the Bahamas a few weeks ago in hopes of getting over his heartbreak at Augusta National, looked like he was not quite ready to get back to work at The Players Championship. Amidst stellar scoring conditions on Thursday and Friday, Spieth stumbled to a 1-under total and missed the cut by a shot. Jason Day clobbered the field for a four-shot victory at 15-under and he is a +650 favorite to win next month's U.S. Open.

Novak Djokovic . Suddenly the world No. 1 does not seem invincible heading into the French Open, the only one of the four majors that he has failed to win. Djokovic bounced back from a second-round loss in Monte-Carlo to triumph earlier this month in Madrid, but he suffered another setback in Rome on Sunday. Although Djokovic's run to the final included a victory over Rafael Nadal, the Serb struggled throughout the week and his problems culminated with a 6-3, 6-3 setb ack against Andy Murray in the title match. Djokovic is a -130 favorite to win the French Open, which begins next week.

Martin Truex Jr. Truex has been the best driver with the best car over the last two weeks, albeit with nothing to show for it. At Kansas Motor Speedway, the No. 78 Toyota started on the pole and led 172 of 267 laps before before a loose wheel forced a crippling, unscheduled pit stop. One week later at Dover International Speedway on Sunday, Truex led 47 laps and was running right behind leader Jimmie Johnson prior to a late restart. Faulty transmission prevented Johnson from starting and Truex slammed into the back of the No. 48 car. Matt Kenseth avoided the 18-car pileup and eventually took home the checkered flag. "I want to get out and punch somebody," said Truex, who finished ninth and still has not found Victory Lane this season. "Seriously. Hard. Like, as hard as I can."
Read more articles by Ricky Dimon