Case of the Mondays: Lightning Strikes as Curry Steals the Thunder from OKC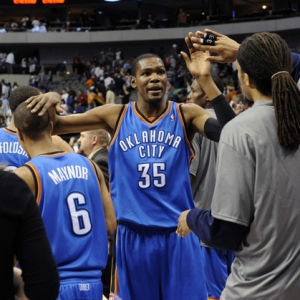 Stephen Curry almost broke the Internet on Saturday night. He did break the hearts of the Oklahoma City Thunder. Curry drained a 32-footer at the end of an overtime game in which the Warriors led for a total of just 29 seconds until the last 0.6 seconds. The weekend also saw Jimmie Johnson dominate in Atlanta, Adam Scott hold off Sergio Garcia, and a whole bunch of winners and losers at the NFL combine.

Odds provided by BetOnline Sportsbook unless otherwise indicated.


Oklahoma City Thunder . How the Thunder managed to lose that contest will go down as one of the great mysteries of the NBA regular season. Well, the easy answer is: Curry. But there were so many factors in play before it even got to Curry. Oklahoma City appeared to be well on its way to a huge home victory as it led by 13 points in the first quarter and later by 12 in the fourth. It also went up by four with 14 seconds left in regulation before Kevin Durant imploded. The Warriors scored, Durant threw a bad inbounds pass, and then he fouled Andre Iguodala on a last-second shot. Iguodala calmly sank both free-throws to force overtime, setting the stage for another comeback from a five-point deficit capped off by Curry's mind-boggling heroics. Golden State is -170 at MyBookie.ag to win the NBA title.

Ja'Quan Newton . It was a great week on the hardwood for the Miami Hurricanes, who benefited from a pair of home games to score victories over Virginia and Louisville. Newton, though, had to watch the latter contest in street clothes-just as he will for this week's showdowns against Notre Dame and Virginia Tech. The school announced last weekend that Newton has been suspended for the final three games of the regular season for conduct detrimental to the team. It's not a good time for it, either, as the 'Canes are tied for first in the ACC standings with North Carolina. The sophomore guard may not be a starter, but he comes off the bench to contribute 10.9 points, 2.5 assists, and 2.5 rebounds per game. Miami is +2800 to win the National Championship.

Cardale Jones . A couple of Ohio State Buckeyes struggled at the NFL combine in Indianapolis. Linebacker Joey Bosa did well in the three-cone drill and 20-yard shuttle run, but he turned in relatively disappointing marks of 4.86 in the 40-yard dash and 32 inches in the vertical leap. As for Jones, he could not even complete his workouts. The quarterback suffered a hamstring injury while running the 40 on Saturday and was shut down for the remainder of the weekend. Amends can be made at Ohio State's pro day on March 11. The Buckeyes are +1000 to win next season's College Football Playoff.

Carolina Hurricanes . Nothing screams rebuilding mode quite like trading away your captain and 12-year veteran. That is what transpired in Carolina on Sunday, when Eric Staal got shipped to the Rangers in exchange for second-round picks in 2016 and 2017 in addition to Finnish prospect Aleksi Saarela. Staal, 31, is the Hurricanes' all-time leader in almost every category, including 909 games played, 332 goals, and 775 points. The four-time all-star has scored at least 30 goals in a season on five occasions. During this 2015-16 campaign he had 10 goals and 23 assists in 63 games with the 'Canes. Carolina is is tied for 11 th in the Eastern Conference with 66 points, while the Rangers are clearly headed for the playoffs at second place in the Metropolitan Division with 78 points. NYR is a -172 home favorite over Columbus on Monday (MyBookie.ag).

Sergio Garcia . Adam Scott triumphed at last week's Honda Classic, but he did not exactly shut the door with any kind of convincing Saturday-Sunday performance. Scott made a quadruple bogey during third-round action to bring just about every contender back in play. Tied with Garcia heading into the last 18, Scott fired an even-par 70 on Sunday. But Garcia could not take advantage, stumbling to a 1-over 71 that included three bogeys in a seven-hole stretch from 11 through 17. A closing birdie on a vulnerable par-5 was not enough, as Scott prevailed by one stroke at 9-under. The Aussie is +1600 to win the Masters.

Dale Earnhardt Jr. Earnhardt is running well this season, but he has nothing to show for it-at least it can be considered "nothing" when victories have become all-important in the new Chase for the Sprint Cup format that took effect in 2015. The No. 88 car led 15 laps of the Daytona 500 on Feb. 21 and was moving up to the front once more before spinning out with 31 laps remaining. It took second place on Sunday in Atlanta, unable to overcome a dominant performance by Jimmie Johnson at the Folds of Honor QuikTrip 500. The No. 48 Chevrolet led by 14 seconds at one point before a late caution made things relatively competitive at the end. Johnson now owns 76 career victories, tied with Dale Earnhardt Sr. for seventh-most on the all-time list.

Arsenal . The Gunners fell victim to an 18-year-old on Sunday. Manchester United teenager Marcus Rashford found the back of the net in the 29th and 32 nd minutes, leading the home team to a 3-2 victory in a crucial English Premier League showdown. Arsenal twice pulled within one goal by scoring in the 40th and 69th minutes, but the visitors never managed to find an equalizer. Adding insult to injury, top rivals-at least for the moment-Leicester City and Tottenham Hotspur both got the job done this past weekend. Leicester blanked Norwich City 1-0 and now owns a five-point lead over the third-place Gunners. Tottenham edged Swansea City 2-1, thus remaining two points back the No. 1 spot and moving three clear of Arsenal.
Read more articles by Ricky Dimon