Case of the Mondays: Golden State Loses...to the L.A. Lakers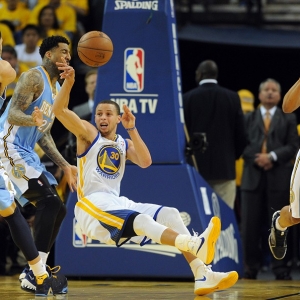 It is not entirely unthinkable for the 2015-16 Golden State Warriors to lose basketball games. But losing one to the Los Angeles Lakers? Now that is something that cannot be fathomed. That, however, is exactly what happened on Sunday afternoon. The Staples Center faithful probably showed up just to see MVP frontrunner Stephen Curry and NBA title favorite Golden State. What the fans got was the biggest upset of the NBA season.

Odds provided by BetOnline Sportsbook unless otherwise indicated.


Golden State Warriors . It was also one of the biggest NBA regular-season upsets of all time. In fact, Sunday's result marked the first time in league history in which a team with a winning percentage of at least .900 lost to an opponent with a winning percentage under .200 (minimum of 60 games into the season). The Warriors went in with a .917 winning percentage (55-5), while the Lakers registered at .190 (12-51). Golden State was doomed by positively horrific shooting, specifically from the three-point line-beyond which it was 4-for-30. Klay Thompson did not make a three (0-for-8) and Curry slumped through a 1-for-10 performance from the land of plenty. Seven different Lakers scored in double-figures (including Kobe Bryant with 12) to help the home team pull off a shocking 112-95 win. The Warriors are -150 to win another NBA title.

Florida Panthers .The Panthers enjoyed a comfortable lead atop the Atlantic Division heading into February and maintained their lead throughout the month. But a relative slump combined with Tampa Bay's eight-game winning streak means there has been a changing of the guard in first place. Florida has lost two in a row and four of its last five to find itself suddenly two games back of the Lightning. The Panthers are +700 to win the Eastern Conference.

Duke . What a difference two weeks make. Well, actually they didn't make that much of a difference between Duke and North Carolina-aside from the end result. The Tar Heels should have won at home on Feb. 17. They did win on the road this past Saturday night. UNC avenged its recent one-point loss by going into Cameron Indoor Stadium and beating the Blue Devils 76-72. Duke, which basically went only six deep (its seventh man logged just seven minutes), got 29 points from Grayson Allen but he needed 28 shots with which to rack them up. Only three players on the home team scored more than five points. The setback prevented Duke from earning a double-bye in the ACC Tournament. The Devils are +425 to win it.

Holly Holm . Less than four months after upsetting Ronda Rousey, Holm lost to Miesha Tate in the 135-pound title fight of UFC 196 inside the MGM Grand Garden Arena in Las Vegas on Saturday night. Holm succumbed to a rear-naked choke at 3:30 of the final round. The former champion refused to tap out, after which Tate was declared the winner when Holm went unconscious. "I let my guard down, and it cost me the fight," Holm lamented. Now it is Tate who is expected to fight Rousey in another championship bout. The next big fight will come in boxing, with Manny Pacquiao a -260 favorite over Timothy Bradley Jr. on April 9 ( MyBookie.ag).

Rory McIlroy . One week earlier, Adam Scott triumphed at the Honda Classic. Despite making a quadruple bogey during third-round action and failing to make birdies down the stretch on Sunday, the Australian managed to maintain his lead and hold off all challengers. He took a different route going back-to-back at this past week's Cadillac Championship. Scott trailed McIlroy by three shots heading into the last 18 holes but carded a final-round 69 while McIlroy stumbled to a 74. The Northern Irishman was bogey-free on Saturday only to go birdie-free on Sunday before finally turning in a birdie on the par-4 16th. It was much too little and too late for McIlroy, who finished two strokes behind Scott in a tie for third. McIlory and Jordan Spieth are +600 co-favorites to win the Masters.

Manchester United . That should just about do it for Manchester United's English Premier League title hopes. Those had pretty much evaporated already, but the picture has become even more clear following this past weekend's 1-0 lost to West Bromwich. Man U's Juan Matta was sent off in the 26th minute by a red card (for two yellows). Reduced to 10 men for the remainder of the match, the Red Devils saw Salomon Rondon of West Brom find the back of the net in the 66 th minute. United is now in sixth place and 13 points back of league-leading Leicester City (60 to 47). At this point the Red Devils may only be focusing on finishing in the top four to guarantee a spot in the 2016-17 Champions League. Leicester is a +110 favorite to win the EPL title.

Australian Davis Cup team . They do not get much publicity from the mainstream media because their sport of choice is tennis, but Australian players on the men's tour are the best reality television show in sports. Last summer Nick Kyrgios told an opponent that Thanasi Kokkinakis-also an Aussie-banged his girlfriend. In this past weekend's first-round Davis Cup contest against the United States, Kyrgios did not show up citing an illness. Facing a must-win situation on Sunday, Bernard Tomic went on a expletive-laced tirade during his loss to John Isner claiming that Kyrgios was faking the illness just to avoid having to play in the Davis Cup. Kyrgios promptly responded via Twitter that he will not have Tomic's back at any point in the near future. The Australians lost to Team USA 3-1 in matches, sending the visiting Americans through to the quarterfinals. Kyrgios is +5000 to win the French Open later this spring.
Read more articles by Ricky Dimon