Sports Betting Futures Odds: Day a Slight Favorite to Win U.S. Open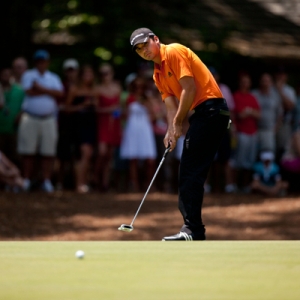 Most sports fans probably thought basketball season would be over by the time the U.S. Open got teed up on Thursday morning at Oakmont Country Club. Instead, the Golden State Warriors failed to close out the Cleveland Cavaliers at home in Game 5 on Monday. Thus the two teams are going back to Cleveland for Game 6 on Thursday, which will be a big day in the sports world.

All odds provided by Bovada Sportsbook.

U.S. Open

Jason Day (+600) - Nobody on tour has been better than Day dating back to the start of the British Open last summer (he barely missed a playoff and then won the PGA Championship). The world No. 1 even contended at the 2015 U.S. Open despite recurring cases of vertigo, ultimately finishing T9. Day's stellar 2016 includes a win at The Players Championship.

Rory McIlroy (+650) -McIlroy dominated the 2011 U.S. Open at Congressional by eight shots, but in recent years he has not done much at America's national championship. Can the Northern Irishman get back in the winner's circle in 2016? He does not own any PGA Tour victories, but he boasts four top-4 finishes-including earlier this month at the Memorial.

Jordan Spieth (+800) -Spieth triumphed at Chambers Bay last summer by one stroke after Dustin Johnson three-putted the 72nd hole. Even though the world No. 2 has a victory since his Masters collapse (last month at Colonial), the jury is still out on how he will recover. Since Augusta, Spieth also has a missed cut, a T18, and a T57.

Dustin Johnson (+1400) - Johnson is what Day was until last year's PGA Championship: the most talented player never to win a major, with a painful number of near-misses. Looking to make amends for 2015, the American warmed up for the U.S. Open by finishing T3 this past week in Memphis. Justin Rose, who won this tournament in 2013, is a +2000 fifth choice.

Wimbledon (Ladies' singles)

Serena Williams (+150) -Serena really isn't too far off from having won the last seven Grand Slams. She triumphed at four in a row, got stunned in the U.S. Open semifinals last summer, and had been upset in each of the two 2016 finals at the Australian Open and Roland Garros. The world No. 1 is a six-time Wimbledon champion, with four titles in the last seven years.

Garbine Muguruza (+500) - It was Muguruza who denied Serena in the recent French Open title match. Although clay has to be considered the Spaniard's best surface, she cannot be discounted on the grass courts of the All-England Club. After all, the current world No. 2 finished runner-up to Serena at Wimbledon just last year.

Petra Kvitova (+600) - Grass has always been just what the doctor ordered for Kvitova. Since the start of Wimbledon in 2012, she has a title at the All-England Club (2014) and two other quarterfinal showings, but she has just one quarterfinal appearance at the other three majors combined. Kvitova also won this tournament in 2011, which followed a semifinal in 2010.

Victoria Azarenka (+800) - It has been all downhill for Azarenka since she captured back-to-back titles in Indian Wells and Miami this spring. She compiled a 2-3 record in three clay-court events and retired from a French Open match with a knee injury. Will she be ready for success at Wimbledon? Nobody else is better than +2000 (Simona Halep and Angelique Kerber).

EURO 2016

France (+300) - France is the host nation for the UEFA European Championship, which explains why its national team is favorite to lift the trophy. The Blues got off a fine start in Group A action by beating Romania 2-1. They last won it all in 2000, defeating Italy on a sudden death golden goal.

Germany (+350) - What's not to like about Germany's chances? It is tied for the all-time lead in EURO titles (three), finished runner-up at this event in 2008, and won the World Cup in 2014. The Germans are 1-0 in Group C competition after blanking Ukraine 2-0.

Spain (+500) - With whom is Germany tied for the all-time lead with three titles? It probably doesn't take a genius to guess Spain, which would be correct. The Spaniards are the two-time defending EURO champions, and they triumphed at the World Cup in 2010. Spain shut out the Czech Republic 1-0 in its opener.

England (+900) - England is off to a mediocre start, having drawn with Russia 1-1 to begin EURO 2016. That means Wales is at the top of Group B thanks to a 2-1 victory over Slovakia. The English side has never won this tournament, has never even been to the final, and last reached the semis in 1996.

NBA Finals

Cleveland Cavaliers -2 to win Game 6 - Although the Warriors were without the suspended Draymond Green on Monday, they were still considerable favorites. But LeBron James and Kyrie Irving both poured in 41 points to extend the series. Cleveland is 41-9 at home during the 2015-16 campaign.

Golden State Warriors -450 to win series - Golden State is an underdog on Thursday, but it still has Game 7 at home as a fallback option if Game 6 on the road does not go according to plan for the defending champions. Stephen Curry and company went 39-2 at Oracle Arena during the regular season.

Draymond Green +150 to win MVP - Perhaps Green's value is even more evident when he isn't on the court. That was the case during Game 5 after the Warriors' do-it-all forward was suspended stemming from excess flagrant fouls. Green is averaging 14.8 points, 9.3 rebounds, and 5.8 assists per game in the finals.

Stephen Curry +200 to win MVP - Despite flashes of his usual brilliance, Curry has never seemed to be entirely 100 percent at any point in these playoffs since being injured in round one against the Houston Rockets. But after three lackluster performances against Cleveland, he went for 38 in Game 4 and 25 on Monday.


Read more articles by Ricky Dimon